The coronavirus pandemic has hit every sector, but the energy industry has seen resilience and innovation come to the fore as businesses remain agile and evolve to the changing environment. Jonathan Dyble asks, so, is it possible that while challenging, COVID-19 has been a catalyst for change for many companies?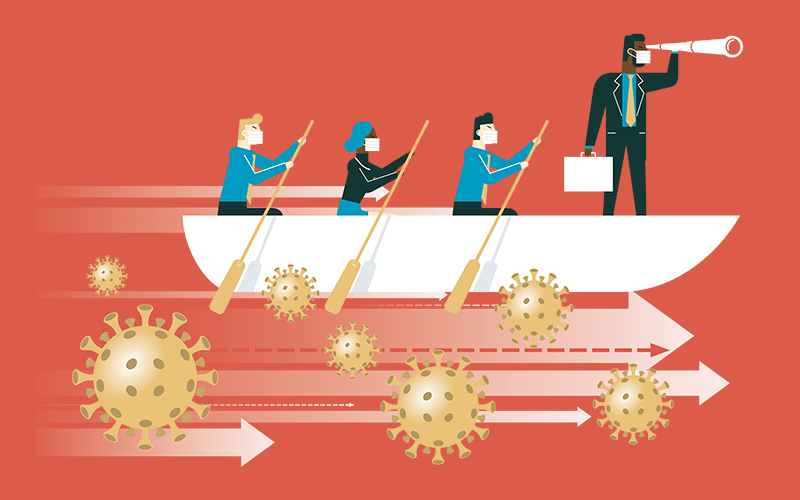 It is safe to say that the energy industry has experienced a turbulent time since the middle of the last decade.
Owing to a supply glut back in 2016, the price of crude oil plummeted as low as US$26 per barrel – less than 25% of the US$106 that would have been taken back in mid-2014.
In the same year, the Brexit referendum saw the UK commit to leaving the European Union, adding further uncertainty to an already highly volatile cocktail within the energy sector. And that is before we even mention the growing advocacy of environmentally friendly and sustainable practices that had begun to place pressure on the operating models of many industry stalwarts.
Amid such chaos, however, arguably no single incident has had a greater impact on the energy sector during this period than the COVID-19 pandemic.
The past 18 months may prove pivotal in the sector's history. Not only did 2020 see oil slip into negative pricing for the first time in its history, but businesses of all shapes and sizes had to rethink, transform, and adapt almost overnight, simply to survive.
Dealing with the difficulties and disruption
Indeed, many sector players can reminisce about the challenges they have faced, the EIC's latest Survive & Thrive report presenting a raft of stories faced by individual enterprises.
Take the experience of AAL Shipping (AAL). As a marine transportation services provider, the company's operations became brutally restricted back in March 2020.
While COVID-19 caused adversity for many, it equally became a key catalyst for innovation, ingenuity, and fundamentally positive improvements
"We witnessed extreme disruption of crew change plans for our seafarers; severe delays in ports worldwide due to elevated safety restrictions and cargo readiness;and a significant reduction in non-renewable energy cargoes being transported, with traditionally busy trade lanes unable to yield sustainable cargo volumes," explains Felix Schoeller, the company's General Manager.
Turbine, generator, compressor and transformer service provider EthosEnergy, meanwhile, highlighted its own pandemic-induced obstacles in the form of delayed maintenance activities, its customers having opted to conserve cash and delay projects due to the impact of COVID-19 on energy demand.
At the same time, the company began to grapple with the effects on its team, many having found working from home to be both alien and challenging.
Subsea oilfield serviced company Deep Down also saw its projects grind to a halt in the face of travel restrictions and exacerbated logistical issues, resulting in a 32% drop in 2020 revenues year over year.
"It was a sobering experience," reveals President, CEO and CFO Charles Njuguna. "With contracts having to be renegotiated, the company was in a position where it had to reflect and re-strategise."
Adapting amidst the adversity
Njuguna's mention of re-strategising is noteworthy. While COVID-19 caused adversity for many, it equally became a key catalyst for innovation, ingenuity, and fundamentally positive improvements.
Such is the experience of AAL, EthosEnergy and Deep Down's experiences, the three companies having adapted to maximise their successes in the new normal. Yet, there are many other similarly inspiring stories.
Hunt Thermal Technologies, for example, found its own silver linings after stumbling upon the benefits of flexible working and data-driven planning.
"We had to think of new ways to ensure third-party inspectors could still provide assurance without needing to visit a site," explains Managing Director Chris Howard. "We therefore introduced inspection by video conference, which in the long term should benefit our customers by reducing costs and time to completion.
"Equally, we're now more procedural and process driven, utilising data to better understand and communicate project performance."
Iain Smith, Senior Vice President of controls technology provider Proserv Controls offers a similarly positive outlook, paying tribute to the efforts of the company's team during a challenging 18-month period. "They have been outstanding, innovating solutions and demonstrating flexibility, yet always meeting targets and deadlines," he says.
Such solutions include the introduction of remote equipment testing, using live video conferencing to allow Proserv's customers to see tests take place without needing to visit the site. "This has been so efficient, saving time and travel costs," Smith adds. "We will continue to offer it moving forwards."
Shipping, logistics and marine services provider GAC UK adapted by expanding its presence in sustainable energy – a move that has enabled it to capitalise on a wider variety of energy transition opportunities, not only in the UK, but also globally.
An industry energised
Amid the hardships, there have thus emerged a number of positives for many organisations.
While the pandemic has arguably made for the toughest period in the histories of many firms, a sizeable number have successfully paved a brighter path by embracing new ideas and opportunities.
As global vaccination efforts gather momentum and societies and economies begin to reopen, many industry players are now in a better position to grow than they were during the early months of 2020.
In many instances, the pandemic has been a catalyst for change, inspiring renewed resilience in operating structures and instilling an enhanced appetite for innovation in products and services that will serve to uplift industry optimism in the long run.
---
Reimagining the future of work post-COVID-19
The pandemic has forced the adoption of new ways of working. Whatever a company's workspace looks like in the future, Adrian Wakeling, Senior Policy Adviser at Acas, says businesses should redouble their efforts across three areas:
Communication and consultation. It is not just employment contracts that have been reviewed in recent months; the whole notion of the psychological contract has shifted dramatically. It's time to listen to what staff expect and value about work and life.      
Equality and inclusion. The pandemic has had an unequal impact on many groups, particularly carers and those from black and ethnic minority communities. We need to rebuild fairer workplaces that embrace and celebrate difference.
Wellbeing. Mental health has been described as a shadow pandemic. It has become a 'runaway issue' for many organisations. Now is the time to deliver on the long-promised goal of achieving parity between physical and mental health. Make wellbeing part of every business decision.
"The worst mistake we can make is to impose old templates onto evolving working environments," he says. "There are signs that technology is creating flatter hierarchies with quicker decision-making processes, which is a good sign. Be bold!"
Melanie Leech, Chief Executive, British Property Federation, says: "Office workers underpin our town and city centre ecosystems – many high street businesses, from cafes to gyms, depend on footfall from nearby offices. Data collected by Remit Consulting shows that people are returning to the office in increasing numbers and this trend is likely to continue now that government guidance has changed, and once the holiday season is over. While offices will need to adapt to more flexible working patterns, they will remain a vital hub for collaboration, creativity and productivity for the future, as well as playing an important role in allowing people to develop their skills and knowledge through personal interaction with their senior colleagues, peers and mentors."
Image Credit | iStock