In from the cold: overcoming the challenges of harsh environments
Energy and industrial processes have never been so high, so deep, so cold or so hot – increasing the already significant challenges of processing volatile materials and fluids safely, cleanly, reliably and efficiently.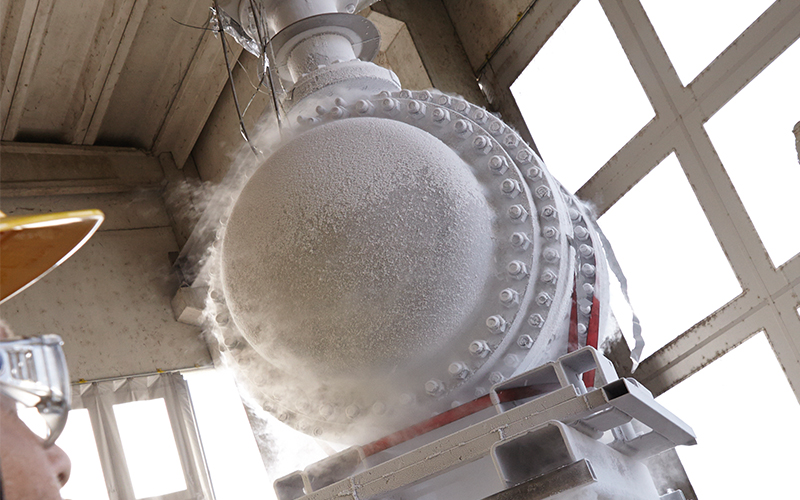 The ZapSib-2 facility that is being constructed at Tobolsk Petrochemical Complex in western Siberia illustrates the challenges perfectly. The new facility, which is part of CJSC Sibur Holding's largest production complex, will be the biggest integrated complex for the production of polymers in Russia when it comes online in a few years time. The complex will integrate a steam cracker for the production of ethylene, propylene and butane-butylene fraction (BBF), and will also include polyethylene units and a polypropylene unit. 
The facility, is thought to be the biggest in industry history, and IMI Critical is one of over 320 companies from 23 countries that are providing services and materials to it. As well as meeting the challenges of the extreme processing environment for polymers, which includes a highly corrosive atmosphere, suppliers have the additional challenge of ensuring their equipment can withstand the stress of extreme climate conditions, in this case, the potential for temperatures to fall as low as -52°C.  
As a world-leading provider of critical flow control solutions, with decades of critical service experience, IMI Critical was a natural choice of partner for a project of this kind. Our products are at the heart of complex energy and production processes, controlling the flow of steam, gas and liquids in harsh environments. They are designed to withstand temperature and pressure extremes, as well as intensely abrasive or corrosive cyclical operations. 
For the ZapSib-2 facility, two IMI Critical companies were chosen and worked together to produce anti-surge valves and actuators. IMI CCI provided the valves and IMI STI the actuators. The anti-surge valves ranged from 500mm to 1050mm, and the actuators ranged in size and stroke from ND200 with a stroke of 70mm, to an ND500 with a stroke of 300mm. 
The particular challenge was to tailor the actuators to the specific requirements of the Tobolsk complex, namely a highly corrosive atmosphere, and very low temperatures. 
This meant that most components for the actuators had to be made in grade 316 stainless steel, whose composition includes molybdenum, which gives it higher resistance to corrosion in harsh environments.
More challenging was ensuring the actuators could work in a very low ambient temperature of -52°C without losing performance. Actuators are typically required to work in temperatures of between -20°C to +70°C, although IMI STI, our actuation specialists, has previously supplied actuators to operate in -60°C. In addition, the stroking times specified were that all actuators must move within two seconds in opening and within three seconds in closing, without overshoots, and while also guaranteeing the high dynamic performances required by anti-surge applications.
The solution developed by IMI STI, working with its technical and R&D departments, was to design a bespoke cabinet, also constructed in grade 316 stainless steel, to house the actuators – a first for IMI STI. The cabinet was designed to contain heater cables, to maintain a higher temperature inside. In addition, the design of the actuators incorporated a number of other common features to cope with the combination of a corrosive atmosphere and very low temperatures. The vent port faces inwards to avoid water entry or ice build-up or formation. All the accessories were manufactured in grade 316 stainless steel, as was the FasTrak® positioner which is TR CU certified for -55°C.
The actuators were manufactured in IMI STI's first class facilities in Italy, which produces over 7,000 actuators each year. They were tested in-house using a purpose-built test sequence to simulate their performance in the harsh conditions they are designed for. With correct use and periodic maintenance, the actuators are expected to have a lifespan of up to 20 years.
By bringing a half century of know-how, design capability, experience and innovation to bear, IMI STI was able to design bespoke equipment to withstand the harsh environment of the ZapSib-2 facility – delivering a safe, reliable and durable solution.
---
Braving arctic conditions in northern Siberia
Another IMI Critical company was contracted to supply valves and actuators for the Yamal LNG project. This is one of the largest industrial projects in the Arctic to develop the huge South Tambey natural gas field, where reserves are estimated at more than 1 trillion cubic metres. 
Based in the estuary of the Ob River in Northern Siberia, which is ice-bound for nine months of the year, it's a highly challenging environment for LNG production. 
Experts from IMI Orton were able to demonstrate the technical advantages of the IMI Orton TRI-X solution in this remote environment. Its replaceable seat and seal ring on the valve's body and disc respectively allow the sealing elements to be replaced locally if necessary, an important factor on a remote site.
---