Energy transition: a golden opportunity for UK exports
With international climate agreement changes ahead, and many businesses rethinking how they work in the wake of the pandemic, Lucy Woods asks: where are the opportunities for UK energy exports?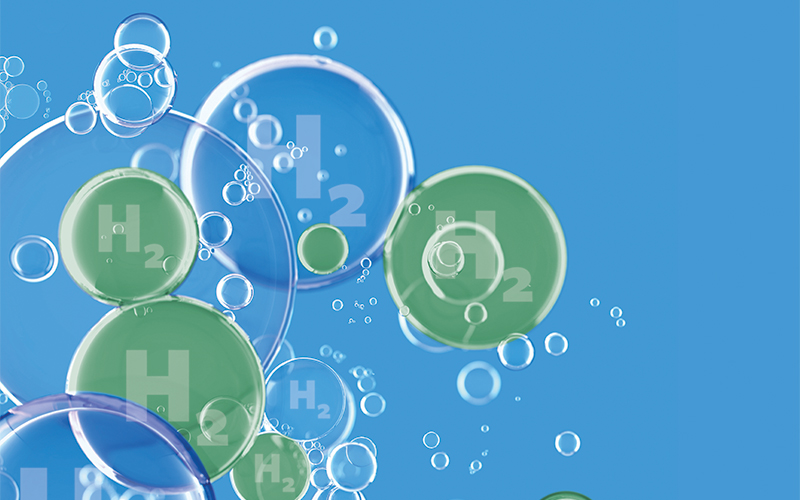 The energy export market is facing many challenges: the global transition to net-zero emissions, shifts in national energy policy and project support and funding, and the impacts of a pandemic. But with COP26 on the horizon, there are still opportunities for UK supply chain companies.
Transition, transition, transition
The industry's biggest challenge is the transition from fossil fuels. Industry focus is "all about energy transition at the moment," says EIC Energy Analyst Tayo Idowu. Mid and downstream oil and gas demand has dropped during the pandemic, and petrochemical refineries have closed in the US. "If you're not going to transition, you're not going to survive, and that has forced some companies to focus on the energy transition,"  says Idowu. "The story here is that, besides the environmental benefits of this shift, there are economic benefits such as tax incentives for biofuel production."
The UK is leading transition policy with its North Sea Transition Deal. From 31 March 2021, the UK will not provide financial support for overseas fossil fuels. This includes UK Export Finance support, international aid funding, and trade promotion. The deal provides for the investment of up to £3bn to replace fossil fuels on oil and gas platforms with renewables, £3bn on carbon capture usage and storage (CCUS) and £10bn for hydrogen production. The deal will help the oil and gas sector transition by providing the sector with "money  and a plan", says EIC CEO Stuart Broadley.
The UK transition deal is part of a wave of international efforts: France will end export finance for oil and gas this year, oil exploration and production finance in 2025, and gas exploration and production finance in 2035. Sweden is planning to end export credits for fossil fuel exploration and extraction by 2022. The Netherlands Export Credit Agency will no longer support flaring and fracking, and Norway is giving tax breaks to encourage oil and gas decarbonisation initiatives until 2022.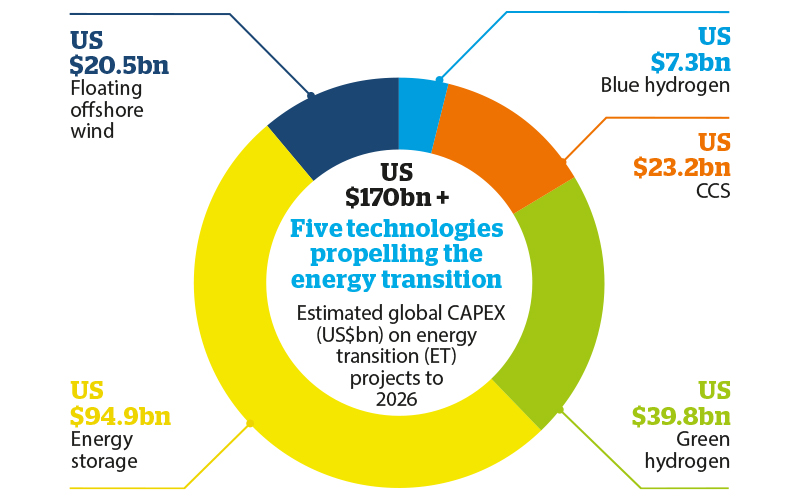 Across the pond, the new US administration issued a Presidential Executive Order to institutions to begin planning the end of its overseas fossil fuel finance. In the MENA region, the UAE's oil and gas companies are reducing emissions on oil platforms offshore, and gas operators in Senegal and Mauritania are also leading decarbonisation efforts, says Diveena Danabalan, EIC Senior Energy Analyst and Strategic Relationship Manager for Upstream Oil and Gas.
Among these changes, Danabalan says, the opportunities for the oil and gas sector will be in projects that can be licensed before the above deadlines, and in transitioning oil and gas offshore platforms to renewables.
Opportunities and support for renewables
Alongside these opportunities, and the support and finance available to help hydrocarbons transition, finance is being prioritised for renewables generation development. Last year, 30% of UKEF energy support went to renewables, and in 2019, UKEF provided £800m for renewable projects overseas.
There are policy, pricing and subsidy mechanisms for offshore wind to help nations meet energy demands while transitioning. This allows governments to "pursue renewables targets while promoting local manufacturing jobs", says Lara Juergens, former EIC Senior Energy Analyst and Strategic Relationship Manager for Offshore Wind.
Increased offshore wind ambitions
However, UK offshore wind supply chains still require help in the face of pressures to cut costs, invest in new projects and meet new emissions reduction measures for the lifetime of a project. There are also delays in the UK, Denmark and the US due to legislation gaps, as projects and pipelines upscale. This transition is "not going to be easy", says Juergens; "patience and perseverance are needed".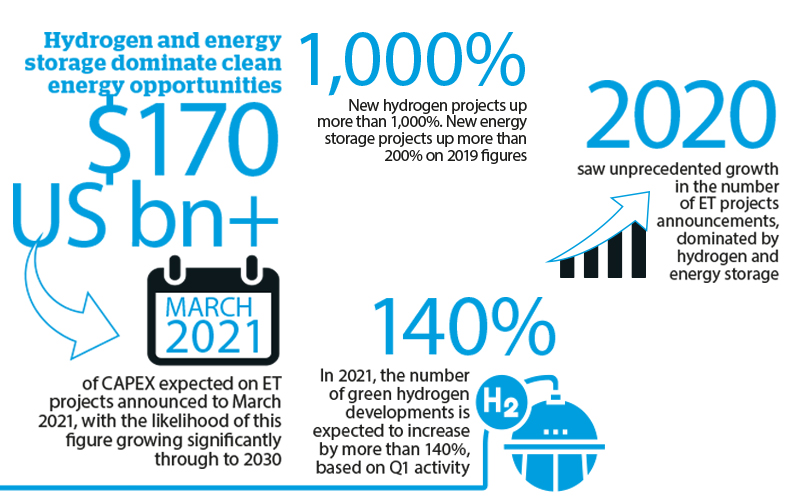 In Asia, offshore wind opportunities are most attractive in Taiwan, Japan and South Korea, she adds. Taiwan is reinvigorating local marine industries and port infrastructure for offshore wind, with UKEF having supported four major offshore wind projects in Taiwan: a £230m project finance guarantee for Formosa 2 in 2019, a £75.4m project finance guarantee for Changfand and Xidao in 2020, and a £200m buyer credit guarantee to help finance the Greater Changhua 1 Offshore Wind Farm in 2021.
Floating offshore wind in South Korea and the Mediterranean is also attractive for UK supply chain companies; Italy, Spain, and France all have pilot projects in the works. UK companies "should start forming relationships and establish opportunities now", advises Juergens.
Hydrogen on the horizon
For UK sectors that are more challenging to decarbonise – such as steel, iron, cement, heavy long-haul vehicles, aviation, maritime and railways transportation – hydrogen can be used, says Seyed Mohsen Razavi, Energy Technology Analyst at the Gas Exporting Countries Forum. In the pursuit of zero-carbon energy systems, hydrogen's role "is becoming more notable", with project pipelines in place, advanced technologies and national strategies (notably the EU hydrogen strategy and US roadmaps) being published, says Razavi. "The hydrogen era will materialise earlier than 2050 targets."
"It could be argued that the pandemic helped drive the hydrogen (and CCUS) markets", says Joanne Sivanathan, EIC Hydrogen and CCUS Energy Analyst. As climate goals are prioritised, with subsequent funding allocated, large hydrogen projects in Australia, Germany, the Netherlands, Saudi Arabia and China will be operational by 2024.
Solar shines bright
For UK onshore solar supply chain companies, the most attractive transitioning markets are sub-Saharan Africa, South East Asia and Latin America, says EIC Renewables Energy Analyst Sharanya Kumaramurthy. This mirrors UKEF's 2020 support of solar projects in Zambia and Ghana; it loaned £244m to support 108 solar-powered rural healthcare clinics and three hospitals in Zambia, and it loaned £27m to Ghana's government to help Aqua Africa use solar power to sterilise drinking water.
In SE Asian and Latin American countries that are setting net-zero targets, there is "huge anticipation" around how to step away from coal and progress to solar and onshore wind, says Kumaramurthy.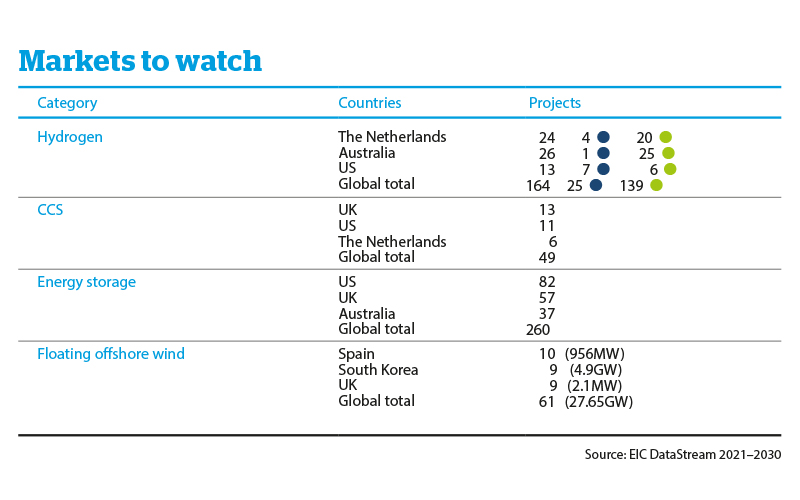 COP26: a golden opportunity
The main driver for these global shifts in renewables support, decarbonisation funding and fossil fuel export changes are the COP climate agreements, says Danabalan. With policy, investment and political backing already being shaped by international climate agreements, the crucial event that will lead international energy export policy, funding, and support for the next decade is COP26,  which is being held in Glasgow this November. Global climate policy – much influenced and decided at COP26 – will "drive the energy transition market" says Sivanathan, with climate recovery funds being allocated in the UK, EU and US.
For UK energy export companies to not just survive industry changes, but succeed through them, global collaboration, knowledge sharing, scaling up, adequate safety and pricing regulations, "and a full public and private commitment to the energy transition" is required by the industry, says Sivanathan.
The UK's time hosting COP26 is a massive opportunity for UK export companies to plan and lead the energy transition. An opportunity, says Broadley, that should be taken "by the scruff of the neck!"
Image Credit | iStock