A blast from the past CEOs
In preparing for this special 75th anniversary edition of Energy Focus, we asked two past CEOs – Dai Somerville-Jones and Mike Major – to share memories of their tenures at the EIC.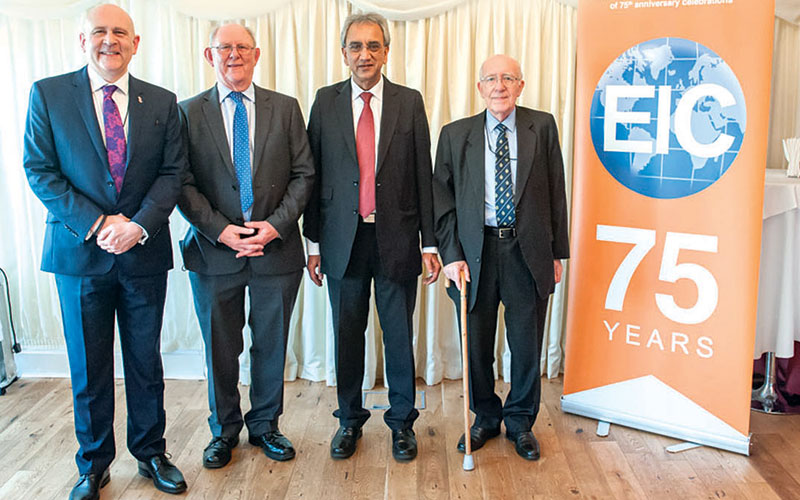 (Above: Stuart Broadley, Mike Major, Lord Popat of Harrow and Dai Somerville-Jones celebrate the EIC's 75th anniversary at the House of Lords)
Dai Somerville-Jones
EIC CEO 1991 – 2004
From my appointment as Secretary of the EIC in 1988, I was aware that the organisation needed to gain a global presence and influence to become a sought-after source of information and provide UK industry with access to vast worldwide opportunities.
When I became CEO in 1991, I was able to set about accomplishing this by modernising the organisation and its systems. We formed a subsidiary in Houston to provide a simple, inexpensive base for members to operate in while feeding EIC headquarters with global information. Houston also flowed into another part of my plan – to construct a computerised global database of accessible filterable information providing marketing opportunities for members. After the success of this strategy, subsequent EIC subsidiaries were opened over the following four years in Singapore (now Kuala Lumpur), Rio de Janeiro and Dubai.
During this period, we increased our overseas ventures with exhibitions, trade missions and seminars; by the time I retired, we were visiting some 50 countries on a cyclical basis. We were able to gain the confidence of the Department of Trade and Industry enough to receive funding for the events.
While this expansion was taking place, I was invited to be permanent deputy director of First Point Assessment in Aberdeen and Eurogif in Brussels, which boosted the EIC's profile across the industry both nationally and internationally.
I also introduced the EIC's own magazine – Global Energy, now Energy Focus. Clearly this has proved its worth, as I am now able to supply this short history of my EIC career in the 75th anniversary edition.
I believed throughout my time in the EIC that the Council had much to give to the UK supply base both nationally and globally. As I enjoy my retirement, I watch the EIC continue its mission with enormous interest – and pride that I was allowed to be a part of its growth. 
---
Mike Major
EIC CEO 2007 – 2012
I joined the EIC as CEO in 2007 to help stabilise the organisation after a period of internal change, bring a sense of direction and develop our portfolio of products and services. Better services would attract more members, permitting more services – the aim was to create an upward spiral. At that time, the energy industry was buoyant, but the financial crisis was a backcloth to our work.
I rewrote the Articles of Association to reflect how the EIC should operate, and strengthened our democratic credentials by ensuring that the directors were elected by the members. The role of Honorary President was created – the first was the Rt Hon the Lord Patrick Jenkin who linked us to the political establishment and raised our profile.
The EIC was never a lobbying organisation: its main activities were centred round helping members identify and pursue business opportunities. We were very supportive of British business, and were the first choice of the Department of Trade and Industry to promote UK industry.
As the membership swelled, we moved to vastly improved new offices on the bank of the Thames in Vauxhall, opened a new office in Beijing and took up new premises in Aberdeen, Teesside, Rio de Janeiro, Dubai and Singapore. A new computer system streamlined our data bank of projects, and we started developing training for members and briefing sessions from government on issues that members needed to be aware of – such as restrictions on doing business with Iran. Under my tenure, the EIC's external relationships were greatly strengthened, and its network of contacts significantly expanded. It was undoubtedly the pinnacle of my interesting career. I'm proud of the benefits that the EIC has brought to British industry, and I'd like to believe I helped lay the foundations for its continuing success.