It's time for the UK to become a nation of exporters
UK-focused trade policy, a lower pound and a global switch to low carbon energy forms are opening new energy-related export opportunities for UK businesses. As the government urges companies to make 2017 the year of exporting, Energy Focus talks to new Minister for Investment Mark Garnier about the prospects for UK energy-related exports, and why now is the time for UK energy businesses to act.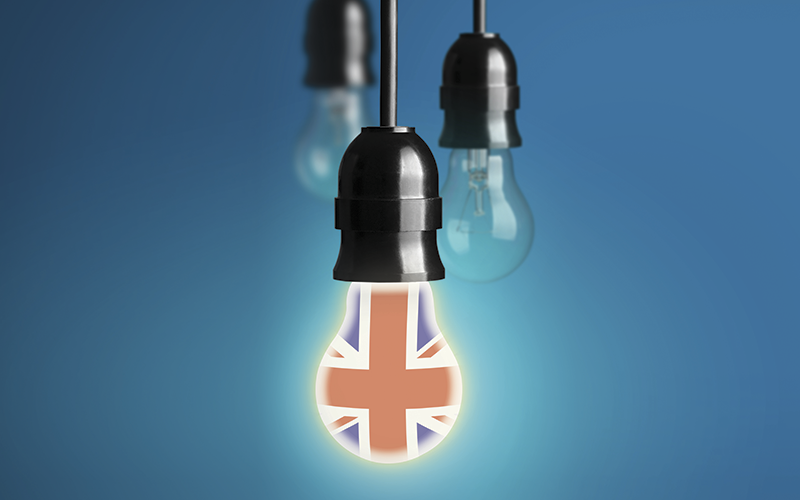 Britain has a leading global position in several key energy sectors, some of which are now reaching maturity. This means, according to the government, that energy companies are particularly well positioned to benefit from new export opportunities as the UK exits the EU and introduces an independent trade policy – aimed solely at developing the UK economy and improving the country's trade position.
'As we leave the EU we are developing an independent UK trade policy and for the first time since 2007, trade is back at the heart of government policy making, with a seat at Cabinet. Indeed, it's the first time since 1983 that the UK has a standalone Department for Trade. The three pillars of trade – finance, policy and promotion – are now under one roof, allowing us to be more coordinated than ever before,' said Mr Garnier.
'That's already demonstrated in the 11 trade working groups we have started across 16 countries in key markets. It's not just about new trade deals when we leave the EU, we are also working with international partners and the World Trade Organization to reduce barriers to trade and tariffs on goods like renewable energy equipment. There's a world of opportunity out there for UK companies. The EU itself predicts that 90% of future global growth is set to occur outside the borders of Europe and UK companies should be seizing upon this growth.'
The policy changes, plus a fall in the pound since the Brexit vote, could already be producing results. Early September saw UK manufacturing up 1.9% on the year. And the latest Purchasing Managers' Index (PMI) survey shows manufacturers remain upbeat about the future, with confidence levels staying close to the record high seen in July, with especially strong growth seen in orders from Europe and America.
New horizons
Mr Garnier said that the UK's world leading position in several renewable energy fields should mean major export opportunities as countries around the world also begin to switch to low carbon energy. The potential is enormous – currently the global renewables market is worth about £215bn/year, growing at 7% per year on average. By 2030 global exports for all low carbon goods and services could be worth £1–1.8tn a year, seven to 12 times more than today.
In marine energy, with installations in Cornwall, the Isle of Wight and Orkney, the UK is the global leader. The same is true of the much larger offshore wind energy sector, where the UK leads the world with almost half of all EU installed capacity, driven by UK subsidy and legal commitments under the UK Climate Change Act.
The UK's competitive position was reinforced by September's contracts for difference auction round, which saw the cost of offshore wind fall by more than half since 2015, highlighting the maturing of an industry nurtured by public subsidy. That industry is now well placed to compete in international markets and improve the country's earning potential.
'Offshore wind is a prime example of where the UK's expertise is being sought internationally. Major global firms like Siemens and CS Wind have chosen the UK for the manufacture of wind turbine blades and towers respectively, with blades already being exported. Smaller firms also benefit, such as Belfast-based Harland & Wolff, which recently secured a contract for offshore turbine equipment with Germany's Borkum Riffgrund 2 site, supporting 80 jobs in the city.'
The UK's existing engineering expertise is helping provide a solid base for new technologies, with skills and capacity traditionally focused exclusively on the oil and gas sector often able to expand into renewables. For example, Burntisland Fabrications moved from oil and gas steel fabrications to producing for the offshore wind, wave and tidal power sectors as well. It recently won a £100m plus contract with Dutch engineering, procurement and construction contractor SHL to supply fabrication work for the Beatrice offshore wind farm.
UK-based companies working in the wind, wave and tidal energy sectors are already exporting goods and services worldwide on a massive scale.
Nuclear opportunities
The UK is also a global leader in the nuclear industry, with expertise right along the supply chain, built up over 60 years. The government has estimated that in the next 10 years, the overseas market for building new reactors will be worth £930bn and around £250bn will be spent on decommissioning old reactors.
'China has 37 operating nuclear reactors, with 20 under construction and a further 183 planned or proposed. These developments, when combined with subsequent Chinese requirements for operational support, plant life extension and waste management and decommissioning expertise, will present a huge range of opportunities for UK companies,' said the Minister.
Although Theresa May has opted to pull out of Euratom, as it falls under the jurisdiction of the European Court of Justice, the UK may seek a form of associate membership, and its bargaining position should be enhanced by its key role in nuclear waste reprocessing, which the Europeans depend heavily on.
'We recognise the importance of maintaining the UK's reprocessing knowledge and skills base and the government is exploring options through continued investments in research facilities and programmes that will build upon our existing expertise and further promote growth and investment,' said Mr Garnier.
Overseas hotspots
Export markets with the strongest potential tend to have substantial opportunities across several energy sectors, such as Canada, China and Mexico – which have needs ranging from gas extraction to wind generation. Other countries have specific needs, such as geothermal in Kenya and wind projects in Uruguay. However, in many countries the renewable energy sector remains heavily reliant on policy, so any changes can quickly alter the picture.
Oil and gas is still key in many areas, not least the Middle East, where trade ties are strong. For example, the UK is Saudi Arabia's second largest cumulative investor, with over 200 joint ventures, estimated to be worth around £11.5bn. But even in the Middle East there is an increased emphasis on renewables and particularly gas where the UK is also strong along the whole energy chain.
'Our expertise in oil and gas is an important selling point, but not just in the traditional Middle East upstream markets. We recently provided financial support to secure a contract for UK-based Enka UK and General Electric to build two gas turbines in Iraq, worth £185m. We also secured a contract worth £590m for the 1.1GW Cape Three Points project offshore Ghana, which will provide much needed power to the developing nation,' said Mr Garnier.
Another hotspot is Japan, where a radical shake up of the energy sector following the 2011 earthquake and subsequent nuclear incident is producing opportunities for UK companies in low carbon energy generation, grid development, demand-side management and smart storage – all areas where the UK's power engineering sector is strong. Japanese companies and consumers are also looking for technological solutions which conserve energy – especially smart technologies for business.
'I think the main point is that there are opportunities for all energy sectors, from biomass and wind to solar and gas. The UK's expertise and high-quality manufacturing is respected across the world so whatever product you have, we can help you find a market for it.'
Bridging the gaps
One deal aimed at smoothing the way for renewable exports was signed between the UK and Kenya in 2016. To further oil the wheels of trade, UK Export Finance (UKEF) is also offering export financing or insurance support for eligible projects of up to at least £250m.
Exporters can often find it difficult to access markets due to demanding payment or credit terms. By improving the terms of payment, UKEF can enhance the product offering, making the deal attractive enough to proceed for buyer and seller alike.
This sort of assistance has helped companies like Hobbs Valve, which was able to guarantee a three-year warranty to a new buyer (Sembcorp Industries) in Singapore last year. The company supplies market-leading triple-offset butterfly valves to the oil and gas and marine sectors. In 2016, exports made up 75% of its business, up from 25% in previous years.
Mr Garnier said UKEF's overall risk appetite had been doubled to £5bn last year, while increasing the number of local currencies in which UKEF can offer support from 10 to 40 – from the Australian dollar to the Zambian kwacha. In the last year UKEF has provided over £1.7bn to UK companies to help them secure exporting contracts.
The government's new digital service (www.great.gov.uk/uk/) can provide further help by putting firms in touch with global buyers and thousands of export opportunities at the click of a mouse, while the department's energy sector team can draw on local expertise in 108 countries to help navigate legal and customs rules and to identify opportunities.
'The fundamentals of our economy remain very strong. Our science and research excellence, widely admired system of commercial law and low tax, and low regulation economy continue to be a major draw for international investors. The impact of sterling is very complex, but our exports continue to increase and as the latest PMI report shows, UK manufacturing firms are seeing growing international demand.' 
---
A world of opportunity Current export opportunities identified by the Department for International Trade (October 2017)
OIL AND GAS
Europe
Georgia – Underground gas storage construction
Turkey – Flue gas desulphurisation
Turkey – Heavy duty machinery and accessories
North and South America
Argentina – Laboratory measurement equipment
Brazil – Autonomous underwater vehicles 
Brazil – Cargo vessels
Trinidad and Tobago – Oil tank repair services
POWER
Asia Pacific
Indonesia – Unmanned robotic submerged vehicle
Japan – Capacitors
Japan – Remote monitoring system
Vietnam – Neutral reactors
Europe
Bulgaria – Power regulatory consultants
Bulgaria – Power line construction
Greece – Electricity poles
Hungary – Power supply transformers
Kazakhstan – Electricity distribution project
Russia – Durable coatings
Turkey – Flue gas desulphurisation
North and South America
Brazil – Electrical substation equipment
Brazil – Power transmission line services and equipment
RENEWABLES
Asia Pacific
Burma – Renewable energies
Burma – Solar panels
Burma – Micro hydro power design
North and South America
Colombia – Photovoltaic systems
Cuba – Wind power project joint venture
Cuba – Biomass project joint venture
Mexico – Hydrocarbons terminals
Mexico – Port construction
Trinidad and Tobago – Waste-to-energy facility Europe
Georgia – Hydro power plant rehabilitation project
Finland – Biorefinery
Portugal – Public lighting
Romania – Heating and refrigeration parts
Tajikistan – Solar panels
Ukraine – Hydro power station equipment
Europe
Georgia – Hydro power plant rehabilitation project
Finland – Biorefinery
Portugal – Public lighting
Romania – Heating and refrigeration parts
Tajikistan – Solar panels
Ukraine – Hydro power station equipment
Africa
Cameroon – Hydroelectric dam audit
Kenya – Hydro power station upgrade
Tanzania – Hydropower project
NUCLEAR
Europe
Bulgaria – Nuclear protective clothing
Bulgaria – Nuclear Power regulatory consultants
France – Nuclear documentation and regulations writer
France – Nuclear safety and radiation protection
Ukraine – Nuclear power plants power units