How can the UK 2050 step up to the 2050 net-zero challenge?
Government policies will have to ramp up significantly for a net-zero emissions target to be credible, writes Nicholas Newman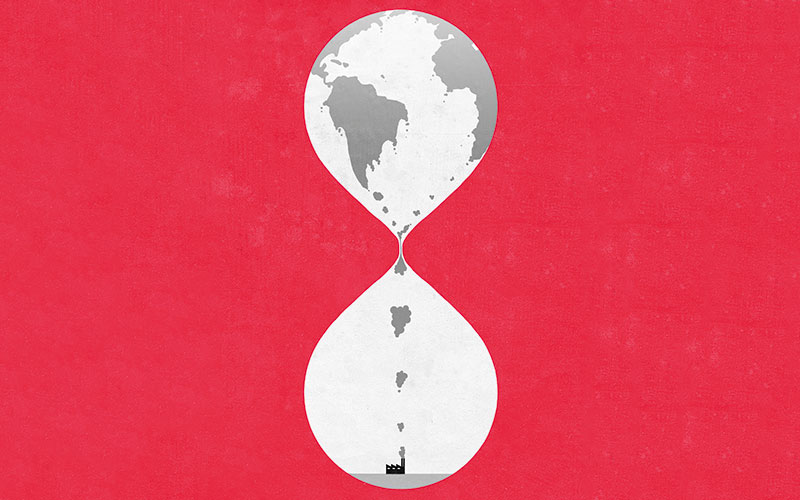 Last June, the UK committed itself to the legally binding target of net-zero emissions by 2050. The UK has a good track record, having already reduced emissions by 42% while growing the economy by 72%. And under its Industrial Strategy, 'green collar jobs' could reach two million while exports from the low-carbon economy could grow to a hefty £170bn a year by 2030.
The net-zero carbon target will impose major changes in almost every aspect of British life, affecting our homes, food and the way we get around, as well as jobs and businesses. Reaching the target could cost about 1–2% of gross domestic product annually, according to a report from the Committee on Climate Change. The implications for future taxes on all aspects of demand and supply remain uncertain.  
Advancing to cleaner energy
The prospects of a total phase-out of fossil fuels remains unlikely, as the world economy will still use oil and gas as a feedstock for making a range of industrial chemical, plastics, medicines and fertilisers. Instead, the main effort will be on achieving operational emission reductions, utilising renewable energy, developing low-carbon transportation fuels, commercialising carbon capture and storage (CCS) and developing technologies for using hydrogen in power generation and in transportation.
Several options are open to both policy and decision-makers in achieving the net-zero challenge. On the supply side, the business environment must be changed to encourage traditional fossil producers to become full-spectrum energy companies, as they have the key technological, innovative, fiscal and project management know-how to deliver the mega green projects of the future. As for the demand side, policymakers need to create the business climate regulatory incentives for a greener energy future.  
Changing behaviours
To have any prospect of meeting the new target, consumer behaviour will need to change – perhaps flying fewer miles, increasing carbon taxes and increasing the use of high-speed trains. The shipping and aviation sectors, meanwhile, are taking several approaches to reduce their impacts on the climate, including improvements in fuel efficiency and the introduction of greener fuels. As for the energy sector, the industry must increase its support for delivering more carbon-friendly fuel solutions for transport and industrial processes.
Policymaking
The UK already has an existing 2050 target to reduce emissions by 80%, which was agreed by parliament under the Climate Change Act in 2008. The government's plans to replace this target with the much tougher net-zero goal means implementing policies that will ensure zero emissions from homes, transport, farming and industry where possible, and where it cannot be fully achieved, offsetting any emissions produced by planting trees or sucking CO2 out of the atmosphere.  
The UK's energy sector
Phasing out coal use and bringing more renewable energy on stream are the key planks of the government's strategy. Coal has been displaced by natural gas, wind and solar power, while National Grid has invested in network modernisation, including inter-connectors that link the UK with neighbouring countries' electricity supplies. Just as the UK's coal age is ending, we seem to be at the start of a new nuclear power age, possibly making use of small nuclear reactors rather than the mega-projects currently favoured. As for gas power generation, its role is changing to that of peak power supplier, able to provide back-up power for renewables when needed. In addition, we are seeing the growing use of grid-scale energy storage to manage fluctuations in demand and supply of power.  
Big oil gets greener
Fossil fuel companies are already making the move towards a low-carbon economy. Ørsted and Equinor have changed their names to reflect their changing business models, France's Total has invested in a major battery manufacturer Saft Groupe SA, while BP has returned to solar power, some six years after exiting the sector.
Led by Shell, BP and Chevron, big oil companies are aligning their businesses and reward systems with the Paris Agreement while also addressing environmentally damaging operations such as methane leaks and harmful gas flaring, and encouraging energy storage as well as hydrogen and CCS technologies.  
In fact, Total's CEO Patrick Pouyanne notes that 'there is a need to bolster investment in new technologies like CCS, with the potential for the North Sea to become the "giant cave for CO2 in Europe" by using depleted gas fields.' Likewise, Equinor is endeavouring to reduce the carbon footprint of its offshore oil rigs by directly connecting them to nearby shore-based power grids, and where this is not possible, by replacing rigs' turbines with innovative floating 
wind turbines.
Shell, BP and Total have tentatively begun to produce renewable energy. For example, Shell bought First Energy, which not only produces its own renewable energy but also supplies electric car charging points for electric cars and home users across the UK. Ben van Beurden, chief executive of Royal Dutch Shell, states that: 'The latest investments are part of the company's wider emission reduction strategy.'
While these steps are to be welcomed, big oil is only at the early stages of its move into greener energy. As they are used to developing large-scale projects, the relatively small size and speed of renewable projects is unfamiliar to oil and gas companies. However, when the financial returns of sustainable energy match or even exceed those of oil and gas, these large companies will undoubtedly increase the scale of their investment.
New era in power
The closure of the UK's last seven coal power stations by 2025 marks the end of an era and the beginning of reliance on sustainable energy, paralleled by grid-scale and domestic batteries to keep grid stability. Fintan Slye, head of the National Grid Electricity System Operator (ESO), says: 'More renewable power generation and less coal is a trend that is here to stay, and this carbon intensity milestone shows the pace of change in the UK energy industry.' National Grid ESO has set out a pathway towards operating the electricity system entirely on renewables by 2025, and the big six utility companies, including E.ON and SSE, are on board.
Since 2010, in partnership with gas utility SSE, National Grid has invested more than £3.8bn in renewables, culminating in the recent completion of the 588MW Beatrice offshore wind farm (SSE share: 40%) last May. This raised SSE's sustainable energy capacity to 4GW. SSE's investment of more than £2.7bn in new electricity transmission infrastructure since 2013 is playing a key role in supporting the UK's drive to reduce emissions. Likewise, E.ON has already invested £2.5bn in renewable energy plants.
Gas central heating in residential property accounts for nearly 15% of the UK's greenhouse emissions. To meet zero emissions, gas-fired central heating and hot water will need to be replaced by electric boilers or district heating schemes. Alternatively, natural gas could be replaced with hydrogen or green gas produced from a network of anaerobic digesters using waste from agriculture, industry and sewage.  
How do we get there?
The UK stands at the forefront of the global low-carbon transition, but the government needs to back up its ambitions for reducing carbon emissions by putting policies in place. Ultimately, a mixture of fiscal and technological carrots and sticks will be needed to ensure the UK meets its net-zero targets. On the demand side, this would mean an end to all new airport expansions and major funding in building energy efficiency. On the supply side, this would involve serious investment in a new fleet of mini nuclear power plants, together with major government backing for energy and resource efficiency, electrification, hydrogen and CCS technologies, including the transformation of redundant oil and gas fields into carbon sinks. 
Picture Credit | Ikon