Q&A: View from the top: Dr Liam Fox
Former Secretary of State for International Trade, talks to Energy Focus about supporting the UK energy supply chain and global exporting opportunities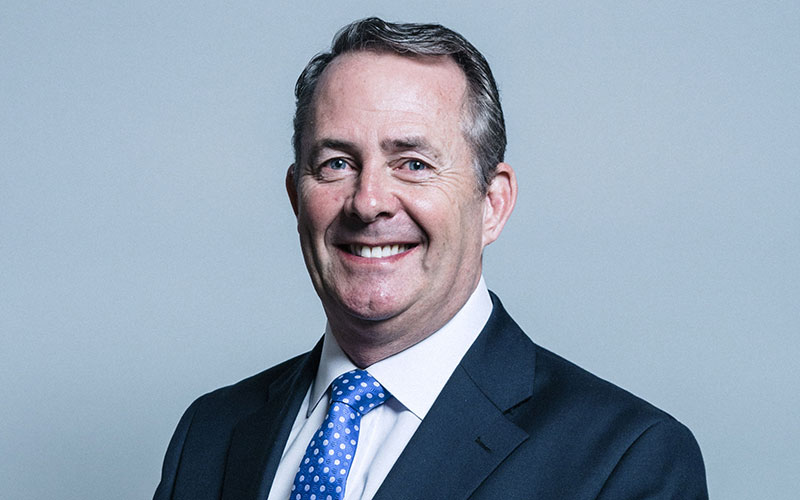 What is the government doing to help make Britain a 21st-century exporting superpower and increase total exports as a proportion of GDP to 35%?
Since the Department for International Trade (DIT) was founded in 2016, the UK has exported £1.7tn worth of goods and services. The UK has achieved 37 consecutive months of export growth on an annual rolling basis – with exports totalling £645.8bn in the year to April 2019.
We can do more to help British businesses realise their global potential, especially with economic headwinds on the horizon. Between 428,000 and 604,000 businesses self-identify as having goods or services which could potentially be exported.
The Export Strategy sets out how we help businesses of all sizes to make the most of the opportunities presented by global markets. One example central to our strategy is UK Export Finance (UKEF). UKEF unlock finance in emerging markets for British exporters with the capacity to secure £50bn of loans.
Do you see the UK energy sector as being able to help meet this target?
The energy sector will have a key role to play in this. Major new opportunities are emerging in developing markets with booming energy demands; economies crying out for precisely the capacities, expertise and experience the UK energy sector has.
There is huge potential in our renewable energy sector. We are building on our strength as the world's largest producer of offshore wind, with UK capacity expected to reach 30GW by 2030.
Fossil fuels will remain a significant contributor to the energy mix for decades to come. New opportunities have arisen in places such as Senegal, Mauritania and the East coast of Africa, which will become major new areas of supply, particularly of gas.
How will the Export Strategy help meet the oil and gas industry's Vision 2035 goal to double the market share of supply chain exports?
With global GDP expected to double by 2040, developing nations will need more energy in the future. Fossil fuels are helping deprived communities grow their economies to a level we take for granted.
DIT helps to put UK companies at the forefront of those efforts. With teams in 108 countries, we can improve access to finance, open diplomatic channels and offer expert market advice through energy trade officers and appointed trade commissioners.
In the last year alone, DIT helped UK companies achieve oil and gas new business worth nearly £9bn. In 2018–19, UKEF provided £6.8bn of backing for exporters across the world, and connected more than 300 UK suppliers with international opportunities.
What is UKEF doing to help suppliers in the nuclear and renewables industries to succeed in securing more overseas contracts?
In the last two years, UKEF has supported £310m worth of contracts in the renewable energy sector, which was identified as a priority in its business plan.
In the nuclear sector, UKEF is in discussions with potential exporters to a range of markets. Involving UKEF in the development of the nuclear sector deal's export strategy will also be key to delivering the strategy as a whole. DIT is working with industry to raise awareness of UKEF's offer to the nuclear sector, and to identify projects and markets where UKEF assistance would be best deployed.
However, UKEF's aim is to provide support only where there is a lack of private sector finance. As there is significant liquidity in the private sector finance market for investment in renewables projects – as the offshore wind sector's export success shows – private sector sources are readily available.
As UK suppliers mature and begin to look for overseas opportunities, UKEF stands ready and able to provide support.
What will Brexit mean for British energy exporters?
Brexit is not the occasion to 'pull up the drawbridge', but to embrace the opportunities that the changing pattern of global trade presents.
Around 90% of global economic growth in the next 10 to 15 years is expected to be generated outside the European Union. We must adapt to be part of that change and that is what our Export Strategy aims to do.
The government has taken a number of measures to ensure that the UK can continue to trade with key partners in Europe and further afield following our departure from the EU. In the civil nuclear sector, for instance, the government has put in place appropriate regulatory arrangements and completed preparations for a new domestic nuclear safeguards regime which will address the UK's departure from the Euratom treaty with or without an exit deal. We've also agreed new Nuclear Cooperation Agreements (NCA) with Australia, Canada and the US, and confirmed the operability of an existing NCA with Japan, thereby ensuring civil nuclear trade can continue with these international partners in any scenario.
What bilateral trade deals have already been secured by the UK?
We have laid the groundwork needed to secure an orderly exit from the European Union. We've announced a Day 1 tariff policy, rolled over more than half of existing trade agreements and fully-established the Trade Remedies Investigations Directorate so we can take our independent seat at the WTO at the earliest opportunity.
We've secured trade continuity agreements with both individual countries and trading blocs that account for 63% of trade we are seeking continuity for, while also signing Mutual Recognition Agreements with other countries including the US, Australia and New Zealand. Looking ahead, we are talking to a further 21 countries on a variety of future trading options.
What key global markets have been identified by DIT as having the most potential for UK energy supply chain opportunities?
The UK oil and gas supply chain generates £30bn annually, 41% from exports. Analysis indicates an opportunity to double this global market share from £350bn to £500bn. Key global markets include Brazil, Oman, Iraq, Nigeria, Azerbaijan, Kazakhstan and India, who all want new, innovative technologies to reduce cost and extend the life of existing assets. The industry has world-leading expertise in offshore and subsea engineering, high-temperature, high-pressure field developments, process machinery equipment and integrated services for operations and maintenance. Decommissioning is a growth sector, with emerging opportunities in markets such as South East Asia.  
Nuclear new build is taking place across a global landscape, with China, India, the Middle East and other emerging economies leading the way. The UK enjoys strong relationships in nuclear with Canada and the US, and all three countries are at the cutting edge of next-generation nuclear technologies, including small and advanced modular reactors and fusion.  
As existing nuclear fleets across the world come to the end of their lifecycles, there is a growing market for the UK's extensive expertise in decommissioning and waste management, in countries such as Japan, South Korea and Taiwan.
Perhaps the most exciting opportunity is the global shift towards clean energy solutions – a challenge for almost all markets. With a strong government commitment to clean growth, London as the global centre for green finance and a world leader in offshore wind deployment, British solutions to this global challenge are in high demand. Exports from the UK's low carbon and renewable energy sector were £5bn in 2017. We have world-leading capabilities in areas including offshore wind, smart energy systems, sustainable construction, precision agriculture, green finance and electric vehicle manufacture.
We are actively working to support a wide range of companies in many markets – from solar developers delivering projects in Chile to creating energy from waste in Indonesia.
What is the government doing to encourage investment in the UK's energy industry?
Energy is a major driver of our growth. The Oil & Gas UK's Economic Report 2018 states that the UK's offshore oil and gas industry currently supports more than 280,000 jobs across the UK, contributing billions in tax revenues each year.
The UK is one of the best places in the world to invest in renewable energy. We offer significant supply chain opportunities across the sector, including waste energy, electrical networks and offshore wind. We are making long-term investments to advance this technology, such as the £246m allocated to battery research through the Faraday Institute.
The Nuclear Sector Deal includes initiatives to encourage investment in the UK, including support for the development of a robust skills base to guarantee the long-term future of the nuclear supply chain. Government has also said that developers of new build projects will be required to publish Supply Chain Plans, which are designed to give better visibility to the UK supply chain of opportunities to compete for contracts in those projects, thereby encouraging further investment in UK companies.
The government is investing £2.5bn into clean growth innovation by 2021, as set out in the Industrial Strategy.
What are the benefits of working with the EIC?
DIT works closely with the EIC. We welcome their insight into the industry and ability to reach a wide network of companies. The recent Energy Exports Conference hosted by EIC and supported by a consortium of industry bodies and government, including DIT, focused on supporting the UK supply chain to export its products, services and expertise into global markets, and demonstrated the value of industry and government collaboration. 
---
About Dr Liam Fox
Dr Liam Fox was Secretary of State for International Trade and President of the Board of Trade from July 2016 to July 2019. He was elected as the Conservative MP for North Somerset in 1992, having worked as a GP and a civilian army medical GP.
He has held numerous positions in the Conservative Party, including Shadow Health Secretary, Conservative Party chairman, Shadow Foreign Secretary and Shadow Defence Secretary. Following the 2010 election, he became Secretary of State for Defence from May 2010 to October 2011.
Dr Liam Fox studied medicine at the University of Glasgow Medical School, graduating with MB ChB degrees in 1983.