Q&A: View from the top: Gordon Birrell
BP's Upstream Chief Operating Officer for Production, Transformation and Carbon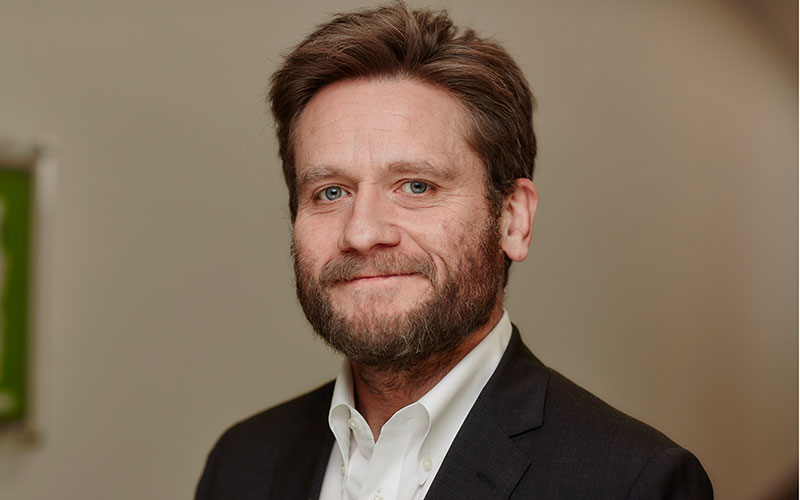 What role are oil and natural gas likely to play as energy markets transition to a lower-carbon energy system?
In all the scenarios we have explored, oil and gas are going to be required for a long time to meet the energy needs of the world.
But as we work to meet these needs, we must also be mindful of both sides of the dual challenge – providing more energy and with lower-carbon emissions. That's where advantaged oil and natural gas come into play.
Ultimately, we have thousands of people at BP, who wake up every day focused and committed to meeting this dual challenge.  
As part of this, we have set clear, near-term and specific targets to reduce our own carbon footprint. Since 2016, we have generated 2.5m tonnes of sustainable greenhouse gas emissions reductions. In the past year, we achieved a methane intensity of 0.2%. These are steps in the right direction.
I'm one of those thousands of people who wake up every day to get after this challenge. My job is to produce energy with an ever-decreasing carbon footprint, bringing emissions reductions to the heart of our oil and gas production.
How is BP leveraging Industry 4.0 technologies to meet the dual challenge?
Our digital journey started with democratising data before moving on to digital twins. We're now focused on machine learning (ML) and artificial intelligence (AI).
BP is now running several proofs of concept in the ML/AI area and has made some significant investments in companies that we believe can target these approaches to our most valuable opportunities.
Most recently we invested in Belmont Technologies to develop a digital tool we call Sandy. Sandy interrogates BP's databases of geophysical and subsurface data, intuitively linking information together, identifying new connections and workflows and creating a robust knowledge-graph of the subsurface. It then uses AI neural networks to interpret results and perform rapid simulations. We expect the combination of BP and Belmont could save up to 90% of the time currently spent hunting, cleansing and then integrating information, accelerating key decisions about our wells and field developments, and enabling our scientists and engineers to spend their time on high value opportunities.
To what extent is BP's modernisation and transformation programme transforming business?
We started with a very simple modernisation and transformation (M&T) framework aimed at dialling up certain parts of our mindset as a business, progressing our digital ambitions and becoming more agile in how we work. This was targeted not only at better business performance but also at shaping BP as one of the best places to work in terms of culture and environment. The benefits have been clear. Our M&T programme has supported more than a thousand projects to date and we only see that growing.  
We know that the problems we need to solve will take a huge diversity of thought. Part of this transformation is ensuring we have people from all over the business coming together to work on these projects in an agile way. We've seen project time slashed and efficiency increased, all while keeping safety at the core of our day-to-day operations.
Can you detail some of BP's major projects coming online over the next few years that will be impacted by new technologies?
We see fast-paced tie-backs playing a huge role in areas where we have a major presence, such as the US Gulf of Mexico (GoM). We are accelerating development of smaller pools of oil tied-back to existing infrastructure, which adds a lot of value for BP. This is an example of what we call advantaged oil and gas development.
Our recent sanction for the US$1.3bn Atlantis Phase 3 development is the latest example of this approach – growing advantaged oil and  gas production through one of our existing major production hubs in the Gulf.
And this development was supported by major breakthroughs in advanced seismic imaging and reservoir characterisation that revealed an additional 400m barrels of oil in place at the Atlantis field. This same approach has uncovered another billion barrels at Thunder Horse. This is where our investment in digital technologies is coming into play and significantly moving the dial from an upstream perspective.
Which fourth generation technologies will BP be developing?
We're running several proofs of concepts to better understand how these types of technologies might create value and where they could be applied. We don't develop these technologies ourselves, rather we work with universities, start-ups and established industry players to shape the technologies to support our highest value use-cases and deploy them rapidly.  
Turning to the US, what technology will BP be using to make future GoM finds?
Proprietary algorithms we have developed enhance a seismic imaging technique known as Full Waveform Inversion. It was the application of these, coupled with reservoir characterisation, that enabled us to identify a further billion barrels at Thunder Horse. The algorithms, applied with our supercomputing facilities, allowed seismic data that would have previously taken a year to analyse to be processed in only a few weeks.
Our proprietary Wolfspar technology uses an ultra-low frequency source during seismic surveys allowing geophysicists to see deeper below salt layers. We are planning its use in the Thunder Horse and Atlantis fields to better understand the reservoirs.
What will drilling rigs look like in 50 years?
The big focuses for modernisation in drilling will continue to be safety related and increasing the rate, range and quality of data generated while drilling.
Removing people from harm's way through robotics will drive safety performance. More and better-quality data and associated analytics will enable real-time decision-making, improving outcomes and increasing the likelihood of success.
There are radically different technologies out there which may mature, such as laser drilling, but a rig will still be required to host the equipment and create a penetration into rock to place a well.
How is BP building the workforce for a digitalised future?
One of the best investments we can make is in our people. We have a tremendously talented workforce that we're very proud of. The latest generation of innovators who are joining us know tech. They're shaping our future and we recognise that.
In upstream, we've started a reverse mentoring programme with our executive leadership, where innovative early-career staff are paired with senior executives, regularly meeting and exchanging ideas. I have a mentor, who is early in his career and is a specialist in data science and automation.
We also host digital and data science bootcamps and launched a digital capability portal, which acts as a one-stop for building digital skills.
I never take for granted the trust our workforce has placed in BP to build their career here. It's the motivation behind both improving our business and helping build the type of energy future we all want to be a part of.
Where do you see the industry in 10, 20… 50 years' time?
Looking ahead, I expect us to be thriving, because there will still be a  growth in energy demand in the world. It may have a different profile from today, but it will still be growing.
We'll be much more digital, working in agile ways and many processes will be automated. But we'll still be focussed on pushing the frontiers to help solve the world's biggest energy challenges. 
---
About Gordon Birrell
Gordon Birrell has been BP's Upstream Chief Operating Officer of Production, Transformation and Carbon since 2017. He joined BP in 1986 and has worked in various other positions for BP including Regional President for Azerbaijan, Georgia and Turkey, Head of Safety and Operational Risk for Upstream, Upstream Technology Vice President, and Head of Upstream Executive Office. 
Gordon Birrell has an MBA from Warwick University and an honours degree in Electrical and Electronic Engineering from Heriot-Watt University, Edinburgh. He is a Fellow of the Royal Academy of Engineering and a Fellow of the Institute of Engineering and Technology.