View from the top: Abdulaziz Alhajri, Director, Downstream Directorate at ADNOC
Energy Focus meets Abdulaziz Alhajri, the man tasked with driving Abu Dhabi National Oil Company's (ADNOC's) ambitious downstream expansion plans to double refining capacity and triple petrochemical production by 2025.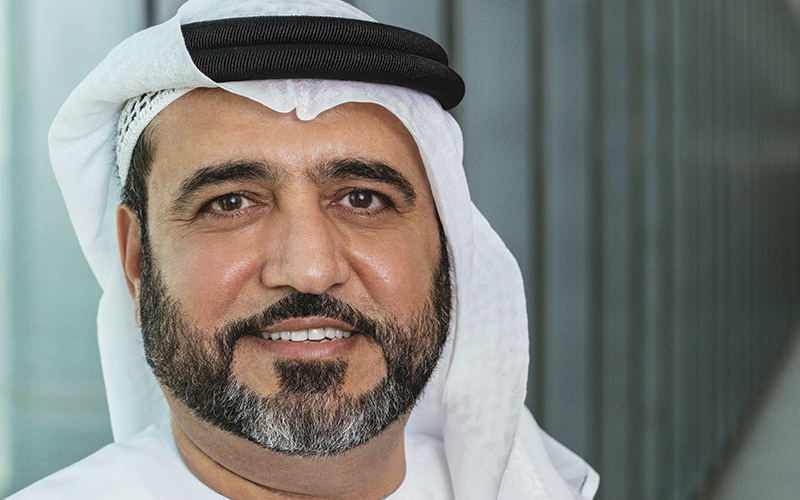 (Picture - above)
A year on since managerial changes within ADNOC were announced, can you provide an insight on any resulting initiatives in the downstream business?
As part of ADNOC's 2030 smart growth strategy, we are pursuing profitable and integrated downstream growth to meet the needs of a changing market. Our strategy aims to forge new partnerships and improve performance to achieve a competitive advantage. We are focused on increasing the value of what we produce, as well as investing strategically in creating new products and revenue streams. 
With your responsibility being solely downstream, how much interface is there with senior colleagues in the upstream and midstream parts of the ADNOC business?
All of us at ADNOC are working towards the strategic objectives of creating a more valuable downstream business, as well as a more profitable upstream business and an economic and sustainable supply of gas. I meet regularly with my colleagues to address these strategic objectives, and to enhance performance and profitability across the entire value chain. Our Upstream, Downstream and Marketing, Sales and Trading directorates have a very close working relationship.
Given the recent upstream merger within ADNOC between Abu Dhabi Marine Operating Company (ADMA-OPCO) and Zakum Development Company (ZADCO), are there any plans for a similar downstream initiative?
There are no plans to merge any of our downstream companies at this time. We are, however, pursing site integration opportunities that allow us to capitalise on synergies and streamline our costs by, for example, sharing services across different sites and companies.
Can you tell our readers more about ADNOC's potential market flotation and future partnership plans?
Our reinvigorated approach to partnerships will enable ADNOC to be more agile in managing its assets, unlocking capital and investing in high growth opportunities.
There are potential partnership and co-investment opportunities within our refining and petrochemical portfolio, including at our existing refineries, a new world-scale refinery and a mixed liquid feed cracker and associated downstream petrochemical units. We are also considering listing minority stakes in our service businesses. Our partners will benefit from select access to ADNOC's world-class asset base that is strategically and logistically located within an investor-friendly and stable environment. More detailed announcements will follow over the next 12 months and beyond. 
Has ADNOC's downstream supplier procurement processes changed?
Our group procurement policies and procedures apply across the whole organisation, from upstream to downstream. The centralised commercial directory introduced in 2017 benefits vendors by providing a single entry point for registration and prequalification of tenders. So rather than register with all our operating companies, vendors now only need to register once with the ADNOC Group. Standardised contract terms and conditions, a streamlined negotiation process and simplified contract requirements have all been introduced. We have also adopted more transparent key performance indicators.
---
Processing and refining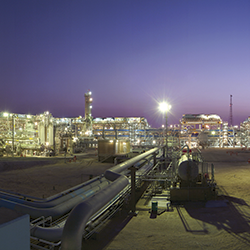 ADNOC has seven businesses that are responsible for all aspects of processing, refining and transforming oil and gas into a variety of products
Abu Dhabi Oil Refining Company (Takreer) Takreer has a total production capacity of almost 900,000bbl/d, specialising in crude oil and condensate refining, supply of petroleum products and production of granulated sulphur
Abu Dhabi Polymers Company (Borouge) Borouge is an innovative chemical and plastics solutions provider, with a total polyolefin production capacity of 4.5 metric tonnes per day (MMtpd)
Ruwais Fertilizer Industries (FERTIL) FERTIL produces up to 3,300MMtpd of ammonia and up to 5,800MMtpd of urea
Abu Dhabi Gas Industries Ltd. (GASCO) One of the world's largest natural and associated gas processing companies GASCO has a process capability of 5.5bn standard cubic feet of feed gas per day
Abu Dhabi Gas Liquefaction Company Ltd. (ADGAS) ADGAS is a natural and associated gas processing company, 
with a process capability of 8m tonnes of liquefied natural gas, liquefied petroleum gas, paraffinic naphtha and liquid sulphur per year
ADNOC Linde Industrial Gases Company Ltd. (Elixier) Elixier supplies gaseous and liquefied nitrogen and liquid oxygen
Al Reyadah Al Reyadah captures, processes and uses up to 800,000 tonnes of CO2, to enhance oil recovery, each year
---
What is ADNOC's approach to sustainability and carbon management?
ADNOC is focused on achieving both greater energy efficiency and lower carbon intensity. We are significantly changing our business practices to increase energy efficiency by 10%, by reducing our own gas consumption by 156m cubic feet per day, saving US$1bn by 2020. At the same time, we are working to mitigate greenhouse gas emissions. ADNOC introduced the first no-flaring policy in the Gulf in 1995, and we have evolved into a regional leader in flaring avoidance design and operation.
We are also a leader in integrating carbon capture utilisation and sequestration into our enhanced oil recovery (EOR) strategy, capturing 800,000 tonnes of CO2 a year from the Emirate's Steel plant and injecting it into our fields where it stays locked away underground, which frees up the natural gas previously used for EOR for more productive use.
Can you tell us about ADNOC's long-term strategy for petrochemicals and refining?
We are pursuing integration opportunities in our refining and petrochemicals business to capitalise on synergies and enhance profitability. We will also make significant investment in new downstream projects: raising refining capability; gasoline production to 10.2m tonnes per annum (MMtpa) by 2022; and expanding petrochemical production by two and half times to 11.4MMtpa by 2025 as we target rising demand, particularly in Asia, where the petrochemical market is set to double by 2030.  
To achieve these goals, what are the main challenges ADNOC will face and how will they be overcome?
Shifting global trends are creating an energy landscape where new rules of engagement are required. So, we need to adopt a more open and flexible mind-set when it comes to deciding how to best expand and choose the best partners or how to leverage new technologies. Downstream, we want value-adding partners who are willing to contribute both capital and technological expertise. The ideal partner brings tangible strategic value to ADNOC, including access to new markets. At the same time, we are focused on developing our own people and attracting best-in-class talent, to create a world class work force. We are investing in upskilling the brightest and best national talent, and we have raised standards through a competency-based performance management system, supported by a lifelong learning culture.
---
About Abdulaziz Alhajri
Abdulaziz Alhajri was appointed Director of the Downstream Directorate at ADNOC in May 2016.
He has more than 31 years of experience in executive management, operations and technical services with ADNOC. Before taking the helm of the refining and petrochemicals division Abdulaziz Alhajri was Chief Executive Officer of Abu Dhabi Polymers Company Ltd (Borouge), ADNOC's joint venture with Austria's Borealis
Prior to joining Borouge, he served as Assistant General Manager (Technical) at ADNOC's gas processing company GASCO. He is on the Board of Directors at Gulf Petrochemicals and Chemicals Association and NOVA Chemicals Corporation.
ADNOC
Established in 1971, ADNOC is one of the world's leading energy producers. Over its 46-year history, ADNOC has steadily diversified and expanded its operations, comprising 16 companies and subsidiaries to create an integrated oil and gas company spanning exploration and production, refining and petrochemicals, and marketing and distribution.
---