View from the top: Greg Clark
Energy Focus meets Greg Clark, Secretary of State for Business, Energy and Industrial Strategy, the minister who has helped push the green agenda forward, driving big investments for low carbon innovations.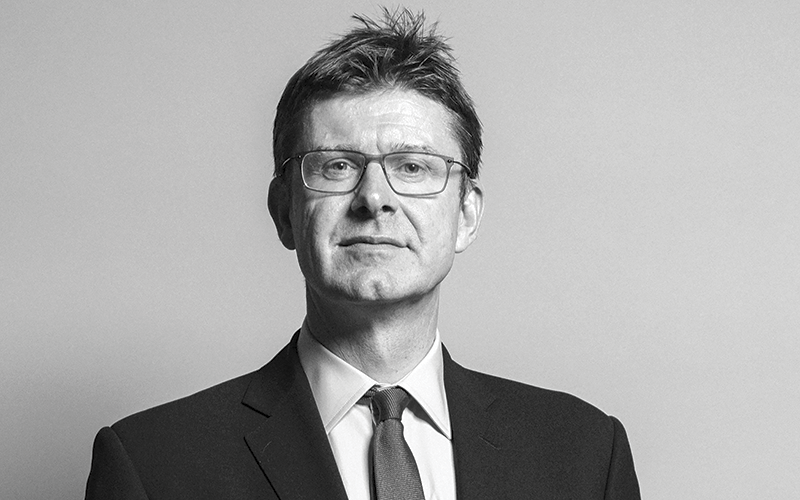 How do oil and gas companies fit in with the government's bold new vision for decarbonising the UK?
Oil and gas will remain important fuels and will allow a manageable and sustainable transition to a lower carbon future. Clean growth is a key part of our Industrial Strategy and we are determined to continue to lead the world in the transition to a low carbon economy, ensuring that the UK maximises the economic opportunities.
This will mean working with the sector to explore its potential contribution to clean growth through technologies such as carbon capture, use and storage (CCUS), and the use of hydrogen as a low carbon energy source. The increased use of biogas and the future possibility of hydrogen also provide the opportunity of using gas and the gas grid as part of a long-term, low carbon future.
What key actions will the government now take forward to kick-start CCUS and persuade reticent investors that it will be a success this time around?
The Clean Growth Strategy sets out how we are cutting emissions while keeping costs down for consumers, creating highly-skilled jobs and growing the economy. As part of our Industrial Strategy Challenge Fund, we have said that we will support innovation in low carbon industrial processes and technologies including CCUS.
CCUS has huge potential to decarbonise the economy and maximise economic opportunities for the UK. We want the UK to become a global technology leader in CCUS and are investing £100m in innovation work as well as working with global partners to reduce costs and accelerate deployment.
The Joint Industry-Government Decarbonisation Action Plans, published alongside the Clean Growth Strategy, set out the importance of carbon capture to decarbonising some energy intensive industries.
The government has welcomed 'sector deals' in its Clean Growth and Industrial Strategies. What do these 'sector deals' mean for the UK energy supply chain?
The shift to clean energy presents a multi-billion pound opportunity for businesses and, as our Clean Growth Grand Challenge outlines, we want to maximise the advantages for UK industry from the global shift to clean growth. We will position the UK as a world leader, deploying the major interventions of the Industrial Strategy – in innovation, skills, business and local growth, trade and investment – in support of this goal.
Innovation in clean growth will be important for low cost, low carbon infrastructure systems, as well as for realising industrial opportunities. We will increase support for clean growth innovation by making this a strategic priority for the Industrial Strategy Challenge Fund.
Over the last decade, we have shown there is a clear joint benefit to UK businesses and the government from establishing partnerships where the government works with sectors to support them to grow, invest and reach their potential. Stakeholders have warmly welcomed our proposals to extend this successful model of collaborative working to other parts of the economy where there is a compelling case for action to raise the productivity of the sector in question.
While sector deals are not required for every area of industry, we welcome businesses coming to us to signal their interest in being involved in future sector deals.
How will the government harness the potential of distributed energy and smarter energy systems?
Upgrading our energy system to make sure it is fit for the future is a key part of our Industrial Strategy. A smarter energy system will create opportunities to reduce energy costs, increase productivity and put UK businesses in a leading position to export smart energy technology and services to the rest of the world.
We recognise the potential for storage to help ensure that energy supplies are secure, affordable and clean. It is a key part of the transition to a smarter and more flexible energy system, which we are supporting.
In July 2017, we published the Smart Systems and Flexibility Plan, which announced the government's commitment of up to £70m to support innovation in smart energy, including storage, up to 2021. This includes two storage innovation competitions, a £9m cost reduction competition to reduce the cost of large-scale energy storage technologies and £600,000 first-of-a-kind feasibility studies for large-scale future storage demonstrators.
We have also launched the Faraday Battery Challenge, a £246m investment to help the UK become a world leader in the research, development and manufacture of electric battery technology. The Industrial Strategy Challenge Fund, 'Prospering from the Energy Revolution', was recently announced in the Industrial Strategy White Paper. This new innovation challenge intends to enable electric vehicles and energy storage to become commercial and integrated in the energy market.
We are also working to ensure that key enablers for technologies such as home battery storage systems are in place. These include smart meters and measures to encourage smart tariffs – which allow consumers to benefit from cheap energy when demand is low – both of which are part of the Smart Meters Bill which is currently going through parliament.
What technological solutions does the government need to help balance supply and demand in the National Grid?
Research by Imperial College and the Carbon Trust indicates that moving to a smarter, more flexible system could save UK consumers up to £40bn by 2050.
In order to feel these benefits, we will need to employ a diverse array of technologies and solutions that can enable us to use energy more flexibly and decarbonise cost-effectively. For example, maximising the usable energy from intermittent low carbon generation like solar or wind, and deferring the need for costly network reinforcements or building new generation.
The Industrial Strategy, alongside our Smart Systems Plan, published last July, will provide the framework and investment which will allow British businesses and consumers to capitalise on these emerging opportunities.
How will the government support the growth of zero marginal cost technologies?
The UK is widely recognised as one of the best places to invest in renewable energy, with Bloomberg New Energy Finance's 2017 report rating the UK third globally for new investment in renewables last year, up from fourth in 2015.
We believe that Contracts for Difference (CfD) is the best way to provide the UK with affordable and reliable energy as we move towards a low carbon economy. We of course welcome continued investments, which will help us meet this goal, and I was very pleased to see the opening of the very first subsidy-free solar farm in September this year near Flitwick in Bedfordshire.
The CfD system is bearing fruit for other technologies as well, and technologies such as offshore wind are now on their way to being subsidy-free.
The next CfD auction is planned for spring 2019. How can we reduce costs and increase business confidence even further?
We are confident that we are continuing to create a favourable business environment for clean growth. The growth of the renewables sector has been a real UK success story. Since 1990 our carbon emissions have fallen, while our national income has risen faster and further per person than any other nation in the G7.
The latest figures verified by National Grid indicate that last year was the greenest year ever, with almost 52% of electricity generation from low carbon sources between June and September. We now have the biggest installed offshore wind capacity in the world, and the cost of new offshore wind is tumbling thanks to government support.
The UK is a world leader in clean growth and we have invested more than £52bn in renewable energy in the UK since 2010. Our competitive approach has driven down prices for example offshore wind cleared at £58/MWh in 2022-23 – a reduction of over half since the first CfD auction in 2015. We are also providing support for innovation in the offshore renewables sector through the Offshore Renewable Energy Catapult.
How can UK suppliers leverage their expertise to become competitive in emerging offshore markets and indeed the global marketplace?
The UK is a leader in clean growth with more than 430,000 jobs in low carbon businesses and global supply chains. There is a huge economic opportunity from clean growth, and this is something that we're looking to capitalise on at home and abroad.
An estimated £10tn of public and private investment in the global energy sector alone will be required between 2015 and 2030 if the signatories to the Paris Agreement are to meet their national targets. It has been estimated that UK legal and finance advice was behind a third of new clean energy projects globally between 2007 and 2012.
What is the UK's response following Donald Trump's announcement to pull the US out of the Paris Climate Agreement?
The United Nations annual climate change conference, held in Bonn in November 2017, represented a special moment for global climate action and there remains a real momentum to deliver the commitments of the Paris Agreement despite the disappointing actions taken by President Trump. We are also tapping into a real appetite for new initiatives such as the Powering Past Coal Alliance, a global coalition of businesses, countries and cities, committed to ending unabated coal power, launched in Bonn by Climate Change Minister Claire Perry with her Canadian counterpart, Catherine McKenna.
Of course, we continue to work with the US as climate change is a global challenge and requires a global response. 
---
About Greg Clark
The Rt Hon Greg Clark was appointed Secretary of State for Business, Energy and Industrial Strategy on 14 July 2016. Prior to this, he held a number of ministerial positions and was first elected as the Conservative MP for Royal Tunbridge Wells in 2005.
Before becoming an MP, Mr Clark worked for the Boston Consulting Group. He was the BBC's Controller of Commercial Policy and became Director of Policy for the Conservative Party in March 2001.
Mr Clark was born in Middlesbrough in 1967 and attended the local St Peter's Comprehensive, South Bank. He went on to study economics at Cambridge University and was awarded his PhD at the London School of Economics.
---
About Clean Growth Strategy
The government is investing over £2.5bn in low carbon innovation, including:
£20m for a clean tech investment fund
£162m in research and innovation in business energy, resource and process efficiency
£841m for low carbon transport technology
£265m for smart energy systems