My business, Matthew Cooper, Cutting & Wear
Sales Director Matthew Cooper takes Energy Focus behind the scenes at Cutting & Wear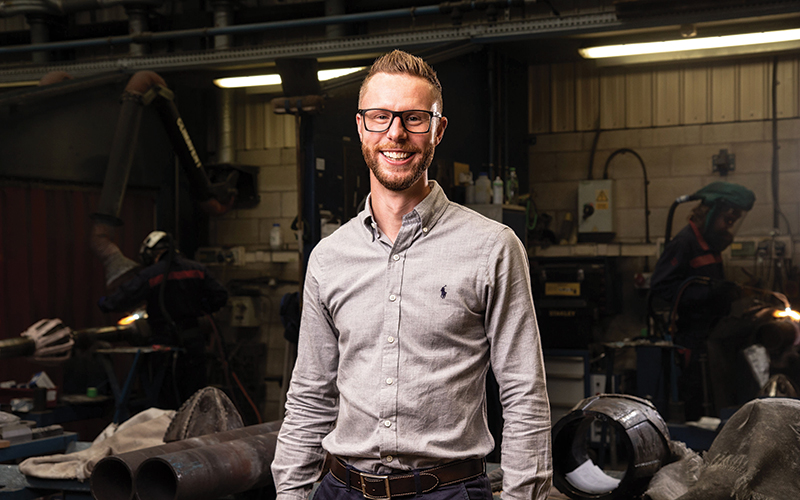 Can you tell us a little about Cutting & Wear?
Cutting & Wear started in 1968, manufacturing hardfacing materials for the oil and gas drilling industry. As the company grew, it continued to develop its hardfacing technology and later diversified into manufacturing downhole tools. We have grown with the industry and understand its demands.
In 2012, we moved into a purpose-built 38,000 sq ft manufacturing facility across a three-acre site. From here, we manufacture all our hardfacing workshop supplies and a wide range of downhole tools on behalf of others, including multinational service companies. We have a passion for hardfacing, which has led to the creation of many unrivalled technologies used by our global network of customers.
What does Cutting & Wear do?
We provide our customers with a wide range of hardfacing consumables and equipment to support them with their own hardfacing operations. With our extensive skills and product knowledge, both from a manufacturer and user perspective, we are often called upon to help train customers to perform hardfacing themselves.
We also provide complete supply manufacture of downhole tools from our Sheffield facility, helping multinational service companies turn their designs into reality. Hardfacing is a very niche market; our customers recognise our deep understanding of this and manufacturing, which places us in a unique position to help them. Our R&D team is at the heart of everything we do, constantly pushing for the next game changer.
How is a day in your role?
Working in a fast-paced and demanding industry such as oil and gas, every day is different and throws up fresh challenges. We are on track with our strong growth plans and have an organised and well-balanced team to support customers.
With the pressures on rig time, our customers require reliable, on-time delivery and, often, schedule flexibility. Thankfully we are set up to handle this and adapt quickly, hence no two days being the same. This, coupled with the development of new technology, ensures every day is interesting.
Of course, the global pandemic changed how we now work, predominately with a greater emphasis on virtual meetings. However, now that travel restrictions have eased, it is great to be back out visiting our customers in-person and inviting them to our facility. COVID-19 restrictions also led to a greater push to develop our website and social media channels to showcase all of our capabilities, many of which were unknown to prospective clients. 
What has changed since your first day at Cutting & Wear?
Innovation is a core value, so we don't stand still for long. In the decade I have been here, we have successfully brought new hardfacing creations to the market, such as SupaCutt Xtreme, TSP Xtreme and QuickTip Next Generation Hardfacing System. With the developments we've made in machining technologies and capabilities, we've really pushed the boundaries to manufacture more complex downhole tools, including Whipstock Systems, Well Bore Clean Up Tools and many more. More recently, with the push for energy transition, we've seen some changes as our customers are expanding into the geothermal market, creating greater diversification in our portfolio of work. 
How do you differ from your competition?
It is difficult to identify our competitors. Having expertise in either machining or hardfacing is one thing, but bringing these together so successfully truly sets us apart from others. Our hardfacing consumables are our unique designs, explicitly manufactured for industry requirements. Yes, there are other suppliers, but our products have been tried and tested for over 50 years, sustaining an unequalled level of quality.