About the EIC
Established in 1943, the EIC is the leading trade association for companies working in the global energy industries.
Our member companies, who supply goods and services across the oil and gas, power, nuclear and renewables sectors, have the experience and expertise that operators and contractors require.
As a not-for-profit organisation with offices in key international locations, the EIC's role is to help members maximise commercial opportunities worldwide.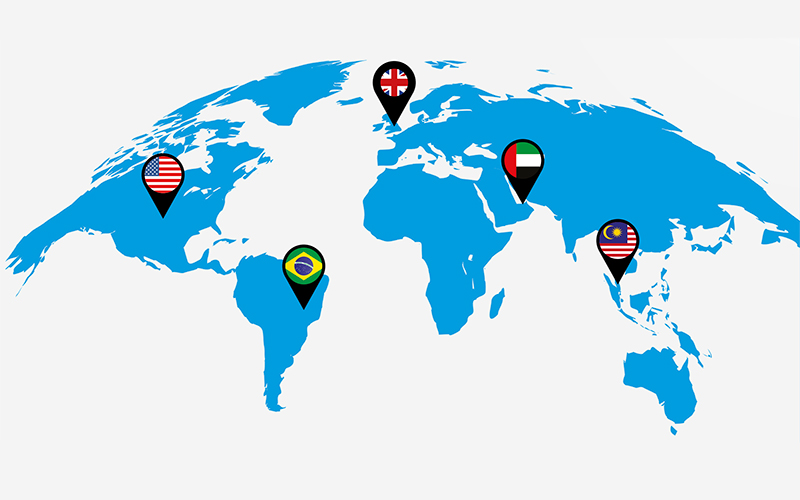 Events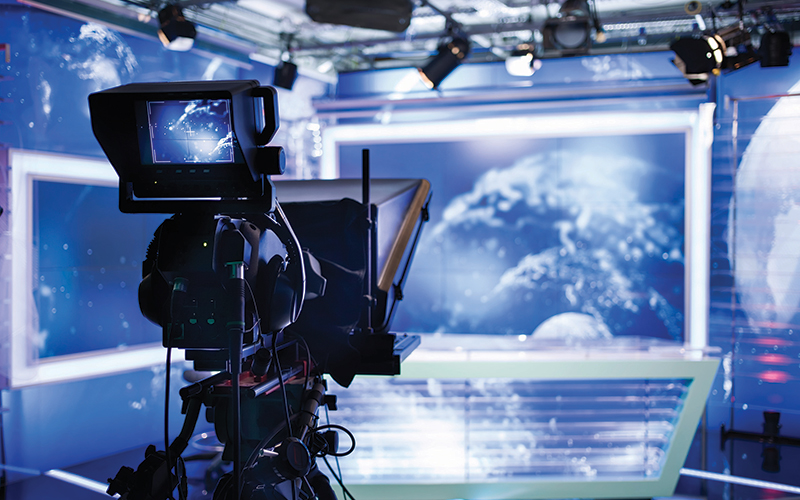 EIC LIVE events
As our readers know, 2023 marks an important milestone in EIC history: our 80th anniversary! We look forward to honouring this achievement while continuing our work organising and attending major energy events, conferences and delegations worldwide.
In the following months, the EIC is preparing a trade delegation to Guyana and hosting UK and EIC Pavilions in the US and the Netherlands.
To discover other upcoming events, including webinars, and stay updated on our forthcoming Oak Jubilee celebrations, remember to check out our calendar: www.the-eic.com/events/calendar.
---
Conferences from EIC coming up in 2023
Trade Delegation to Guyana
Date: 18–21 April 2023
Location: Georgetown, Guyana
Why attend? Why not take advantage of the opportunity to join the Trade Delegation to Guyana with the EIC in partnership with Aberdeen International Associates?
Delegates will be able to attend organised group meetings with key local players, participate in briefing meetings presented by qualified speakers with in-market experience, and meet with local companies. Crucial networking opportunities will also be available.
Book your place by emailing internationaltrade@the-eic.com or visiting www.the-eic.com/Events/OverseasDelegations/TradeDelegationtoGuyana2023.
Offshore Technology Conference 2023
Date: 1–4 May 2023
Location: Houston, Texas, US
Why attend? The EIC is proud to be organising and managing the UK and EIC Pavilion at Offshore Technology Conference (OTC) 2023 at the NRG Park in Houston. OTC is where energy professionals meet to exchange ideas and opinions to advance scientific and technical knowledge for offshore resources. The conference gives you access to leading-edge technical information, the industry's largest equipment exhibition, and valuable new professional contacts from around the world.
If you are interested in exhibiting with the UK Pavilion, contact the team for more information by emailing internationaltrade@the-eic.com or visiting www.the-eic.com/Events/Exhibitions/OffshoreTechnologyConference2023.
World Hydrogen Summit & Exhibition 2023
Date: 9–11 May 2023
Location: Rotterdam, Netherlands
Why attend? The EIC is pleased to host the UK Pavilion at the World Hydrogen Summit & Exhibition 2023. Returning to the iconic Rotterdam Ahoy, the industry-trusted global platform gathers government representatives and private sector leaders to showcase, connect, discuss, collaborate and do business. The event represents an unrivalled opportunity to join leading companies presenting hydrogen pilot projects, innovative technologies, new products and key services for all aspects of the growing hydrogen value chain.
If you are interested in joining the UK Pavilion, contact the team for more information by either emailing internationaltrade@the-eic.com or visiting www.the-eic.com/Events/Exhibitions/WorldHydrogenSummitExhibition.
Planting an oak in Aberdeen is a testament to our deep-rooted history here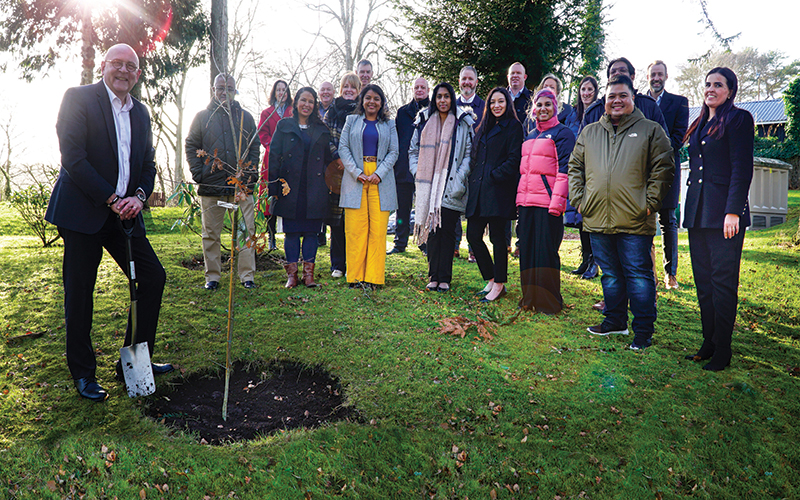 External Affairs
In honour of the EIC's 80th anniversary, CEO Stuart Broadley and senior representatives from the global EIC team gathered in Aberdeen to plant an oak tree, symbolising our deep roots in the UK and globally as the energy supply chain's voice.
Marking the start of the EIC's Oak Jubilee celebrations, Stuart Broadley planted the tree within the grounds of the Norwood Hall Hotel in Aberdeen on 1 February 2023.
Mr Broadley said: "Since 1943, the EIC has grown to become a powerful global voice and partner to the world's energy supply chain. Originally focused on oil and gas and the UK, we diversified to cover all energy sectors in 1981 and started our international growth journey in 1995. We now have 120 amazing staff located around the world in London, Rio, Houston, Dubai and Kuala Lumpur.
"Planting an oak tree in Aberdeen, where many long-serving members are based, is a testament to our deep-rooted history here. Aberdeen is also a perfect location for our celebratory oak tree as our flagship event to facilitate export opportunities for members, Energy Exports Conference, is held here every year."
Planting the tree is also significant as it kicks off the EIC's environmental, social and governance plans to increasingly offset its emissions through global tree-planting programmes and by supporting the World Wide Fund for Nature, which works in wilderness preservation and reducing human impact on the environment.
---
Reports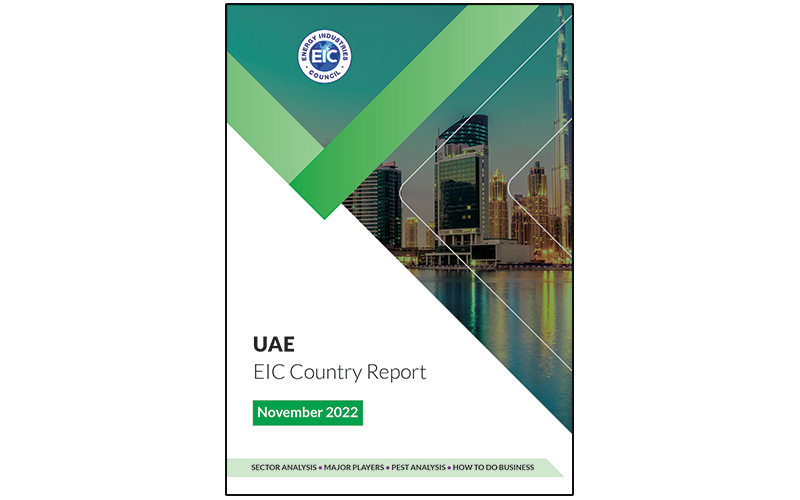 EIC Country Report: UAE
The UAE ranked fifth in 2021 for global proven oil reserves and seventh for gas. New discoveries include offshore Block 2 concession, onshore Block 3 concession and onshore Block 4 concession. ADNOC planned to boost oil production capacity from 4MMbbl/d to 5MMbbl/d by 2030 but has moved this to 2025. Get the report to learn about its oil and gas, power and renewables sectors.
EIC Insight Report: Hydrogen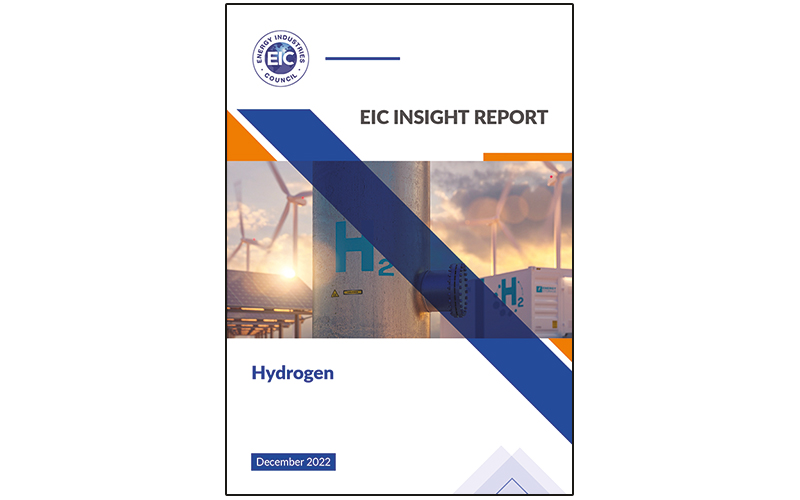 There is momentum behind the development of a clean hydrogen economy. The 400-plus projects in the pipeline could see investment of more than US$400bn, with green projects constituting more than 85%. This report offers comprehensive insights into key regional markets and highlights the potential opportunities.
EIC Insight Report: CCUS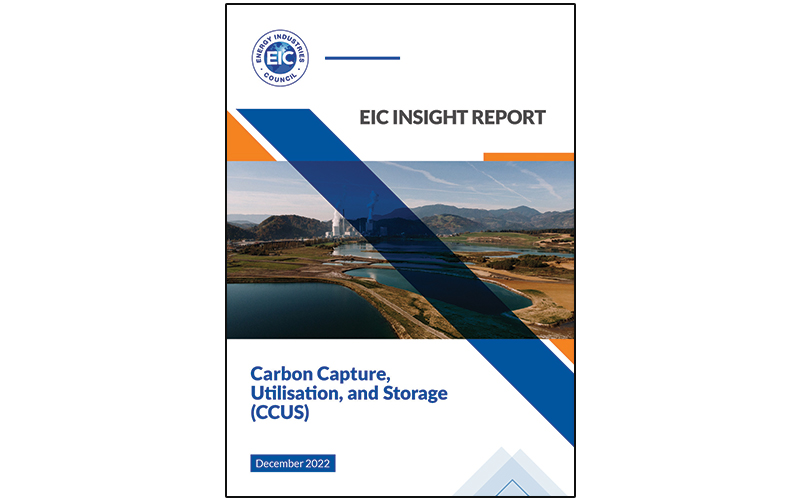 The strengths of carbon capture, utilisation and storage (CCUS) lie in its applicability across all emitting industries, and its harmony with oil and gas infrastructure. With over 200 developments announced since 2020, the momentum is undeniable. This report looks at the supply chain's strengths and needs and explores key regions and policies. It also details EIC analysis of UK carbon capture capabilities.
EIC Country Reports are available free to EIC members and for purchase (£195 + VAT each) by non-members. Please contact info@the-eic.com for more information and to buy your copy, or find out more at www.the-eic.com/MediaCentre/Publications/Reports
Image credit | Shutterstock