All change for the UK's energy system
The energy system of the future won't look like today's, writes Jeremy Bowden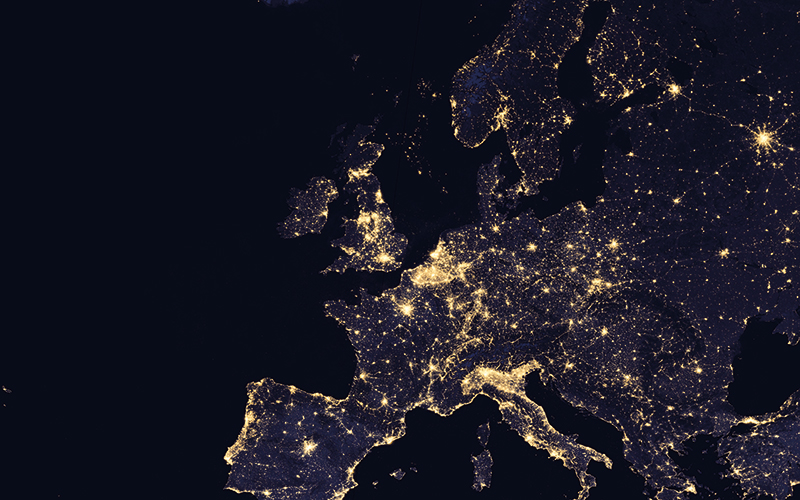 A number of factors are leading to a rapid change in the UK energy landscape, including actions to reduce emissions, technological change and shifting geopolitics – Brexit being the most pressing of these.
While there are supply concerns related to over-reliance on intermittent renewables, the capacity market has so far proved an adequate safeguard and higher renewable energy generation does increase self-sufficiency, offsetting declining domestic gas production. Moreover, according to many experts, the real solution to supply security is to be found in distributed energy, which lowers the call on centralised grids and may eventually link the transport and power sectors.
Evolving energy markets are leading to a build-up of distributed generating assets such as on-site combined heat and power plants, solar and biomass, along with distributed storage
Does a rise in renewables mean a rise in risk?
Security of supply is a very different issue today to what it was a few years ago. The diversity of generation and gas sources is far greater than at any time in the past, especially as centralised utility generation assets become augmented with smaller and more distributed sources of smart power and storage – something that is expected to accelerate in future as consumers seek to minimise costs.
While there is some concern over the increasing size of the intermittent renewable component of the generating mix, regulator Ofgem's view is that the UK has a resilient energy system: 'National Grid (which is the system operator for gas and electricity) has the right levers in place to manage supply and demand,' says an Ofgem spokesperson. 'The government's capacity market also gives an incentive for investment in the overall level of reliable electricity capacity needed. For example, last winter was the first winter that the capacity market was in full operation and the capacity margin (extra generation above demand) for electricity improved considerably.'
Aidan Dodgson, Renewables Manager at recruitment specialist Samuel Knight notes that the ever-growing rise in renewables was in fact a major enhancement to the country's energy security by increasing domestic supply. 'However, the focus on dispatchable energy and the ability for our system to handle the demand peaks of a cold winter's day become more of a priority as the switch to renewables continues,' he adds.
Nevertheless, Ofgem has noted that secure supplies have been maintained without substantial intervention to balance supply and demand since 2005. Over recent years, National Grid has slightly overestimated peak winter demand, 'so we have had too much in the capacity market reserve, pushing up costs to consumers unnecessarily,' says the spokesperson. National Grid's costs of balancing the electricity system increased by around £250m in 2016-17, to more than £1.1bn.
While Ofgem acknowledges that pressure on cost is likely to increase as the system adjusts to more electricity produced by inflexible generators, it says improved forecasting should make such major jumps in costs less likely. 'The capacity market should provide adequate capacity, but close monitoring is needed to balance cost and security for consumers.'
Looking at gas specifically, Ofgem does not expect a shortfall, despite the closure of Rough – the country's largest storage facility. 'National Grid's analysis suggests that reserves for the coming winter will be enough to cope with all but the most extreme circumstances,' says the spokesperson.
Distributed baseload While energy security continues to be a national concern that leads to national plans for centralised reserves, some in the industry suggest that this approach is no longer appropriate, because evolving energy markets are leading to a build-up of distributed generating assets such as on-site combined heat and power plants, solar and biomass, along with distributed storage. These facilities will increasingly be the ones supplying the baseload power, with centralised grid sources only accessed as backup. By the time future large centralised plants, such as Hinkley Point C, and their new transmission lines are built, the demand for centralised generation may be lower.
Much of the on-site capacity is built (and often owned and operated) by large utilities for their business customers. This, along with rooftop solar, is reducing demand on the grid, rather than being seen as additional supply to meet peak demand. Steven Redmayne of Yorkshire Energy, said that when these assets are used together in smart micro-grids, they can remove large chunks of demand from wider areas, leaving less need for centralised supply. 'Blockchain could even be utilised for tracking generation and usage. Suddenly, the reality of micro-generation looks increasingly realistic,' he says.
'Distributed generation helps by further reducing our reliance on any one particular power source or individual plant,' says Mr Dodgson. 'There are further benefits relating to reducing losses when distributing electricity and to giving control to end users – both commercial and residential – so they can manage their own supply and demand. It also offers the possibility, when used with storage and a smart connected grid, for virtual power plants to be created, and for demand to be adjusted to match supply, using connected devices and IoT systems.'
Looking further ahead, if electric cars take off, the system could be augmented by a large volume of energy storage, which, along with grid storage, can also help balance supply and demand – reducing the impact of irregular renewable output. 'Cars sit idle 95% of the time, so each battery could feed energy back into the grid to compensate for surges in demand and ultimately charge back up as demand drops again,' says Mr Redmayne. 'All of this reduces our reliance on imported gas and oil, which improves the security of supply from a geopolitical standpoint.'
---
A shifting energy landscape 
The UK's electricity system is changing dramatically
80% - By 2050, the UK is tasked with achieving an 80% reduction in carbon emissions 50% - In 2017, for the first time, more than 50% of all electricity consumed 
in the UK was generated from zero-carbon sources
0 - British power generation saw its first coal-free day since the Industrial revolution on 21 April 2017
12.8GW - The UK's installed solar capacity is 12.8GW; it could rise 25% by 2020
54% - Electric vehicles are on track to accelerate to 54% of new car sales by 2040
x50 - In megawatt-hours, battery energy storage capacities installed in the UK by the end of 2022 will be 50 times what they were at the end of 2017
---
How secure will our energy supply be post-Brexit?
At present, the UK only takes 4% of its energy supply from interconnections. As such, on leaving the EU, the risk to the UK's energy security from a supply and demand perspective is 'fairly minimal', particularly with new generation coming online in the coming year, according to Mr Dodgson. 'There may, however, be some impact on the cost of our energy, as currently we can import at times of low-cost production in Europe, and export when our demand is low.'
The EU has rules and regulations covering the allocation of capacity in the connectors, and the concern is that they will fall away when the UK leaves the EU, creating a gap. The European Commission has warned that interconnectors may not work. 'That's probably an unlikely scenario, but one we must address,' says Paul Dawson, Head of Regulatory Affairs for RWE's Supply and Trading division in a recent interview. 'Having said that, we've only had the rules for three or four years… The interconnectors always worked okay before and currently work well with third parties.'
'The likeliest outcome is that we will maintain something very close to the current status quo… I don't think there's any scenario where you see the whole thing breaking from a security of supply perspective. I think the market will out, and if there is threat of that dislocation then we'll see that reflected in prices, and that will bring forward a supply response.'
However, the UK will need special agreements to remain in the Emission Trading Scheme (ETS) – the EU carbon pricing system – although the UK already has its own £18/t CO2 minimum price in place. Similarly, other areas where there is currently cooperation under the EU umbrella will also require deals. This includes the Balancing and Settlement Code (BSC) (under the Trans-European Replacement Reserves Exchange (TERRE)), where Ofgem has recently approved a package of reforms in preparation for a new Europe-wide balancing platform.