What does Bolsonaro mean for Brazil's energy sector?
By Pietro Ferreira, EIC Senior Regional Analyst, South America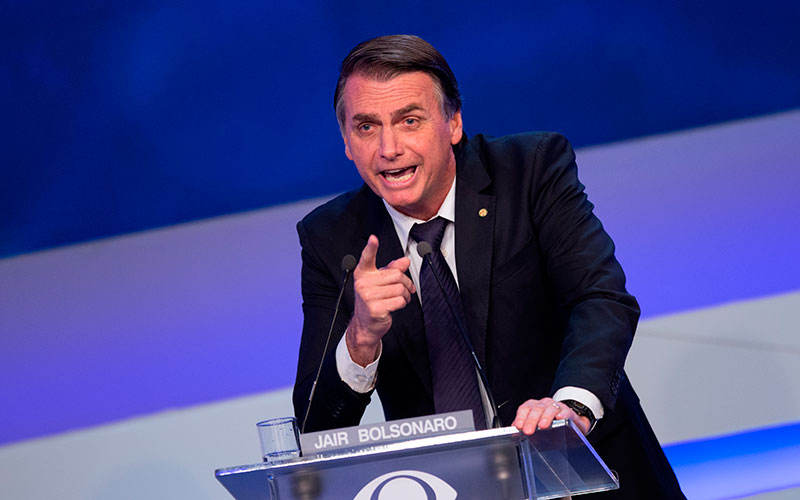 Jair Bolsonaro, a 63-year old retired military officer and seven-term congressman, will become Brazil's next president in January 2019. A far-right politician often compared to the Philippines' Duterte, Turkey's Erdogan and the US' Trump, Bolsonaro is both a revered and reviled figure among Brazilians. 
While his praise for Brazil's dictatorial past and controversial comments on minority groups have drawn widespread opposition in the country, his staunch pro-market campaign and firm stance against corruption have endeared him to investors and Brazilians eager for a 'law and order' administration. The balance eventually tilted in Bolsonaro's favour: he was elected by 55% of the population after winning a runoff vote on 28 October.
Economic policy
If Bolsonaro's election is a subject of contention among ordinary Brazilians, his victory over left-wing candidate Fernando Haddad was met with relief and enthusiasm among Brazil's business community. A free market advocate, Bolsonaro's key economic pledges include the reduction of government intervention, the overhaul of Brazil's complex tax system and the sale of state-run companies. Paulo Guedes, an orthodox from the Chicago school of economics and Bolsonaro's pick for economy minister, has promised to end Brazil's 7% fiscal deficit in just one year.
Energy sector outlook
The energy sector under Bolsonaro is expected to keep the majority of the liberal policies pursued by the incumbent Temer administration. The mines and energy ministry will be one of the few government departments whose structure will remain unchanged. Frequent bidding rounds for exploration blocks, including those for production-sharing contracts in the coveted pre-salt province, will be maintained, as will the power auctions for new generation projects. In the upstream segment, the president-elect has promised incentives for unconventionals, citing small oil and gas producers as potential players in this market. Bolsonaro's energy plans also place emphasis on natural gas, whose importance is highlighted for base-load power generation capacity.
Petrobras shake up
A state-run company central to any Brazilian government, Petrobras featured prominently in Bolsonaro's manifesto. In line with the company's divestment plans, the president-elect has proposed selling a major share of Petrobras' refining, transport and distribution activities, while maintaining the company's core E&P business state-controlled. Bolsonaro has also proposed third-party access to Petrobras' extensive midstream infrastructure as a pillar for greater competitiveness in the natural gas segment. Fuel prices, a controversial topic that led to a nation-wide truck driver strike earlier this year, are expected to follow international markets, with short-term fluctuations adjusted by hedging mechanisms.
Local content under fire
Bolsonaro has also targeted local content regulations for oil and gas projects, a controversial policy introduced during the left-wing Lula administration. Regarded as a cause for poor efficiency, low productivity and corruption, Bolsonaro's campaign manifesto flatly denies any positive impact of local content requirements on Brazil's economy and promises a gradual phase-out. Brazil's shipbuilding sector, which saw opportunities dwindle following recent local content changes for FPSOs (reduced from 65% to 25%), is specifically mentioned in the manifesto as an industry where investment – and not government intervention – will be needed to achieve higher productivity levels.
Climate change
Although Bolsonaro has expressed skepticism about climate change and once suggested Brazil's withdrawal from the Paris Agreement (which he sees as a threat to Brazil's sovereignty over the Amazon), the renewables segment apparently has no reason to fear the upcoming administration. Bolsonaro's campaign manifesto has specifically mentioned the wind and solar potential of Brazil's north-east region, which concentrates most of the country's installed capacity in the two segments. However, it is still unclear if public financing from the Brazilian Development Bank (BNDES), a driving force for solar and wind projects in the country, will be maintained under the new administration.
The hydro segment is expected to flourish under Bolsonaro. He has controversially pledged to build large dams in the Amazon, where a significant part of Brazil's remaining hydro potential is located. His manifesto has also proposed an overhaul of the environmental licensing process for small hydropower plants (i.e. plants with less than 30MW of installed capacity), promising a three-month assessment for all submitted projects.
Big changes ahead or more of the same?
Key challenges face Bolsonaro as he nears his inauguration on 1 January 2019. In addition to Brazil's many economic and social problems, the new president will need to overcome his low approval rating among large parts of the population and perfect his deal-making abilities with congress (he has authored only two laws during his 27 years as congressman). None of these challenges seem to affect the energy business, however. While Bolsonaro's election marked a major shift in Brazilian politics, status quo defines the perspectives for the country's energy sector.