Special report: Is diversification a cause for concern?
Realigning expertise is a recurring theme of the latest EIC Survive & Thrive report, with many companies turning away from traditional segments such as oil and gas to pursue new opportunities, some outside of the energy sector altogether. Tom Wadlow asks: should we be worried?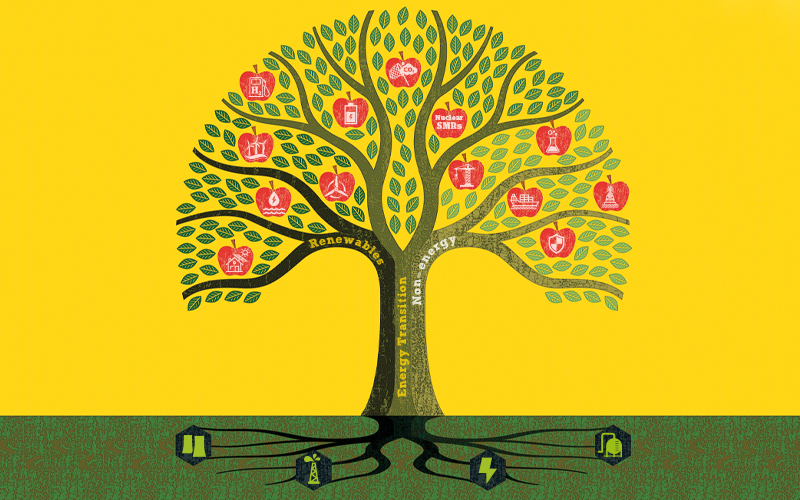 It has been an unprecedented year. The energy sector, especially the more traditional segments such as oil and gas, has faced something of a perfect storm.
The unrelenting momentum of the energy transition drive, combined with industrial shutdowns caused by the COVID-19 pandemic, has forced many companies to take stock and consider alternative paths to secure their long-term futures.
This is a common thread in the Energy Industries Council's 2021 Survive & Thrive (S&T) report, and diversification appears to be the answer for many firms. In 2020, more than 61% of S&T participants said their main revenue stream came from oil and gas – this year, that figure has dropped to 55%.
Once seen as moving from upstream to downstream oil and gas, or shifting from oil and gas to decommissioning, the scope of diversification has moved far beyond these traditional boundaries.
I believe we have enough interest and capability within the UK supply chain to tackle energy related challenges to the point where we're not only addressing the UK, but the global conversation as well. I'd like to see us become a global leader
David Wilson, Director of Energy at Enterprise Transition Zone Ltd
Indeed, more and more companies are reporting moves into the likes of renewables, and even segments detached from the energy industry altogether.
"Companies will generally go to where the activity is," says David Wilson, Director of Energy at Enterprise Transition Zone Ltd. "The oil and gas sector supply chain has tremendous expertise and capability to support growing low-carbon energy areas, particularly around complex offshore projects like floating offshore wind, hydrogen and CCUS.
"As the energy focus moves, it's important for companies to offer the same sort of services over a wider, diverse set of industries, whether it's in transport, defence, infrastructure, renewables or elsewhere."
But it is not a case of simply flicking a switch. For organisations that have historically been so reliant on an active oil and gas market for the lion's share of their incomes, diversification into the unknown represents a challenge just as daunting as navigating a core
market slump.
Opportunities and challenges outside of energy
This year's S&T report is full of diversification stories. International design, engineering, science and risk management consultancy BMT is one example.
"We recognise that the demand for oil and gas will be reduced as other sources of energy come online, so in addition to maintaining our existing consultancy services in energy and its adjacent markets, BMT is also investing in the technology that we have developed for the energy sector and applying it to other markets," comments Dale Hastings-Payne, Senior Sales Manager, Environment and Infrastructure, UK and Europe.
BMT is placing particular focus on diversifying its digital data solutions – these can easily be adapted to help manage environmental, defence and coastal infrastructure.
TRS Staffing Solutions is another firm which is seeking to broaden the scope of its IT recruitment and staffing expertise. It has identified the tech sector as a reassuringly stable market to operate in, although the move has not occurred without facing difficulties.
"The principal challenge was the time taken to fully understand new client needs and respond with candidates who fit their requirements," adds Monica De Prada, Country Manager. "Building a quality candidate database does not happen overnight."
Safety solutions specialist Jo Bird also continues to diversify its offering into new markets, something it has done for more than three decades – but even for this veteran of diversification, venturing into new markets is never easy.
"The challenge in any market is ensuring you are speaking to the right people, understanding their needs and collaborating closely with distributors to fulfil them," comments Sales Manager Tom England. "You need to show how you can help with time or cost savings."
For chemicals supplier Aubin, diversification has been necessary to futureproof the business against a slowing oil and gas sector. A particular avenue of interest has been the water industry, the shift being triggered when the company was approached by a client that lacked the suitable chemistry expertise to propel its innovation plans.
What industries are welcoming energy sector firms?
Indeed, water is one of many industrial sectors welcoming energy industry players with open arms. There are countless opportunities to cross-pollinate expertise, and trade associations are aware of the value that companies with track records in the energy sector can bring. These include industries facing similar challenges around decarbonisation. "To power the fourth propulsion revolution, global fleets will need to be modernised and new energy supply networks established," says Bob Sanguinetti, CEO of the UK Chamber of Shipping.
"There are a range of energy sources out there including hydrogen, LNG, ammonia and batteries. To get these fuels on to ships we need new and improved infrastructure and a resilient supply chain. There are huge opportunities for the energy sector to work in tandem with the shipping industry, but time is of the essence, and we need to see private and public sector investment to help reach our climate change goals."   
Large infrastructure developments also represent fertile ground for energy sector participants. Steve Norris, Council Chairman of the UK's National Infrastructure Planning Association, explains how a number of major projects are centred around energy generation, be it through offshore wind, nuclear, carbon capture and storage, biomass or other energy-related peripherals.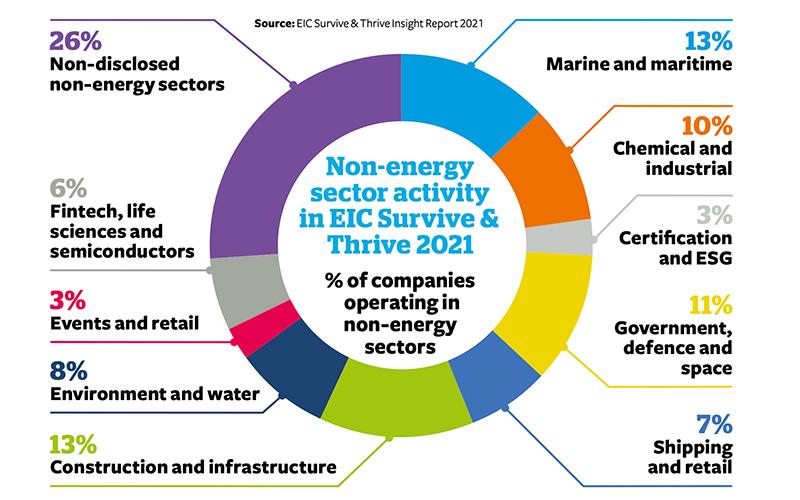 This is key component of a relatively new planning process for Nationally Significant Infrastructure Projects, which is covering a large array of projects, including the Thames Tideway Tunnel, Heathrow and other airports' expansion projects, new rail freight terminals and rail extensions.
Aerospace is another sector that is readily tapping into energy sector expertise. "The Ministry of Defence has recently launched its roadmap to becoming more resilient and sustainable in the face of the challenge of climate change, which can offer opportunities to energy sector companies with expertise in sustainability and green manufacturing," comments Caroline Donaghy, ADS Defence Director.
Wide diversification is good for the survival and the health of the supply chain, but not if governmental policy is forcing companies to do it because of a net-zero strategy
Stuart Broadley, CEO, Energy Industries Council
Should the energy sector be worried?
These examples could suggest that the sector is facing something of an exodus. However, this would be too simplistic a conclusion to make. Both BMT and TRS stated their commitments to the energy sector and their core markets in the S&T report, albeit recognising that the shift to a low-carbon world and would impact their involvement with oil and gas. Meanwhile, the latter sector also remains the top market for Jo Bird, while Aubin reported heightening interest in pursuing a transition away from fossil fuels, as opposed to switching off interest in the sector entirely.
The key point is that the energy industry itself is in transition, and companies are adapting to find their place in the new world, with some looking outside of the sector as a means of spreading risk and mitigating uncertainties around just how that new world might look.
For Stuart Broadley, CEO of the Energy Industries Council, the fact companies are moving into other industries leaves the glass both half empty and full. "It's good and bad, all at the same time," he says. "It's good because companies are finally realising that they can't rely upon one sector, no matter how profitable that sector sometimes is. It's just not sustainably profitable enough anymore, and even if there is a mini boom coming, they can't rely upon that happening and being sustained.
"So, after COVID-19 and the last oil crisis, companies accept that they must spread their bets – they have to de-risk and have many more types of customers and markets."
What leaves the glass half empty for Broadley is a sense that government policy may be forcing companies' hands before they are able to properly transition – something Wilson also recognises as a problem. However, the latter has a foot in the optimists' camp when looking ahead.
"Oil and gas will be needed by this country and other countries around the world for decades to come, albeit a reducing wedge alongside an increasing wedge from renewables," Wilson adds. "The important thing for oil and gas right now is to focus on making itself a net-zero industry."
Image Credit | iStock