View from the top: Baroness Brown DBE FREng FRS
Energy Focus talks with Julia King, Baroness Brown of Cambridge, Deputy Chair of the UK Climate Change Committee, the UK's independent adviser on tackling climate change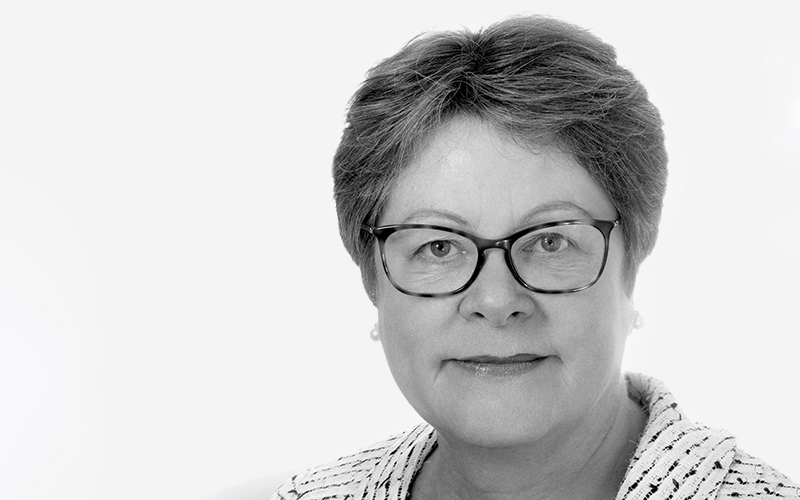 Following the recently released Sixth Carbon Budget and Energy White Paper, what is now needed from government?
Implementation. We're going in the right direction regarding renewables: the commitment to deliver 40GW of offshore wind by 2030 is on the way to the Climate Change Committee's (CCC) 'balanced pathway' recommendation of around 100GW of offshore wind by 2050. The Hydrogen Strategy, which is (hopefully) out this spring, will be critical to getting hydrogen into the mix and putting us on the pathway for net zero. But we need to see more action on decarbonising the highest-emitting sectors: heating and transport.
The forthcoming Heat and Building Strategy from the Department for Business, Energy and Industrial Strategy (BEIS) must be ambitious enough to drive immediate progress. We also need significant policy measures to increase electric vehicle charging points and to support the widespread uptake of electric vehicles.
The early legislation of the Sixth Carbon Budget will be crucial as it will both show the Government's intent and help investors recognise which projects need investment.  
How ready do you think government departments are to coordinate and deliver the heavy work on policy needed to achieve net-zero goals?
While high-quality people are working in these areas, coordination arrangements are still evolving. What is critical is that the Treasury supports all these initiatives from BEIS, the Department for Transport and the Ministry of Housing, Communities and Local Government. It would be good to hear more about how the Cabinet Committee on Climate Change intends to drive cross-government coordination to deliver the policies, measures, and actions needed to get to net zero.
Engagement with BEIS, industry, stakeholder groups and working parties is good. Still, I'd like to see more coordination with local authorities, as they can play an important part in decarbonising transport and housing, as well as encouraging businesses and individuals to take action.
What you do see as the key risks that may prevent net zero being achieved?
Behaviour change and decarbonising heat. We need to find ways to encourage more people to adopt low-carbon heating instead of traditional gas boilers. The Treasury has to look at how we can make it so that the costs of energy transition are borne by those who can afford to pay, and do not fall unfairly on those least able to pay.
Although we need to encourage the use of increasingly green and increasingly cheaper electricity and discourage the use of gas, there's no carbon price on gas. At the moment, gas is less expensive than electricity. So, the Treasury needs to sort out where the costs fall in this transition, and move costs so that the solutions we want people to adopt become the cost-effective solutions.
During COVID-19 we have seen a shift in the focus of the climate change debate. Do you anticipate that the accompanying change in government rhetoric is in danger of stifling export and talent in certain sectors, rather than fostering it?
No. We only have 30 years to reach net zero, and we need to see some sectors transforming fast. One great example is Ørsted, formerly DONG Energy. In the last 12 years, the company has successfully transformed its operations from almost wholly oil and gas to renewables.
We need to help support new technologies and business models in order to encourage transition. The earlier we can do this in the UK, the more export opportunities it will generate. COVID-19 has shown us that we can accelerate the development and delivery of new technologies.
We have enormous advantages in the UK for hydrogen production, and we have a developing supply chain in terms of electrolysis and carbon capture and storage (CCS). These are future export industries for equipment services, capability, and also potentially hydrogen itself.
Companies need to look at the skill bases they have and the value of their capability, and then recognise where they can apply that capability in the transition to net zero.
How can we spur private investment in low-carbon energy infrastructure?
By providing clarity and certainty. Legislating the Sixth Carbon Budget would be an excellent stake in the ground, but we also need a long-term view of the support mechanisms. For example, what will happen with the contracts for difference for offshore wind and other new renewable technologies? If we can show how they're going to work and how long for, then organisations can plan.
We also need government commitment to long-term investment in an expanding, high renewables grid. By 2050, the electricity system needs to double in size.
The early legislation of the Sixth Carbon Budget will be crucial
How can we incentivise consumers to shift to low-carbon energy?
One of the most problematic areas is heating people's homes; the challenge is incentivising homeowners. The savings you make from transitioning (medium to long term) are likely to be more significant than the additional cost, so the Treasury needs to think about communicating that. By the 2030s renewable electricity will be cheap, but people still think of electricity as more expensive than gas. Then there's also the challenge of fuel poverty – transitioning shouldn't hurt the people who are least able to pay.  
Are consumers willing to pay for hydrogen-fuelled heating despite potential safety concerns and higher bills?
The CCC's 'balanced pathway' scenario has around 11% of UK homes switching to hydrogen-fuelled heating, and these are likely to be near an industrial cluster or offshore wind, so the hydrogen is locally produced. For safety, community information and education campaigns will be important. But we also need to make sure people are using as little energy as possible. We shouldn't put new technologies into homes until we've improved insulation.
Looking at how to 'build back better', what policies would you advocate to help support UK supply chain companies?
Government support for retraining is going to be necessary. The transition will generate many new, high-quality jobs in the UK. For example, millions of homes need better insulation and new heating, which could create a huge number of skilled UK jobs and reduce fossil fuel imports. Analysis suggests developing a green economy will also increase the UK's GDP (compared to business-as-usual). It's win-win.
The ambition for 40GW of offshore wind by 2030 is an opportunity for some UK companies. There will be an auction for 12GW of renewables later this year. There is also funding for CCS projects. Supply chain companies need to be flexible and future-facing to deliver the upcoming project pipeline.
We need to see more action on decarbonising the highest-emitting sectors: heating and transport
The UK government is eager to develop key manufacturing bases as part of transition. How important are these 'green energy clusters'?
The UK needs CCS. Clustering hydrogen production, power generation and/or the manufacture of fertiliser, cement, and steel alongside CCS is logical. These industries require the same infrastructure, so to reduce pipework costs and so on, clustering is a very sensible approach (particularly around the coast). Clustering can also increase employment in the regions that are most in need of transition support. In the Hull and Grimsby area, there has been a dramatic reduction in male unemployment since the arrival of the Siemens factory and the offshore wind developments.
Considering the legacy of UK offshore wind, and the economic fallout from COVID-19, would you advocate for 
'local content requirements' to protect UK supply chains, or would you suggest other levers?
UK content expectation is a good start, alongside support for companies to become more competitive. When seeking new, cost-efficient supply chains, one challenge seen in offshore wind is that companies formerly in oil and gas need to understand the margins in offshore wind are much smaller. Supply chains also need to rethink processes: how to reduce costs to remain competitive, but also so that renewable energy projects can be low cost. If we have high-priced UK content, it could raise renewable generation project costs significantly. The government needs to think about the balance of prioritising low-cost or UK content and how it can assist UK supply chain companies in reducing costs to get the best of both.
What can the energy industry do to entice young people, especially women, to join its ranks?
The energy industry needs to commit to recruitment changes, to think about how and why and where it recruits. The sector should communicate clearly that it is part of the solution to climate change, as many young women are attracted to the environmental side of the net-zero transition. But it also needs to combat incorrect stereotypes – for example, people in hiring positions assuming women can't go offshore! We need to update the images of these jobs, especially as we're now using more remote technologies. Women, minority groups, disabled people – all sorts of people – need to know that not only are these jobs they can do, but they are also rewarding, exciting jobs that are really making a difference.  
While the UK government's climate roadmap for COP26 has ambition, the government is short on tangible progress. What must the UK deliver in time for the November 2021 conference in Glasgow?
The first thing is the Sixth Carbon Budget legislation. It is the first budget that will be aligned with the net-zero target and the UK's revised nationally determined contribution.
It would be great to see clear change in BEIS's Heat and Buildings Strategy. We've got a good story to tell on decarbonising the power system, but we haven't yet got a good story in buildings. In transport, many of the foundations are in place: during COVID-19, there has been a huge increase in electric vehicle registration, and a significant decrease in the registration of diesel and petrol vehicles. If we can build on that, it will show the UK is starting to move forward – and that's key for us to influence others.
Is there an opportunity for the UK, as COP26 host, to lead on decarbonising technology, commitments and investments?
We should support other countries' abilities to adapt, and others' carbon emission reduction targets – particularly developing countries where we already see extreme climate change impacts.
The government is focusing on the UK becoming a green finance centre to support projects worldwide and help everybody transition to net zero. We need to make progress on trading systems for carbon emissions. Then the UK can potentially buy offsetting services from developing countries – but only to help us go beyond net zero – which can help fund programmes to decarbonise and improve resilience.  
What happens to UK climate ambitions if the rest of the world delays climate action?
We will get to COP26 with most of the global community signed up to net zero for around 2050. China is committing to net zero by 2060, India is starting to move, the new US president supports action. Companies are signing up to net-zero targets in large numbers. We're also seeing more local and regional commitments. We will have enough momentum by November. People have got the message that this has to happen.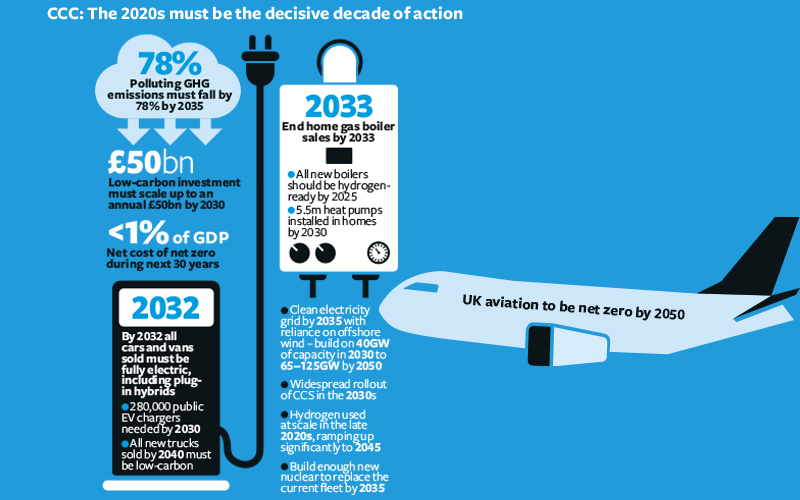 ---
About Baroness Brown
Baroness Brown is Deputy Chair of the UK  Climate Change Committee and the UK's Low Carbon Business Ambassador. She is also Chair of the Sir Henry Royce Institute for Advanced Materials, Chair of the Carbon Trust, and a Non-executive Director of the Offshore Renewable Energy Catapult. She is a Fellow of the Royal Academy of Engineering and the Royal Society.
Her career spans senior engineering and leadership roles in industry and academia. She was non-executive director of the Green Investment Bank and led the 2008 King Review on decarbonising transport. She is a Fellow of the Royal Academy of Engineering and of the Royal Society, and was made DBE for services to higher education and technology. She is a crossbench peer and a member of the House of Lords EU Select Committee.