View from the Top: Dr Graham Cooley CEO, ITM Power
Energy Focus meets Dr Graham Cooley, CEO of Sheffield-based energy storage and clean fuel company ITM Power, the world's leading hydrogen electrolyser manufacturer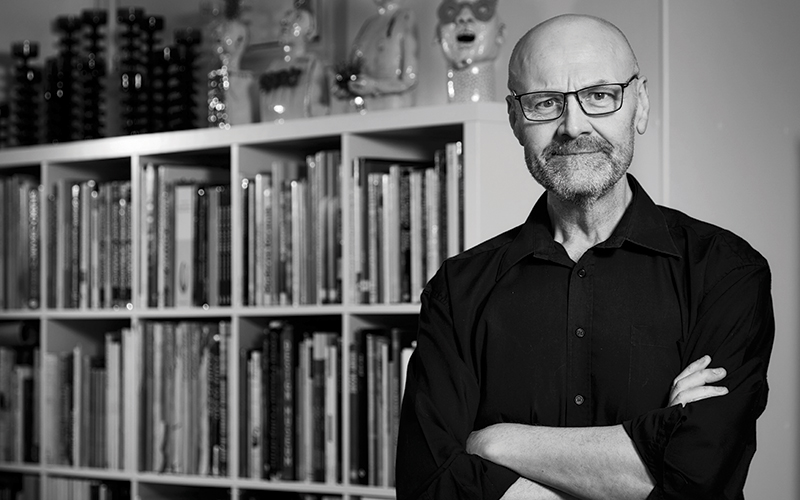 EIC data shows that more than 90% of the hydrogen projects announced globally for construction during the next five years are green. Why is green hydrogen is so popular?
There are powerful policy drivers for the green hydrogen market as the world moves to net zero. Today, millions of tonnes of hydrogen are sold into industry worldwide, and all of that needs to be decarbonised if we are to reach net zero. You can only get to net zero if you use green hydrogen to replace natural gas in the gas grid or industrial applications.
The cost of green hydrogen has also significantly come down. Green hydrogen is directly related to the cost of renewable power, and as the cost of renewable energy has come down, so has the cost of green hydrogen. Today, green hydrogen is competitive with grey and blue hydrogen.
Green hydrogen can also help provide energy security. The world has to move away from natural gas, given today's high and volatile gas prices, and the geopolitics and security of energy supply chains.
Finally, by connecting an electrolyser to a long-term power purchase agreement (PPA) with a renewable energy source, you actually get an extremely low-volatility fuel. 
The International Energy Association says the world needs 3,500 GW of electrolyser capacity by 2050. How will the industry gear up to meet this challenge?
ITM Power has raised £250m to expand our manufacturing capacity to 5GW per annum by 2024, but this only scratches the surface if you look at it over the next 20 years. We need more manufacturing capacity, more gigafactories, and backing from the capital markets.
Alongside this, we need the UK government to be more proactive. British energy policies tend to react to circumstances rather than plan for the future. Climate change is a huge problem, but it's also an incredible opportunity for technology development, manufacturing and engineering.
We are a market leader in green hydrogen. ITM Power is the world's largest electrolyser factory, and it's in Sheffield. The government ought to view that as an industrial opportunity, and consider the energy transition as an industrial transition.
The UK has set itself an ambition for 5GW of hydrogen production capacity by 2030. Are you concerned that the UK seems to be focusing more on blue hydrogen growth in its initial scale-up, versus green hydrogen?
We're on a journey – a journey that is without a doubt going in the direction of green hydrogen as policymakers acknowledge its immense energy storage potential. Green hydrogen gives you renewable energy storage. With blue hydrogen, you have an ongoing and huge carbon storage liability.
To deploy green hydrogen you only need to repurpose the existing natural gas infrastructure, whereas for blue hydrogen – which will continue to use the UK's methane-leaking gas infrastructure – a CO2 infrastructure and a separate hydrogen infrastructure are also needed. Carbon capture and storage schemes are enormous and incredibly expensive. Blue hydrogen makes no sense at all.
What type of support can the government give to encourage the switch to green hydrogen production?
The government needs to understand the link between renewable power, long-term energy storage and providing net-zero molecules to industry.
In the recent Round 4 Contracts for Difference (CFD), which aims to secure up to 12GW of renewable energy generation – predominantly offshore wind – the negative price protection for the renewable energy companies has been eliminated, so it now falls on the generators and the bidders in the CFD to find a solution. That solution is long-duration energy storage using green hydrogen.
There needs to be more joined-up thinking between the CFD for offshore wind and the incentives for green hydrogen. The debate is not currently as sophisticated as it needs to be. And the understanding of how all these elements fit together has not been correctly understood in government.
Are you concerned that the hype around COP26, energy transition, and hydrogen/carbon capture, utilisation and storage is going to fade away, and that many of the projects announced will fail to reach final investment decisions?
The whole world is now deadly serious about the energy transition. Some problems have certainly come to the fore during this energy crisis. On one hand, you have COP26 and an incredible driving force towards an energy transition. On the other, there is an energy crisis. Somebody somewhere needs to join those two things up. The solution to the energy crisis is more renewable power and more green hydrogen.
As the UK works to scale up its projects and supply chain in preparation for net zero by 2050, do you think the government and industry are doing enough to get there?
I do fear that the energy transition will become secondary to inflation and fuel poverty during this energy crisis. We must address fuel poverty, but we can't sort short-term fuel poverty issues at the expense of the most important project on the planet: decarbonisation. We need to find a route through those two things. If you use more and more renewable power, you need fewer fossil fuels, and the more renewable power you have, the more energy storage you'll need. That's why you need green hydrogen.
These things are solutions to some complicated problems, but the thinking just isn't joined up enough.
What help do you need from government to support your growth and ability to be globally competitive?
We're still waiting for the first large-scale (100MW and above) electrolyser project in the UK. The UK government is funding front-end engineering design studies, white papers and report studies, but it hasn't funded a large-scale electrolyser, and that is what ITM Power is advocating now.
Are you concerned about the supply crunch or inflation?
We've been developing polymer electrolyte membrane (PEM) electrolysis equipment for more than 20 years, we were the first hydrogen-related company on the London Stock market, and we've been developing our supply chain to reduce, recycle and reuse the materials that we use. When you look at the supply chain and the risks in the supply chain, it's a competitive advantage to ITM Power. Our competition hasn't done the work that needs to be done, and that's one of the reasons ITM Power is a world leader.
I do fear that the energy transition will become secondary to inflation and fuel poverty during this energy crisis
ITM Power has been built on solid partnerships. Can you tell us more about your collaborations?
Strong partnerships are integral to ITM Power. We've been working incredibly well with Shell and Linde Engineering for about eight years. We first started deploying hydrogen refuelling stations on Shell's UK forecourts, using Linde hydrogen compression and dispensing technologies. Since 2017, we have moved from deploying 100kW units to 100MW at Shell's Rhineland refinery in Germany. That is, working together, we have achieved a 1,000-times scale up over the last five years.
We are working with Ørsted and partners on two projects in the Humberside region – the Gigastack project with Phillips 66 and the OYSTER project with Siemens Gamesa. And we are delighted to be partnering with Scottish Power in the Green Hydrogen for Scotland initiative.
Recently, Linde and Italian natural gas utility company Snam have become important strategic investors.
We pride ourself on our ability to develop partnerships with global players and use those to develop our tender opportunity pipeline and backlog, both of which now stand at a record.
Will COVID-19 or Brexit affect your business in 2022?
I have great sympathy for people whose lives have been negatively impacted by the pandemic. It's been an awful time. But looking at ITM as a business, 2020 and 2021 have been transformational years.
We raised a significant amount of money and have just under £400m on our balance sheet. We had substantial backing from the City of London, and we ended up with a tender pipeline close to a 1GW – that's quotations made against commercial tenders; our backlog of projects now stands at 499MW.
We attracted strategic partnerships, moved into the world's largest PEM electrolyser factory, and through our fundraising activities we developed a platform to deliver to market our next-generation product, the 5MW Gigastack, two years earlier than previously planned.
As national commitments to net zero accelerate, I believe we are very well placed, with our partner Linde, to address the rapidly growing demand in the market, albeit with new working practices.
We've proved that we can cope with the difficulties that arise, but I do hope that 2022 marks the end of the pandemic.
Are you confident that the UK supply chain can be competitive and build its capability and capacity to match your growth trajectory?
We have suppliers all around the world, but the UK, notably Sheffield, is a fantastic place in which to be an engineering company and a manufacturing company. We are planning a second automated 1.5GW capacity factory, which will provide the template for our first international facility.
We also plan to launch a National Hydrogen Research, Innovation and Skills Centre in a pioneering collaboration with the University of Sheffield, which will bring together academic research and industrial expertise.
The region is already rich in industrial heritage and now has the opportunity to build on its advanced materials and manufacturing reputation to demonstrate global leadership in the manufacture of hydrogen electrolysers and create a highly-skilled workforce.
To deliver on the energy transition, do you believe the best way forward is to ensure a just transition for oil and gas?
The oil and gas industry and the City of London must be firmly and fully onboard with the energy transition. I've seen some amazing things happen in the oil and gas industry, including Equinor, BP, and Shell's investments into renewable power, and a strong interest in some of the world's largest green hydrogen projects.
The oil and gas industry must be involved. We have some great partners in the oil and gas industry, and they are key to the development of green hydrogen.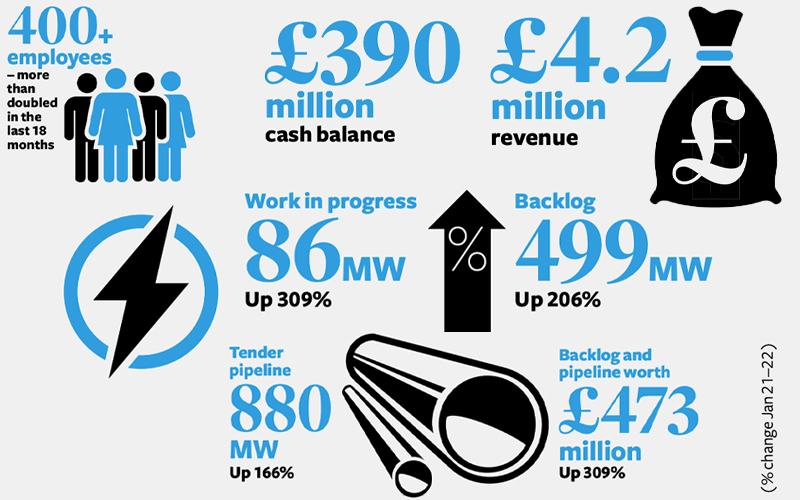 As we emerge from the pandemic, are you seeing new opportunities that excite you but also worry you as high and sustained inflation looms?
We see interest in green hydrogen all over the world. The radical price increase of natural gas is a powerful driver for green hydrogen because of the cost structure.
Although there's inflation in the cost of electricity and gas, if you connect directly with a PPA to offshore wind or renewable power to provide energy storage, you get a very low price for green hydrogen.
I'm worried about fuel poverty, but from the point of view of green hydrogen for decarbonising industry, it's a driving force.
Do you already see a skills shortage in the UK, or can you adequately attract and retain talent? Many fear the energy sector can no longer attract enough talent; do you subscribe to this belief?
No, I don't. As a team of more than 400, we've more than doubled in the last 18 months and have found some fantastic people with transferable skills and great enthusiasm for our business.
We are a magnet for talent, and that is because people want to be involved in the energy transition. Young people developing their careers want to be part of the solution, not part of the problem.
Offer people great jobs and an exciting career in a new and rapidly growing industry, and you won't have any problem recruiting great talent in the UK. We have some of the most outstanding scientists and engineers in the world. 
---
About Dr Graham Cooley
Dr Graham Cooley joined ITM Power as CEO in 2009. Before this, he was CEO of Sensortec Ltd, founding CEO of Metalysis Ltd – a spin-out from Cambridge University – and founding CEO of Antenova Ltd.
Dr Cooley started his career in the power sector in 1989 with the CEGB, before serving as the Business Development Manager for National Power plc and International Power plc, developing energy storage and new generation technologies.
He has a degree in physics, a PhD in materials technology and an MBA. Dr Cooley also sits on several industry bodies and is a member of the UK government's Hydrogen Advisory Council.
---
Image credit | Shaun Flanery Photography | Shutterstock