View from the top: Graham Stuart, Minister for Exports
Minister for Exports Graham Stuart talks to Energy Focus about supporting and boosting UK export performance and accelerating clean energy growth ahead of COP26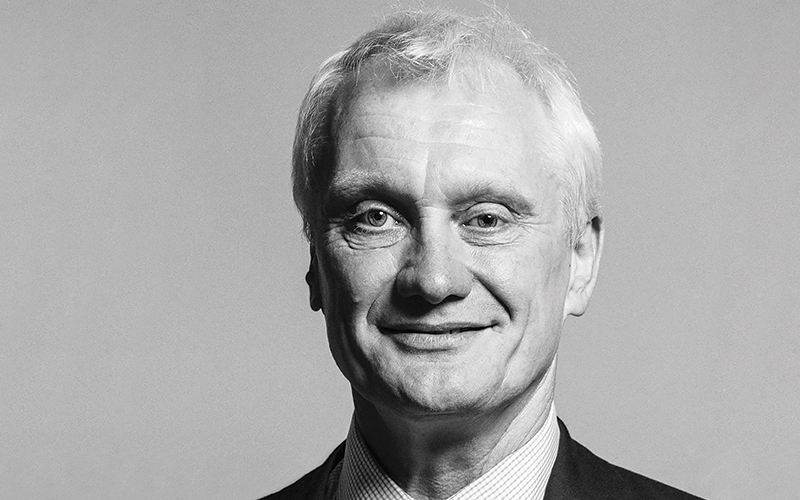 How will the new Export Strategy that's being developed by Department for International Trade (DIT) and UK Export Finance(UKEF) build on existing policies and priorities?
We will build on the 2018 Export Strategy, develop a whole-of-government approach and deliver much enhanced digital support. Lowering trade barriers, communicating the benefits, connecting to and informing companies about different market opportunities, and fostering a competitive business environment will all play a part. A refreshed Export Strategy will promote growth across the UK, create high-quality jobs and support our transition to net zero.
Our message to potential exporters is simple: "Grow by exporting". To support this, we are opening Trade
and Investment hubs in Scotland, Wales, Northern Ireland and Darlington, and expanding UKEF's lending capacity while simultaneously promoting fair and open trade overseas.
What steps is the government taking to promote the UK's energy sector to international markets?
We actively promote the UK's energy sector internationally, and the Prime Minister's 10-Point Plan showed the ambition for UK renewables.
With government support, GE Renewable Energyhas recently committed to manufacturing offshore wind turbine blades at Teesside, and similar conversations are taking place with cable, tower and monopile manufacturers.
Our civil nuclear team is working across nine priority markets, utilising connecting UK supply with demand and forging new partnerships between companies.
Our message to potential exporters is simple: "Grow by exporting"
Do you see government taking a more active and co-ordinated role in government-to-government diplomacy and negotiations to help UK businesses get to the front of the queue for exporting to key global markets?
Current partnerships have secured hundreds of millions of pounds for UK companies – our agreement with the Poland Solidarity Transport Hub positions us as a partner of choice for rail, airport, and air traffic opportunities. Through our arrangement with Peru, we're supporting the reconstruction of its Northern regions, aligned to our own goals of sustainable and climate-resilient infrastructure. The Sovereign Investment Partnership with UAE, our memorandum of understanding with Taiwan on offshore wind, and strategic tie-ups with African nations such as Mozambique on renewables all show the commercial benefits that can flow from government leadership.
With Brexit 'done', how is the UK now perceived globally from the standpoint of trade and investment and being a strategic and trustworthy partner?
It's simple: people want to do business with the UK. In addition to the trade deals we have already signed, negotiations are progressing well with the US, Australia, New Zealand and others, and we have started the Comprehensive and Progressive Agreement for Trans-Pacific Partnership accession process. We staunchly support free, fair and open global trade and the World Trade Organization.
A recent report from Barclays showed that overseas buyers are willing to pay between 10–15% more for products with the 'Made in Britain' label, which shows just how respected our exports are across the world.
How are preparations proceeding for COP26, and are events like the EIC's Energy Exports Conference (EEC) important in preparing businesses for COP26?
Our COP26 presidency comes at a critical time, and there is an unprecedented opportunity to reboot global economies to become more sustainable after the pandemic.
Overseas buyers are willing to pay between 10–15% more for products with the 'Made in Britain' label
There is an enormous role for businesses to play, not only at November's summit but, perhaps more importantly, through engaging with the hundreds of events in the preceding months and hosting COP visitors before or after their engagement there.
Events such as EEC 2021, focusing this year on green exports, showcase UK green businesses, champion our clean growth offer and advance our sustainable trade agenda. Dubai Expo 2020 starts on 1 October, with clean growth a key element in the UK pavilion's six-month programme, and the Green Investment Summit will be taking place in October in the run-up to the COP. This year offers a great opportunity to sell UK capability and our investment offer to the world. By working together, we can make the most of it.
EIC Survive & Thrive Insight reports have highlighted that UK businesses find developing new export markets to be the most challenging growth strategy. What can the government do to encourage more exporting?
Whether by negotiating new trade agreements or pursuing increased market access, we are seeking to lower the barriers businesses face in internationalising their sales. Our research shows that exporting businesses are more productive, resilient, profitable and innovative than their non-exporting peers. So whether through improved digital tools as part of the Export Academy, export incentives, grants through the Internationalisation Fund or improved co-ordination across the government, we are seeking to do everything we can to encourage, inform, connect and finance more energy businesses to look outwards.
Exporting businesses are more productive, resilient, profitable and innovative than their non-exporting peers
Our award-winning export credit agency, UKEF, has developed new products during the past year to help businesses cover the current risks of exporting, including the General Export Facility (GEF), which provides an 80% government guarantee for bank loans for exporting SMEs. Available from the main high street banks, GEF is untied and, coupled with UKEF credit insurance, should persuade the most sceptical finance director that investment in foreign sales growth is possible and wise.
Despite your survey results, I'm pleased to say that UK exports were growing steadily before COVID. In 2019, we were the only top 10 exporting nation to increase overseas sales and, in fact, overtook France to become the fifth largest exporter in the world.
How is UKEF adapting to COVID-19, decarbonisation and sustainability? 
UKEF is already focused on supporting renewable energy projects overseas, with £2bn dedicated to financing clean growth projects, which will enable UK firms to win green energy contracts they may have otherwise missed.  It also provides favourable financing terms for renewable energy projects, which can receive repayment periods of up to 18 years, nearly double the usual 10-year outlook.
This is already bearing fruit. UKEF has provided £500m to support four major offshore wind projects in Taiwan, and companies such as East Anglia-based Seajacks will ship materials for wind turbines on UKEF-supported projects overseas.
There is still a need for ongoing support for the oil and gas sector to ensure firms looking to transition are effectively supported to do so, for which UKEF is developing a working capital Transition Export Development Guarantee product, which will be subject to strict application criteria.
UKEF supports renewable energy projects overseas, with £2bn dedicated to financing clean growth projects
How does DIT plan to support oil and gas supply chain businesses going forward?
The oil and gas sector has an important contribution to make to the UK's energy transition, having many essential skills and capabilities in its supply chain. We'll continue to engage with organisations such as EIC to support oil and gas supply chain companies transitioning to other subsectors.
The North Sea Transition Deal, announced on 24 March, sets out an ambitious plan for how the UK's offshore oil and gas sector and the government will work together to deliver the skills, innovation and new infrastructure required to meet stretching greenhouse gas emissions reduction targets.
The Deal aims to support and anchor the expert supply chain that has built up around oil and gas in the UK, to both safeguard and create new high-quality jobs. It will transform the sector in preparation for a net-zero future and catalyse growth throughout the UK economy. Specifically, it includes:
Early reductions in offshore production emissions of 10% by 2025, 25% by 2027, and 50% by 2030, against a 2018 baseline, to meet the sector's aim of creating a net-zero basin by 2050. This will be supported by joint work to address the commercial and regulatory barriers to the electrification of offshore platforms to realise these targets
Investment of up to £14–16bn by 2030 in new energy technologies, with supported by business models to enable CCUS and hydrogen at scale
A voluntary industry target of 50% local UK content across the lifecycle for all related new energy technology projects by 2030, as well as in oil and gas decommissioning. This will be supported by the appointment of an industry supply chain champion who will support the co-ordination of opportunities with other sectors
A 60Mt reduction in greenhouse gas emissions, including 15Mt through the progressive decarbonisation of UKCS production over the period to 2030
Support for up to 40,000 direct and indirect supply chain jobs in decarbonising UKCS production and the CCUS and hydrogen sectors
Does the move towards clean energy provide significant opportunities for businesses in the UK?
The clean growth and net-zero agenda offer significant opportunity for businesses in the UK: the low-carbon economy has the potential to deliver £60–170bn of export sales between 2015 and 2030. The new Office for Investment will play an important role in delivering the 10-Point Plan by funnelling investment into the UK.
The UK Hydrogen Strategy, due to be published later this year, is a top priority. We are working with industry through the Hydrogen Advisory Council, and, in relation to CCUS, we could get up to £10bn of an estimated £200bn per year of the global CCUS market by 2050.
In offshore wind the UK has 10GW deployed, with a further 30GW planned by 2030, including 1GW of floating offshore wind. To support this growing industry, the UK is investing £160m into modern ports and manufacturing infrastructure, providing high-quality employment in coastal regions.
Energy transition will require a consistent and significant pipeline of projects to keep the UK supply chain engaged. How is this pipeline of projects shaping up?
The UK has an extensive pipeline of hydrogen projects, which is developing further with Industrial SuperPlaces, a hydrogen village and town, and the Net Zero Hydrogen Fund. Our commitment to supporting the deployment of carbon capture clusters, with an infrastructure fund of £1bn, will help develop the UK's pipeline of CCUS projects.
Transition strategies vary by nation due to natural resources and existing infrastructure. We have a unique balance of resources that will allow us to reach a 68% reduction (vs 1990) in GHG emissions by 2030 – faster than any other major economy.
How important are 'clusters' to the future success of energy transition?
Energy clusters are vitally important to the future success of energy transition and advancement of the levelling up agenda. For offshore wind, the cluster of manufacturing and installation enables the UK to be on par with its European neighbours.
Looking ahead, the Climate Change Committee advises that multiple CCUS clusters will be needed by the mid-2020s for the UK to reach net zero by 2050, and we have committed to delivering these.
The government is considering a green levy to fund Building Back Better utility-scale green projects. When and how might the green levy work?
The Green Gas Support Scheme (GGSS) and Green Gas Levy (GGL) will support increased biomethane injection into the gas grid. Following on from the Non-Domestic Renewable Heat Incentive (NDRHI), GGSS will provide tariff support for biomethane produced by anaerobic digestion and injected directly into the gas grid. GGL will apply to all licensed fossil fuel suppliers of gas and raise the capital required to fund GGSS.
We intend for both GGSS and GGL to launch in the autumn of 2021, and they will contribute 21.6MtCO2e of carbon savings and support high-quality jobs.
The EIC is the voice of the energy supply chain. Do you see a role for UK-wide, all-energy taskforces to nurture and develop the supply chain for domestic and export growth?
UK-wide, all-energy taskforces are important in highlighting and co-ordinating the capabilities of key energy industry players and sectors. They can help provide a voice for the UK energy sector and an avenue for government to work directly with industry.
Used effectively, they can support the development of a UK energy transition roadmap and maximise the UK's future trade potential from established and emerging technologies.     
---
About Graham Stuart
Graham Stuart was appointed Minister for Exports in February 2020. Prior to this, Mr Stuart's Parliamentary career has seen him serve as Minister for Investment (2018–2020), Assistant Government Whip with responsibility for the Department of Health, and later for HM Treasury and the Ministry of Defence (2016–2018), and Chair of the Education Select Committee (2010–15). He has been the Member of Parliament for Beverley and Holderness
since 2005.
Before becoming an MP, Mr Stuart developed a successful career in publishing, and was a member of Cambridge City Council from 1998 to 2004. He was born in Carlisle and attended school in Scotland before going to Selwyn College, Cambridge to read philosophy and law.