Decommissioning Europe's nuclear fleet
Europe is set to become the world's largest market for nuclear decommissioning over the coming years, with the sector estimated to be worth €60bn by 2025. While much of this spend will take place in Germany, Sweden is a key decommissioning market too, writes Oliver Barnes, EIC Senior Energy Analyst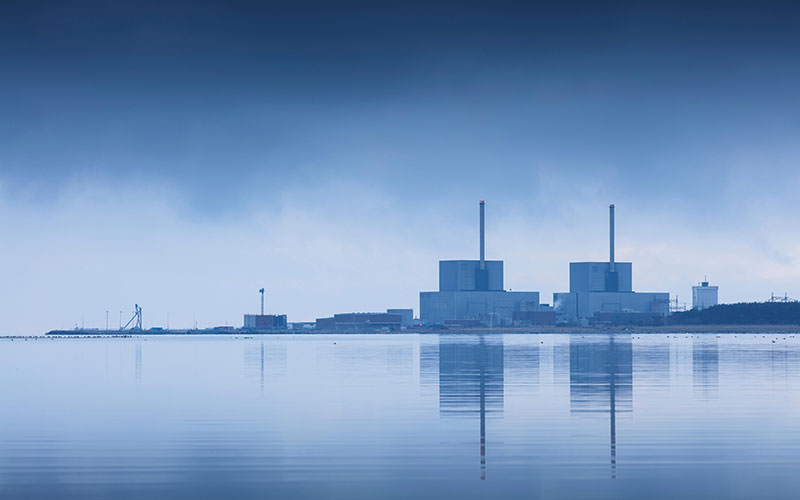 Nuclear power is the second-largest source of low-carbon electricity in the world today, with 449 reactors generating enough power to meet 10% of the world's total electricity needs. In the European Union (EU), this figure grows to 28.2% (Q2 2019), with half of the EU's 28 nations utilising the technology within their respective energy mixes.
As such, it is evident that not only is nuclear power important for electricity security in the region, but it also plays a key part in ambitions to reduce carbon emissions and meet international climate targets.
A new era
However, nuclear energy is entering a critical period of development – one which will determine the shape of the sector in Europe over the next several decades. While 11.2GW of new nuclear capacity was connected to electricity grids in 2018, all of this was in Russia and China. The last nuclear plant to be grid connected within the EU was in 2007 at the Cernavoda plant in Romania. Meanwhile, the fleet of nuclear power plants already operating in the region are ageing, with most constructed during 1970s and 1980s – meaning they are reaching, or in some cases have already reached, the end of their 40-year designed life, pending any life extension investment.
The situation is further exacerbated by decisions to phase out nuclear power such as those taken in Belgium, Germany, Sweden and Switzerland. Spain recently joined these countries by announcing in February 2019 that it would close all seven of its operational nuclear plants by 2035 as part of plans to generate all the country's electricity from renewable sources by 2050.
Moreover, France, the EU's largest generator of nuclear power with 58 reactors, has pledged to reduce the share of nuclear in the country's domestic electricity mix from 75% to 50%, citing an overreliance on the technology and a broader shift towards renewable generation. A total of 14 reactors will close by 2035 under the country's long-term energy strategy, which will also see all coal-fired generation cease by 2022.
Opportunities abound
The projects will require international collaboration and expertise in order to successfully carry out the many complex challenges that nuclear decontamination and decommissioning (D&D) programmes present. With competition from a wealth of nuclear organisations and growing pressures to reduce costs and deliver on time, supply chains will need to be efficient, organised and proactive to win a slice of the €60bn decommissioning and waste management market developing across Europe by the middle of the next decade.
Key opportunities     
Planning and strategic development     
Bespoke technological solutions to challenging problems in hazardous environments     
Site management     
Decommissioning operations     
Decontamination and dismantling guidance     
Environmental assessment and restoration     
Radiation mapping and waste characterisation     
Transportation of waste and spent fuel     
Robotics and autonomous systems for decommissioning     
R&D into new and innovative techniques 
Points to consider  
Highly competitive marketplace  
Language barrier, especially at the level of technical conversations  
Early engagement is imperative to securing work
---
Andrew Mitchell
Her Majesty's Trade Commissioner for Europe, UK Department for International Trade (DIT)
Europe is one of the most active and dynamic markets for nuclear in the world today. It is home to 133 operational reactors, which provide approximately 28% of the continent's electricity, and is unique in offering commercial opportunities across the whole nuclear lifecycle.
At the backend of the lifecycle, decommissioning is an imperative for Germany especially, where nuclear power is being completely phased out by 2050. Other countries with ongoing decommissioning programmes include the UK, Belgium, Spain, Sweden and Switzerland, and decommissioning is an emerging priority for markets including France.
As a pioneer of nuclear power, the UK's nuclear industry has the experience to meet the demands of these opportunities. The DIT has a dedicated network of civil servants and specialists helping UK nuclear businesses to export their cutting-edge products, services and technologies to the rest of Europe. We look forward to working with you on identifying the best opportunities for your business, to help you win work overseas.
---
Germany
Following the Fukushima incident in 2011, Germany implemented a decision to phase out nuclear power by 2022. The announcement to shut down an entire sector that generated a quarter of the country's electricity was unexpected, but political and public pressure to move away from nuclear power has been present for many years in Germany. The result is that, as of 2019, only seven reactors are operating, with 10 already shut down.
Key players
The utilities – EnBW AG, PreussenElektra (E.ON), RWE and Vattenfall – are now planning their decommissioning strategies, with all obliged to proceed with immediate dismantling, whereby reactors will be dismantled over a 15–20-year period following shut-down. This will result in a congested period in the 2020s and 2030s, when Germany's decommissioning programme will be in full swing. It is here where industry experts have raised significant concern – capacity.
D&D projects have previously been one-off, smaller scale schemes and not in-parallel, large multi-site programmes. While there is significant decommissioning know-how in Germany with established companies such as Energiewerke Nord (EWN), Gesellschaft für Nuklear-Service mbH (GNS), and NUKEM, experience from international players will be essential in completing the number of projects on time and on budget. This is an important consideration to the German nuclear utilities, which have had the operating periods of their nuclear assets prematurely cut short, hence contributions to decommissioning funds truncated.
Successful entry into the market has the potential to provide a long-term pipeline of work and also the possibility of broader work in other markets such as Sweden due to the crossover in utility operations, like that of Vattenfall, which operates in both the German and Swedish nuclear sectors. 
---
The rest of Europe
Outside of Germany and Sweden, there is a vast pipeline of decommissioning projects to come across Europe.
In the west of the region, 33 units will close in Belgium, France, Spain and Switzerland by 2035, as well as the 22 Magnox reactors already undergoing decommissioning and 14 advanced gas-cooled reactors to close by 2030 in the UK. In the east, D&D work is continuing across Armenia (one unit), Bulgaria (four units), Lithuania (two units), Slovakia (three units) and Ukraine (four units), all Russian-designed reactors initially grid connected in the 1970s–80s.
---
Sweden
Sweden is also a key decommissioning market in Europe thanks to ageing plant and profitability pressures due to falling electricity prices and a controversial nuclear tax imposed on utilities. Four units are currently undergoing decommissioning at Uniper-owned Barsebäck and at Oskarshamn, operated by OKG, a joint-owned enterprise of Uniper and Fortum. A further two units are due to come offline at Ringhals in 2019 and 2020, after Vattenfall and E.ON agreed in 2015 to shut the units due to declining profitability.
Key players
Sweden is home to recognised nuclear organisations with D&D experience, such as Studsvik, and also a growing cluster of multi-national companies setting up subsidiaries or forming partnerships to take advantage of decommissioning activities in the country. GE Hitachi Nuclear Energy and Bechtel announced an alliance in March 2017 to pursue decommissioning opportunities in both Sweden and Germany, while EDF-owned Cyclife and Finnish energy company Fortum formed a partnership in May 2018 to take advantage of D&D opportunities across the Nordic market.
Challenges exist in the Swedish sector with regard to optimising logistics across the various sites and managing supply and demand of skills, equipment and technologies, dealing with the larger nuclear components within the nuclear island and waste management. However, while the parallel, multi-site decommissioning programmes of Germany and Sweden may present problems pertaining to capacity, lessons learned can be transferred into future projects, resulting in economies of scale and significant efficiencies which can decrease the likelihood of delays to schedules and resulting cost overruns.
This 'lead and learn' approach has been taken at the Barsebäck and Oskarshamn plants in Sweden, with a framework contract awarded across both projects to dismantle the two reactor pressure vessels located at each site. The Uniper Anlagenservice-led consortium with NUKEM Technologies was awarded the work in April 2019 and will firstly carry out dismantling at Barsebäck, starting in early 2020 following the receipt of a dismantling licence, before moving across to mirror the work at Oskarshamn. The contract is expected to be completed in 2024. GE Hitachi Nuclear Energy and Westinghouse were awarded contracts for dismantling the reactor pressure vessel internals at Oskarshamn and Barsebäck respectively. 
Major Projects to watch 
Germany

Philippsburg 2 Nuclear Power Plant Decommissioning
Value: US$500m
Stage: Feasibility
Status: Planning
Operator: EnBW AG
Brunsbüttel Nuclear Power Plant Decommissioning
Value: US$500m
Stage: Feasibility
Status: Planning
Operator: KKW Brunsbüttel GmbH
Sweden

Barsebäck Nuclear Power Plant Decommissioning
Value: US$550m
Stage: Engineering, preparation, removal and disposal (EPRD)
Status: Contract awarded
Operator: Barsebäck Kraft AB
Oskarshamn Nuclear Power Plant Decommissioning
Value: US$550m
Stage: EPRD
Status: Contract awarded
Operator: OKG AB
Dates for your diary     
World Nuclear Exhibition 23–25 June 2020 EIC-organised UK pavilion, Paris Nord Villepinte
---
The EIC lists current projects in Europe and contact details on EICDataStream. 
Further details can be found at: www.the-eic.com/EICDataStream/AboutEICDataStream
---