Making nuclear affordable
Nuclear can be a cost-competitive energy source, writes Professor Andrew Sherry at the National Nuclear Laboratory – but collaboration will be the key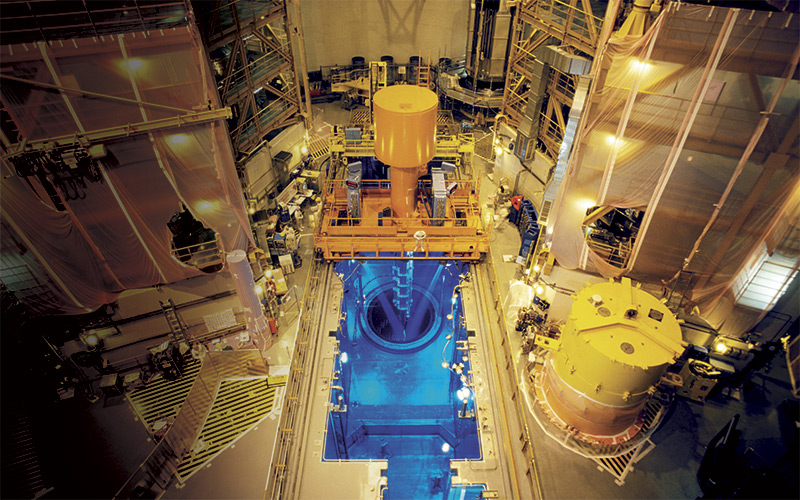 With the UK beginning preparations to replace and decommission its fleet of advanced gas-cooled nuclear reactors, our industry is on the cusp of major change.
This change will spark a series of large engineering projects, creating a plethora of opportunities for businesses currently not involved in nuclear to collaborate with the nuclear sector over the next decade or more.
What those projects will look like is the focus of lively debate. Should they build big like Hinkley Point C, requiring significant investment upfront and taking many years before revenue is generated? Or would it 
be more economic to commit to a series of smaller projects that are easier to get off the ground financially and will produce a faster return on investment?
Finding ways to do nuclear more economically is an imperative for the industry – and discovering the methods by which we can achieve this is a key objective for the National Nuclear Laboratory (NNL). If we are to achieve this mission we also recognise that we cannot afford to be insular in our approach.
We must be open to ideas coming into our sector from the outside. That desire to build partnerships is so strong that Innovation through Collaboration was the theme of our annual NNL SciTec conference this year.
Collaboration
When you take a closer look at the nuclear sector, you can see that there is huge scope for collaboration. Far from being distinct from other industries, there is an enormous amount of overlap. For example, we share a lot of materials and manufacturing commonality with sectors such as the oil and gas and chemical industries.
Of course, we cannot ignore the fact that we are dealing with a nuclear core – and that has a clear impact on our culture, which is risk averse. Our approach to safety, which we refer to as 'defence in depth', is embedded into the regulatory regime. 
But when you examine a nuclear power station, you can see that, in essence, most of it is a civil construction project like any other, with concrete, pumps, valves and welds – hence our keen interest in working more closely with industries that operate outside of nuclear, to bring in modern technologies that can reduce costs and maintain safety.
Bringing in new ideas
We want to bring in fresh thinking and are reviewing technologies and techniques being deployed elsewhere. This could include everything from reviewing how laser cutting is being used to decommission oil platforms to how advanced manufacturing technologies are producing components for aerospace more rapidly. We are also looking at innovations such as digital technologies, robotics and artificial intelligence to see if they have a place in waste management and inspections, as well as advanced manufacturing technologies such as electron beam welding and hot isostatic pressing.  
Fresh thinking can come in the form of business processes, too. I recently chaired a roundtable discussion with leaders from major UK industries including shipbuilding, satellites, digital, materials and rail construction. What was clear from that discussion is that we all encounter the same business problems: collaboration in the supply chain, programme and risk management, financing and the ability to nurture culture and our future leaders.
We all acknowledged that if we do not widen our supply chains, we'll get the same answer every time and never hear of new ideas. There's a lot to be gained from talking to different industries – especially when it comes to managing major engineering projects. Just look at the London 2012 Olympic build. This was an enormous civil construction programme and we can learn a lot from the way that risks were reduced and shared with suppliers.  
---
New £200m nuclear sector deal launched
The UK government has announced an ambitious £200m deal to help drive down the costs of nuclear energy, develop potential world-leading nuclear technologies and encourage more women to work in the industry.
The sector deal, which will help nuclear energy to remain competitive against other forms of low-carbon energy, increase UK industrial capabilities and signal the UK's global leadership in nuclear to the rest of the world, includes: 
The unlocking of growth opportunities in the nuclear supply chain through joint government and industry support for smaller companies in the UK to access higher value contracts and new markets
Up to £44m for research and development funding to support the development of advanced modular reactors
A new partnership with the Welsh government to develop a £40m thermal hydraulics facility in North Wales, as part of the Nuclear Innovation Programme to support the design and development of advanced nuclear technologies
A firm commitment from industry to reduce the cost of new nuclear build projects by 30% by 2030, and the cost of decommissioning old nuclear sites by 20% by 2030
---
International outlook
For those organisations wanting to collaborate with the nuclear industry, there are also growing opportunities to export expertise, products and services. This will only be heightened as our domestic civil nuclear programme starts to move away from advanced gas-cooled reactors, which are unique to the UK, and embraces light-water reactor technologies.
The nuclear community is also international and there is a recognition that developments in one country will quickly impact the rest of the world. This allows for expertise originating in the UK to influence developments in other countries, be that the Far East, Europe, the Middle East or the US.
We cannot ignore that public and investor perception of nuclear varies from country to country, and political decisions can impact demand for nuclear power. But the prospects for the industry internationally are extremely bright. We have witnessed a real groundswell of pro-nuclear thought in recent years, including among some of the environmental community. There is a recognition that if we are serious about tackling climate change then nuclear energy is one of the most important low-carbon alternatives available to us.
When looking at the nuclear industry, the situation can be summed up by echoing the sentiments of Lord Hutton in last year's House of Lords Science and Technology Select Committee report. In essence, do we want to be a country that does nuclear, or a country that has nuclear done to us? We clearly believe that we should be the former, and with international energy requirements growing rapidly, there are huge incentives for UK businesses to drive innovation within the nuclear industry to reposition the sector for growth, to diversify the sector to deliver flexible heat and power, and to enhance international impact, both in decommissioning and waste management and in clean nuclear energy.
By Professor Andrew Sherry, Chief Scientist, National Nuclear Laboratory