Powering a UK–US energy partnership
The development of small modular reactors (SMRs) is regarded as crucial to the future of the nuclear industry. As the government sets out to make the UK a leader in SMR technology, two industry giants, NuScale Power and Rolls-Royce, share their big SMR plans with Energy Focus.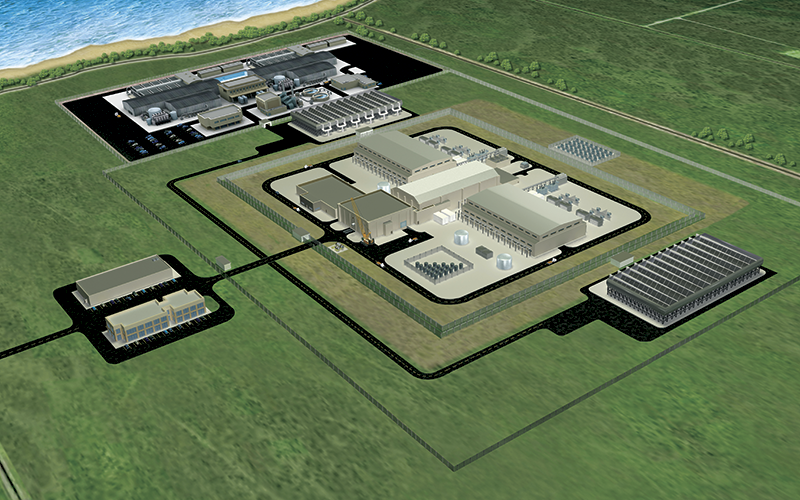 Tom Mundy, NuScale Power CCO and UK Managing Director, talks about the company's UK SMR offering.
At their simplest, small modular reactors (SMRs) are safer, smaller, flexible and scalable versions of traditional nuclear power plants. Based on tried-and-tested pressurised water reactor technology, NuScale Power's SMR is designed with passive safety features, fully fabricated in a factory and assembled on site.
NuScale is one of the most advanced developers of SMR technology and already has plans to build its first commercial power plant at a site in Idaho during the mid-2020s. As we prepare to deploy our SMRs in the US, we are also partnering with British companies to bring forward a vision of a multi-billion pound SMR venture in the UK. We are an active participant in the UK government's SMR competition.
Our UK partners include Ultra Electronics, the Nuclear Advanced Manufacturing Research Centre and Sheffield Forgemasters. We recently published our UK SMR action plan, setting out how we will deliver UK SMR deployments over the next decade.
Meeting the UK's energy challenge
Deployment of SMR technology offers a timely solution to the UK's energy challenge, with SMRs being needed by the mid-2020s to replace retiring coal-fired power stations and the UK's ageing nuclear fleet. It will also be important to have a low carbon source of baseload electricity to help meet future electricity needs created by both increased demand and the electrification of transport.
As well as helping to meet demand, SMRs represent a cost-effective way to help meet the UK's ambitious decarbonisation targets. Our power plants are scalable and can begin generating electricity from the first module installed, with additional modules added as customer demand for electricity increases. This feature reduces initial capital cost. The smaller physical and environmental footprint of a NuScale power plant increases the number of sites that might be suitable for deployment, including sites previously discounted due to size or the infrastructure requirements of large-scale plants.
The technology is ideally suited to supply process heat for a variety of industrial processes, including district heating, desalination and chemical and hydrogen production. Our SMR design has extensive load-following capability for integration with intermittent generation sources such as wind and solar, providing a stable back-up for the grid as well as highly reliable power to meet the electricity needs of critical infrastructure.
A UK–US partnership
By supporting an SMR programme, the UK will be in pole position to capture a significant share of the global SMR market – potentially worth up to £400bn by 2035.
A UK–US partnership on SMRs offers an opportunity for Britain to become a global leader in innovative nuclear technology, an area in which the country already has a strong pedigree and world-renowned expertise. UK companies have the means to provide more than 85% of the content required for NuScale UK deployments.
We believe a multi-billion pound UK SMR venture will boost economic growth, productivity and wealth creation, as well as create high-value jobs. There is also the potential for both intellectual property rights and export opportunities, greatly benefitting the UK's nuclear industry and wider supply chain.
Window of opportunity
NuScale can achieve UK SMR deployment by the 2020s by leveraging our mature design and existing pipeline of customer interest. We are confident that the UK can be a part of our plans for global SMR deployment – however, 
the window of opportunity to take first-mover advantage is rapidly closing.
The UK government can and should seize this once-in-a-generation SMR opportunity and help bring forward our plans of a UK–US partnership on SMRs. The government should provide long-term political support, help us overcome barriers to investment and create the right market conditions needed for our technology to be deployed in the UK.
By Tom Mundy, Chief Commercial Officer and Managing Director (UK & Europe), NuScale Power
---
A once in a lifetime opportunity
The reduced size of SMR power plants and their relative flexibility present a clear opportunity, writes David Orr at Rolls-Royce.
The decarbonisation of our energy mix is a critical step towards ensuring a sustainable future for generations to come.
 
Recent events, such as the ratification of the Paris Agreement at the Framework Convention on Climate Change, have reinforced the global desire to achieve the goal of keeping global warming effects below two degrees Celsius. While debate may still exist at some levels, many nations are moving forward at pace to address this generational challenge.
Switch to low carbon
In the UK, some progress has been made in decarbonising the electricity generation mix. Last year saw the first day in over 130 years where no coal power provided electricity to the National Grid. The surge of renewables has been impressive, driven by advances in technology and a favourable government subsidy regime.
In contrast, new nuclear has been slower to progress. The lengthy process to finance the Hinkley Point C nuclear plant project required intervention from British, French and Chinese governments. New large reactor projects at Wylfa Newydd and Moorside are progressing through similar financing discussions.
How can we build affordable reactors?
For decades the deployment of nuclear power stations has relied heavily on state funding; either via direct financing, project subsidy or through state-backed utilities and operators. Even as technology has evolved, the benefits gained have been used to try and increase the output of power stations (maximising the economy of scale) rather than reduce the barriers to deployment. This has led to ever-larger power station designs, which theoretically can recover more of their fixed costs through increased power output. In reality, the complexity and magnitude of large reactors now makes them too expensive for any but the wealthiest of national governments to finance.
Since 2015, Rolls-Royce has been leading the development of a new design of small modular nuclear power station (see photos) that seeks to revolutionise the way that nuclear power station development is funded and delivered. Based on a new interpretation of proven pressurised water reactor technology, the UK small modular reactor (UK SMR) design is intended to reduce the cost of nuclear electricity to levels around £60 per megawatt hour. This will make it competitive with the latest advances in offshore wind and other renewables (particularly when one accounts for the fact that nuclear is the only generation technology to carry the full lifecycle cost of its construction, operation, decommissioning and waste management).
Around 60% of the cost of a conventional nuclear project relates to construction, the majority of which is conventionally carried out on site. This poses significant delivery challenges as a multitude of different contractors and organisations vie for space and time on a complex, dynamic and highly regulated construction site. Further complication is added through unavoidable delays caused by poor weather.
The UK SMR is designed to be modular from the ground up. Reactor components, systems and civil structures are all designed to be manufactured off-site in factory production facilities, avoiding many of the site-based challenges and maximising the opportunity to develop a resident skilled workforce. These modular building blocks can then be transported to site along regular roads and integrated together quickly and efficiently. Only earthworks and the lower elements of the foundations will be constructed on-site.
Full plant standardisation will be achieved through the implementation of a novel 'seismic raft' approach to the foundations that separate the locally constructed lower foundations from the elements shipped in from factories. Cooling water provision is based on standardised modular systems that can be reconfigured to match each sites characteristics and requirements.
Making it happen
First deployment of the UK SMR is targeted in the UK in the early 2030s, with several existing identified sites viable for first-of-a-kind deployment. The UK SMR consortium consists of leading UK engineering organisations including Arup, Laing O'Rourke, Nuclear Advanced Manufacturing Research Centre, Nuvia and Wood. At present, the consortium is working towards entering the UK's nuclear regulatory process for new reactor designs (Generic Design Assessment) in 2019.
International interest is also high: multiple organisations from around the world have already expressed interest in the design, and in November 2017 the Jordan Atomic Energy Commission signed a memorandum of understanding with Rolls-Royce to conduct feasibility studies into deploying UK SMR in Jordan.
The UK's nuclear future?
Full-scale deployment of the technology in the UK (with around 12 power stations constructed) could lead to upward of 40,000 skilled jobs being created, the vast majority of which could be sustained by an ongoing programme of exports. At around £2bn per power station, these exports can be supported by UK Export Finance, enhancing the opportunity for the UK to partner with a range of trading nations from around the globe.
The need for low carbon, safe and reliable energy production has never been more significant. UK SMR will be a complementary option alongside large reactors, renewables and other low carbon technologies to provide clean and cost-effective electricity through the 21st century.
By David Orr, Director, Future Programmes & Technology, Rolls-Royce.