Nuclear power roars back in Central Europe
As Europe transitions to a more sustainable future, the development and deployment of small modular reactors (SMRs) present exciting opportunities for the nuclear energy supply chain. With plans to develop and put the first SMRs into operation, EIC energy analyst Aadam Sufi looks at why Poland, the Czech Republic and Romania should be on your radar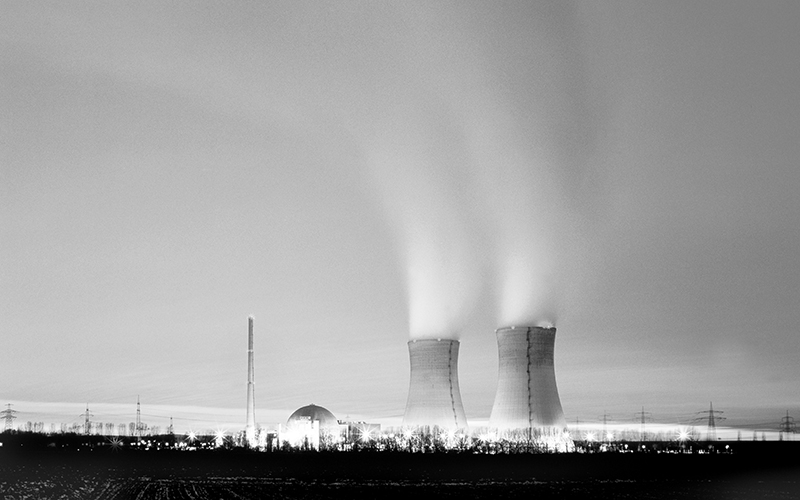 Poland
Tax exemptions
Government grants
Financial support and training
Cash incentives
Low-cost loans
One of few countries in Central Europe with no operational nuclear reactors for power generation, Poland is emerging as a potentially lucrative nuclear market. Having traditionally relied on domestic coal power generation for its energy needs, supplemented by Russian oil and gas, it now plans to have nuclear power from about 2033.
EICDataStream is currently tracking eight SMR projects requiring a combined investment of US$8bn, and a number still in very early stages.
Given the non-existent current market, opportunities are rife for early-stage contracts

Who are the key players?
Polish companies PKN Orlen and Synthos Green Energy have formed a joint venture (JV), Orlen Synthos Green Energy, that will commercialise SMR construction in Poland. The JV will use GE Hitachi's BWRX-300 reactor – a 300MW SMR that could power 300,000–350,000 households for 60–90 years. 
The ambitions are far-reaching: 79 reactors to be built by 2038, the first by 2030. Seven sites have been announced for preliminary studies to assess suitability for an SMR plant, with a further 13 to be decided. 
Other players include KGHM, working with NuScale to build the first 462MW VOYGR-6 SMR in Poland by 2029. Rolls-Royce SMR has signed a memorandum of intent with state-owned Industria to collaborate on three SMRs to power its Central Hydrogen Cluster. 
US backing 
US, Canadian and Polish companies including BWXT, OPG and Tennessee Valley Authority are cooperating to roll out GEH's design, and all three countries' nuclear regulatory agencies are working together. The US is looking to back Polish projects with up to US$4bn in financing via the Export-Import Bank and US International Development Finance Corporation.
Why invest?
Given the non-existent current market, opportunities are rife for early-stage contracts. These include environmental and geological studies for site surveying and shortlisting of potential sites, with construction work likely available in a few years. Poland will also be looking to improve its nuclear skills and expertise, so technical support from other countries, especially Western countries with whom Poland has good relations, will be crucial. The Polish government is funding various initiatives, including training activities, international promotion and policy development.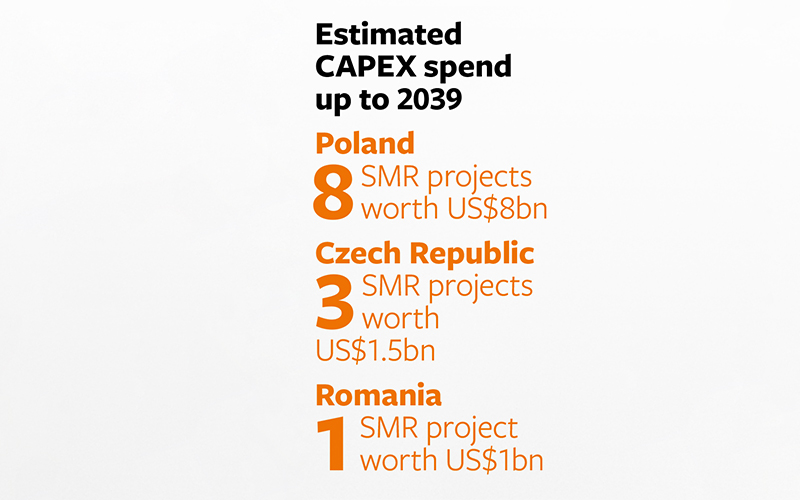 Czech Republic
Corporate income tax relief
Tax exemptions
Direct cash grants
Job creation, training and retraining
R&D tax allowance
The Czech Republic has a strong nuclear heritage, with six reactors currently generating about 37% of its electricity. It plans to extend the operating lives of existing plants and use decommissioned coal plants to introduce SMRs. The government has started working on an SMR roadmap, due in April 2023 but yet to materialise. EICDataStream is tracking three SMR projects worth a total value of US$1.5bn.
In September 2022, national power company ČEZ and the South Bohemian Governor signed a contract to construct the first SMR at the Temelín nuclear power plant site by 2032. An initial geological survey has been completed. Except for this, plans for SMRs are in the early stages.
SMR nuclear opportunities are likely to be focused on early-stage contracts
Who are the key players?
ČEZ has identified two coal-fired power plants at Detmarovice and Tusimice for two SMRs expected to be operational by the late 2030s. The state energy company is also exploring Prunérov, Ledvice and Melník as further potential SMR sites.
The Czech Republic has signed letters of intent for the construction of SMRs with Rolls-Royce, Holtec, the Korean KHNP agency, NuScale, EDF, GE Hitachi and Westinghouse, and there is a cooperation agreement with Ontario Power Generation in the field of nuclear energy with a specific focus on SMRs.
Why invest?
SMR nuclear opportunities include early-stage environmental assessments, feasibility contracts and other preliminary studies. The Czech government actively supports foreign investment and export activities through various initiatives, grants and incentives. Organisations including CzechInvest and CzechTrade offer valuable resources, expertise, and support to foreign businesses looking to enter or expand in the Czech market.
Romania
Tax exemptions
Local tax exemptions in industrial parks
R&D incentives
Employment incentives
Low-cost loans
Romania could become the first country in Europe to deploy an SMR power plant. The Doicesti SMR project, sited at a former coal power plant, has moved to front-end engineering and design (FEED) works, and the plant is expected to come online by 2029.
Headed by Nuclearelectrica, Romania's partly state-owned nuclear energy company, the project will feature the NuScale VOYGR-6, producing 462MW of energy. The design is one of the most advanced in the world, with US approval gained in 2020.
The first simulator of the NuScale VOYGR SMR plant control room in Europe has opened at the University Politehnica of Bucharest in Romania to support the project.
Romania could become the first country in Europe to deploy an SMR power plant
US backing
The US Trade and Development Agency awarded a US$1.2m grant to identify and evaluate potential sites and US$14m for FEED. In May 2023, another tranche of funding was announced, led by the US and several multinational public-private partners from Japan, South Korea and the UAE. A total of US$275m was reported, including US$99m from the US Export-Import (EXIM) Bank.
The EXIM Bank and the US International Development Finance Corporation also issued letters of interest for "potential financial support of up to US$3bn and US$1bn, respectively, for project deployment".
Who are the key players?
Nuclearelectrica has signed a memorandum of understanding with E-INFRA, Nova Power & Gas, Fluor Enterprises, Samsung C&T Corporation and NuScale Power to collaborate to implement NuScale SMR plants in Romania and across Central and Eastern Europe.
Why invest?
Supply chain opportunities include environmental assessments and geotechnical investigations for phase 1, and materials and equipment supply and engineering contracts for phase 2. Financial incentives for foreign investors include tax breaks, cheap loans and free public utility access. A new agency for investment and foreign trade will launch soon, incorporating InvestRomania.
Thinking of doing business in Europe?
EIC has the tools and services to help your business grow. Get help from EIC UK and Europe: info@the-eic.com
Image credit | Getty