South Korea returns to nuclear power
In its second U-turn in less than a decade, South Korea's new Energy Policy reverses phaseout plans and targets 30% nuclear share in 2030, says EIC Energy Analyst Joanne Sivanathan
South Korea's nuclear sector is experiencing a surge of optimism as new president Yoon Suk-Yeol pledges to turn the country into a "nuclear reactor superpower".
President Yoon, who took office in May, is bullish on using nuclear power as a clean energy solution to address the issues of energy security and climate change, and wants to see nuclear power generating more than 30% of the country's energy by 2030, up from 27% in 2021. 
Reversing former President Moon Jae-in's phase-out policy, which was adopted in 2017, President Yoon plans to put nuclear power at the heart of the country's energy strategy. In addition to resuming construction on two reactors, extending the life of those already in operation and building two new ones, President Yoon wants to see a renewed focus on exports of nuclear plants.
New support programme
The new government plans to place new orders of more than US$71.4m in nuclear projects this year, including the reconstruction of the Shin Hanul (Units 3 and 4). The goal is to inject more than US$767m in project orders by 2025 and accelerate the order process for the new Hanul units.
To enhance its nuclear power plant export capabilities, the Ministry of Trade, Industry and Energy is planning to deploy a Project for Building Nuclear Export Foundation, which includes funding nuclear energy conferences and exhibitions, and facilitating export processes.
South Korea also hopes to build 10 reactors abroad by 2030, and current work exporting nuclear technology to countries including Saudi Arabia and Poland is ongoing. Furthermore, the government is set to provide liquidity of US$292m this year in SME funding, technology guarantees and subcontractor loans.
At the same time, the nation will spend more than US$515m on research and development related to demand in overseas markets to domestically develop core parts and support exports of smaller contractors. South Korea's energy ministry is scheduled to analyse the industry's supply chain by the end of 2022 and will manage key product items to prevent disruptions in the nuclear fuel, raw materials and equipment while increasing investment in raw materials, components and facilities. To this end, President Yoon has enrolled in the US-led Foundational Infrastructure for Responsible Use of Small Modular Reactor Technology program and the Indo-Pacific Framework for Prosperity.
The government has also said it will inject a total of US$307.9m by 2028 for the development and commercialisation of homegrown small modular reactors (SMRs). The SMR will be designed to have power generation capacity of 300MW or less.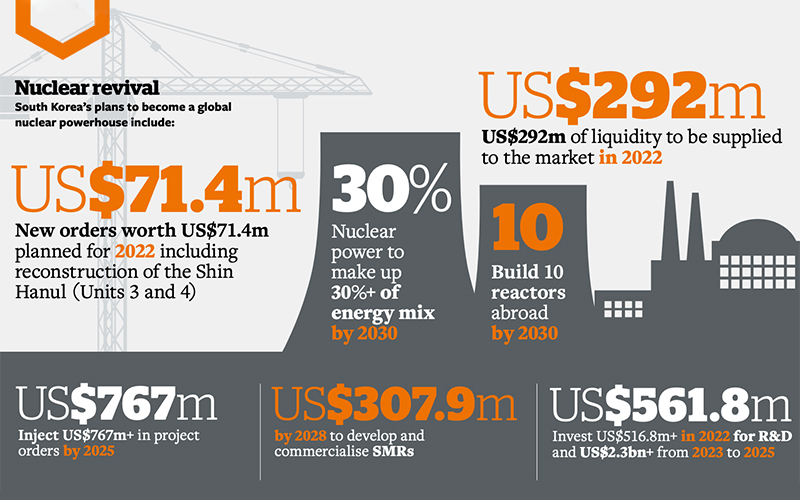 Waste management is key
There are some challenges that need to be addressed, particularly when it comes to the handling and disposal of spent fuel. Local nuclear plants currently store spent fuel in temporary on-site facilities due to repeated failure to find suitable locations for disposal. South Korea's one and only disposal site, near Gyeongju, took 19 years for the government to identify. The Ministry of Trade, Industry and Energy has estimated that the installation and initial operation of a permanent high-level waste complex could take up to 37 years.
Good to be back
However, South Korea has an extensive nuclear history, with years of R&D experience bolstering the region's sector. Major South Korean companies such as KEPCO, Doosan Group and Samsung have a global presence, delivering contracts to several big developments – Doosan Heavy Industries & Construction was awarded an OEM contract for the design, manufacture, and supply of a pressuriser for the Cadarache ITER Nuclear Fusion plant in France. South Korea re-entering the sector could do great things for the market.
---
Rethinking energy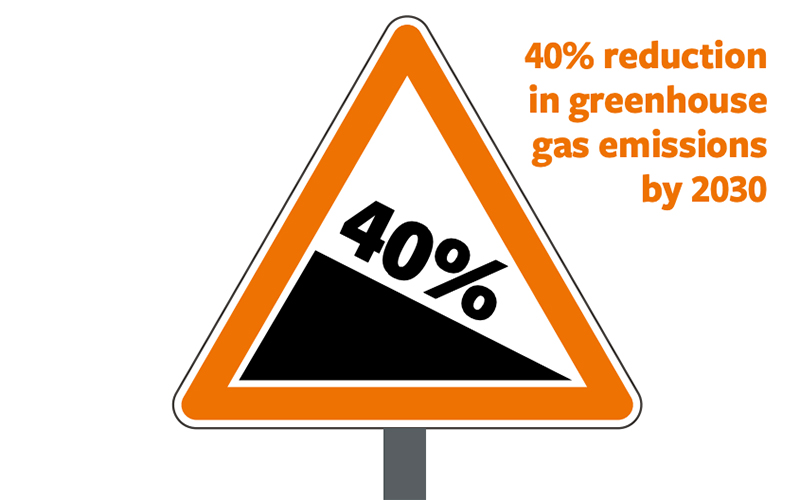 As well as going all in on nuclear power, President Yoon hopes to reduce the country's dependence on coal and natural gas for most of its electrical generation. The government has said that the new energy policy will reduce South Korea's reliance on fossil fuel imports from 81.8% last year to 60% in 2030.
By cautiously cutting coal-fired power generation, the policy will also help the country achieve the Nationally Determined Contribution goal, set by the previous administration, of reducing greenhouse gas emissions by 40% from 2018 levels by 2030.
---
The nuclear phase-out
Former President Moon Jae-In's nuclear phase-out policy included suspending construction of Shin Kori Nuclear Power Plant (Units 5 and 6). Korea Hydro & Nuclear Power quoted US$88m to maintain the equipment and construction site during the suspension. The postponement was quickly overturned when a civil jury voted 58.5% in favour for construction to be resumed. However, this did not deter Moon, as he soon went on to cancel the scheduled addition of two new reactors at Shin Hanul (Units 3 and 4) and shutdown Kori 1 and Wolseong 1 during his term as president. In the five years of his rule, nuclear energy dropped from almost 30% to 26.5%, with a trajectory of 6% by 2050.
---
By Joanne Sivanathan, Energy Analyst, EIC
Image credit | iStock