Attention turns to Africa
Africa's oil and gas industry holds huge potential. Historically a primary driver of economic growth, the sector is once again attracting interest. A combination of improving oil prices, recent discoveries and the push towards using gas as an environmentally friendly energy source is driving activity as investors line up to secure exploration and drilling rights across the region. Ahead of the EIC-organised delegations later this year to Algeria, Angola, Mauritania and Senegal, Energy Focus spotlights the four key markets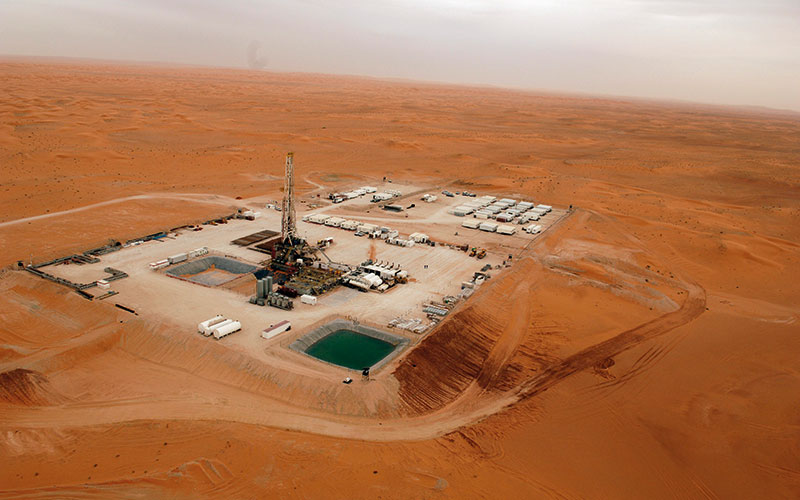 Emma Wade-Smith
Her Majesty's Trade Commissioner for Africa, UK Department for International Trade (DIT)
Africa's proven oil and gas reserves account for 7.5% and 7.1% of global reserves respectively. The region's comeback on the global oil and gas map is not only due to its vast natural resources and recent oil and gas discoveries, but also to regulatory changes and fast-growing energy demand from expanding local consumer markets. All of this means that there are significant opportunities across the region for the UK oil and gas supply chain.
With more than 50 years' experience in the North Sea, the UK's global expertise in offshore oil and gas production is unrivalled and British businesses have earned an international reputation as trusted, valuable partners on the African continent.
The EIC lists current projects in Africa and contact details on EICDataStream. Further details can be found at: www.the-eic.com/EICDataStream/AboutEICDataStream
---
Algeria
Algeria is the largest country in Africa, with substantial oil reserves and a growing young population (more than half the estimated population of 42 million are under 30). Although the country is going through a period of political change, it remains stable and offers a fast-growing market. T
The country holds an estimated 12.2bn barrels of proved crude oil reserves, 4.5tn cubic feet (cf) of proved natural gas reserves and 707tn cf of technically recoverable shale gas. In June 2019, daily crude output was 1.01m barrels per day. Algeria's economy is heavily reliant on hydrocarbon revenues, which accounted for 35% of GDP and 95% of export earnings in 2018.
To encourage exploration, Algeria has been working on reforming the sector by revising its hydrocarbons law. The country intends to attract more international oil companies (IOCs) by easing taxes, simplifying licence procedures and shortening the agreement timeframe. Once the new law is passed later this year, a licensing round is planned.  
Key players
The Algerian national oil company (NOC), Sonatrach, plays a key role in both the upstream and downstream oil and gas industries. It is responsible for exploration and production, transport, refining, processing, marketing and distribution – owning roughly 80% of total hydrocarbon production in Algeria. IOCs – including Anadarko, BP, Enel, Equinor, Neptune Energy, Petroceltic, Petrofac, Repsol, Shell and Total –  account for the remaining 20%.
During the past 12 months, several significant contracts have been awarded to international contractors including L&T Hydrocarbon Engineering, Emerson, Fores Engineering, Cosider Group and KBR.
Future plans
Sonatrach's medium-term development plan outlines total investments of US$56bn, of which US$44bn will be dedicated to exploration and production – about two-thirds of Algerian territory remains unexplored or largely underexplored. The NOC is looking to increase investment in natural gas and to partner with international companies that are experienced in processes such as horizontal drilling and hydraulic fracturing, to develop its unconventional shale gas resources. Another priority for Algeria is to diversify its downstream portfolio and develop its petrochemicals industry. The Algerian government publishes tenders on the Baosem website at www.baosem.com/v3/en/index.php  
UK–Algeria trade
The UK–Algeria trading relationship was worth £2.78bn in 2018 – an increase of 47.6% on 2017. Algeria 'wants' to do business with the UK; companies are keen to form mutually beneficial partnerships and joint ventures, with a focus on local content and manufacture to optimise opportunities for all. UK Export Finance (UKEF) has up to £3bn of capacity to support UK exports to Algeria. 
Major Projects to watch 
Trans-Saharan Gas Pipeline TSGP (Nigeria to Algeria)
Value: US$12bn
Startup: 2022
Stage: Pre-FEED
Status: Planning consent applied
Operators: Nigerian National Petroleum Corporation; Sonatrach
Eastern Algeria Phosphate Integrated Complex
Value: US$10bn
Startup: 2022
Stage: Feasibility
Status: Planning
Operator: Sonatrach
Hassi Messaoud Peripheral Fields Development
Value: US$2bn
Stage: EPC
Startup: 2020
Status: Contract awarded
Operator: Sonatrach
Dates for your diary 2019     
13–15 October Future Energy Conference and Exhibition, Algiers     
28–31 October Overseas delegation with the EIC
---
Key Opporunities
Engineering  
Research  
Training  
Petrochemical and refining  
Development drilling  
Horizontal drilling  
Hydraulic fracturing  
Processing and compression facility  
Project management
Points to consider 
18 days to start a business  
51/49 rule for joint ventures  
Personal contact matters to Algerians – prospective UK exporters and investors should visit Algeria and take their time to understand the nature of the system
---

Angola
Angola is the second-largest oil-producing country in sub-Saharan Africa, with an output of approximately 1.5m barrels per day and an estimated 17.9m cubic feet (cf) of natural gas production. Limited investment has led to current daily lifts being 1,000 barrels of oil below capacity, but the country holds 9bn barrels of proven oil resources and 11tn cf of proven natural gas reserves, representing great potential for further development and business opportunities.
To spur growth in the sector and boost the country's competitiveness, President João Lourenço is eager to attract foreign investment by encouraging exploration in development areas, improving operation efficiencies, reducing taxes and empowering the private sector. In addition to the revision of oil and gas legislation, reforms include the reorganisation of the state oil company, Sonangol, and the creation of a new oil and gas regulator – the National Oil and Gas Agency.
The reforms, which have also addressed the downstream sector, appear to be working. The World Bank's economic outlook for Angola predicts GDP will grow by 2.2% in 2019 – the first time the country will have seen positive growth since 2014. An improved investor environment is listed as a 
cause for the improvement.  
Key players
Major international oil exploration and production companies active in Angola include BP, Chevron, Eni, Equinor, ExxonMobil and Total. Sonangol operates through its subsidiary Sonangol E&P.
International contractors that have been successful in Angola include Aker Solutions, DNV GL, Fugro, ITC, Subsea 7, TechnipFMC, Welltec and Wood Group.
Future plans
The new regulator recently launched the first phase of its brand new six-year oil licensing strategy, which will see as many as 55 blocks put up for public bidding or direct negotiations until 2025. Government targets for natural gas to supply 21% of Angola's energy needs by 2025 mean its natural gas industry will require significant investment to capture its full economic potential.
Meanwhile, with the country currently importing about 80% of its refined petroleum products, the focus downstream is on building new refineries.  
UK trade
In 2018, the trading relationship was £750m. Angola is going through transition, and the UK is increasingly well positioned to partner with the emerging market in its drive towards reforming its oil and gas sector and the 'skilling up' of its workforce.
DIT, alongside the EIC and the UK Angola Chamber of Commerce, can organise visits to market and make introductions to key players and potential partners. UKEF currently has up to £750m in funding available to support projects in Angola. 
Major projects to watch 
Namibe Refinery Complex
Value: US$12bn
Startup: 2028
Stage: Feasibility
Status: Government approved
Operator: Namref
Sonaref Lobito Refinery
Value: US$8bn
Startup: 2022
Stage: EPC
Status: Planning
Operator: Sonangol
Angola-Zambia Refined Petroleum Multi-Product (AZOP) Pipeline
Value: US$5bn
Startup: 2022
Stage: FEED
Status: MOU
Operator: Zambia Development Agency
Dates for your diary 2019     
9–12 December Overseas delegation with the EIC
---
Key opportunities     
High quality, cost-saving and operations' optimisation technology solutions     
Exploration and production equipment and services     
Environmental protection and monitoring technologies     
Seismic data reporting and releasing     
Education and training
Points to consider  
English is not widely spoken  
All payments must be made in Kwanza  
Investors no longer need an Angolan partner
---

Mauritania and Senegal
Mauritania and Senegal represent new, emerging energy markets offshore West Africa. Both countries have attracted the interest of oil and gas companies for many decades, but until recently this led to only very small oil and gas discoveries. This picture changed dramatically when Cairn Energy announced two concurrent exploration successes in 2014, complemented by Kosmos Energy's announcement of two gas discovery wells in 2015.  
Mauritania
Mauritania holds an estimated 600m barrels of proved crude oil reserves and 1.2tn cubic feet (cf) of proved natural gas reserves, but has struggled to capitalise on its untapped assets. To date, only one field – Chinguetti – has come onstream (in 2006), but its complicated geology and low production rates led to a considerable downgrade in recoverable reserves and production ceased in 2017. The permanent abandonment programme for the wells in the field will start this year.
In 2014, the government amended the Hydrocarbon Code to provide more incentives that favour foreign investment in the oil and gas sector. Improving the business climate has been a priority for the government, and this can be seen in the country's elevated ranking in the World Bank's Doing Business Report: in 2019 Mauritania was ranked at 148 out of 190 countries, up from ranking 176 in 2014.
The new president, Mohamed Ould Ghazouani, is expected to maintain the principle lines of the previous government's policy, ensuring a continued stable framework for the upstream hydrocarbons sector.
While Mauritania is a very undeveloped market, in the longer term DIT will be working with its government to create a regulatory and investment climate that will ensure the revenues from the GTA complex and other potential fields are used effectively to improve public services and stimulate private sector development.  
---
Innovative cross-border development
In 2015, Kosmos Energy made a world-class gas discovery – the Grand Tortue Ahmeyim (GTA) ultra-deep offshore gas field, which straddles the maritime boundary between Mauritania and Senegal.
To speed development, the governments of both countries have pledged to work together to split production and share the resource 50-50. Following a positive final investment decision (FID) for Phase 1 of the GTA development from BP and partners in December 2018, this discovery has the potential to transform both countries' economies, and could be a game-changer for British investment.
The Tortue floating liquefied natural gas (FLNG) facility will produce 2.5m tonnes of LNG per year. The field is estimated to hold about 15trn cubic feet of recoverable gas and is due to come online in 2022. The total acreage, at 33,000km2, could contain a further 50trn cubic feet. 
---
Senegal
While Senegal's oil and gas reserves remain modest, the country has in recent years been moving closer to becoming a large-scale oil and gas producer, following the successful exploration and appraisal activities of SNE and FAN fields.
The SNE oil field, located in the Sangomar Deep Offshore block, is being developed by Cairn Energy, Woodside and partners to include a stand-alone floating production storage and offloading vessel and subsea infrastructure designed to allow future tiebacks. The recent decision to commence front-end engineering and design activities is a significant step towards the development of Senegal's first oil project. FID is expected later this year.
The field development of SNE requires a total investment of US$5.83bn for three phases, with the potential to recover approximately 460m barrels of crude oil reserves and 1bn cf of natural gas reserves.
With its political and economic stability and strategic geographical position, Senegal has great ambitions and promises to improve its competitiveness. For several years, the country has carried out numerous reforms to improve the business climate, facilitate the work of entrepreneurs and increase its attractiveness to investors. In February 2019, the country revised its Petroleum Code to safeguard national interests in the oil chain, while maintaining the attractiveness of the region to foreign investment.  
Key players
In addition to BP, Kosmos Energy, Cairn Energy, FAR Ltd and Woodside's exploration and production activities, ExxonMobil, CNOOC, Total and Shell continue to expand their presence offshore Mauritania and Senegal with exploration programmes. NOCs Société Mauritanienne des Hydrocarbures et de Patrimoine Minier (Mauritania) and Petrosen  (Senegal) currently have a 10% stake in all contracts. Tier 1 contractors on the Tortue project include TechnipFMC, Eiffage-Saipem Consortium, KBR, McDermott and BHGE.  
Future plans
Looking ahead, it is believed that these recent significant gas finds have enough resources to support two additional world-class gas hubs in the region – one near the Bir Allah discovery offshore Mauritania, and the other near the Yakaar/Teranga discoveries offshore Senegal.
Following the passage of Senegal's new Petroleum Code, it is anticipated that the government of Senegal will schedule a new licensing round for offshore, ultra-deep offshore and onshore fields. As exploration continues, there are opportunities to develop mature fields as well as to provide supplies and logistical support to companies working in the sector.
UK trade
In 2018, UK exports to Mauritania were worth about £8m, and imports around £3m. Led by BP, British investment in Senegal has grown significantly in recent years, with bilateral trade between the two countries hitting £418m last year.
With the desire to work with African nations, the UK government has committed £3.9m to the 'English Connects' programme for the teaching and learning of English in sub-Saharan Africa countries where English is not currently widely spoken. UKEF has up to £750m in funding available to support UK companies trading in Senegal. 
Major projects to watch 
Senegal

SNE deepwater oil field phase I
Value: US$3bn
Startup: 2022
Stage: FEED
Status: Contract awarded
Operator: Woodside Petroleum
Yakaar FLNG
Value: US$2bn
Startup: 2024
Stage: Conceptual design
Status: Planning
Operator: BP
Senegal/Mauritania
Greater Tortue-Ahmeyim FLNG phase 1
Value: US$2.1bn
Startup: 2022
Stage: EPC
Status: Contract awarded
Operator: BP
Greater Tortue-Ahmeyim phase 1
Value: US$1.7bn
Startup: 2022
Stage: Multi-contract
Status: Contract awarded
Operator: BP
Greater Tortue-Ahmeyim phases 2 and 3 Value: US$1.5bn
Startup: 2024
Stage: Pre-FEED
Status: Contract awarded
Operator: BP
Dates for your diary 2019     
22–27 September Overseas delegation with the EIC
---
Key opportunities     
Civil works and dredging     
Drilling and drilling-related services     
Engineering and consultancy services     
Fabrication, construction and modification     
Health, safety, environmental, quality assurance and quality control services     
Inspection, maintenance, repair, hook up and commissioning services     
Materials and equipment suppliers/manufacturers     
Personnel services, training and education     
Pipeline and offshore installation activities     
Research and development activities     
Gas to power
Points to consider  
Underdeveloped infrastructure  
Improving business climate  
Six days to start a business
---