Dr Nasir Haji Darman, Chief Technology Officer at Malaysian state energy giant PETRONAS, talks to Energy Focus about net-zero aspirations, decarbonising oil and gas operations, and supply chain innovation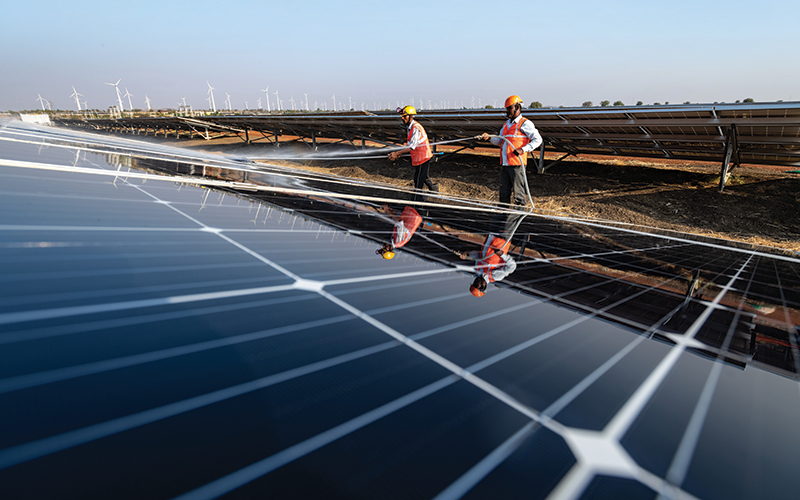 PETRONAS is the first Southeast Asian energy company to commit to net-zero carbon emissions by 2050. Why is PETRONAS aiming for this and how will net zero be achieved?
PETRONAS's sustainable development journey started in 2001. Our declaration to achieve net-zero carbon emissions by 2050 strengthens our corporate responsibility commitment to provide affordable, reliable energy while balancing climate change.
We also believe this is an essential step to future-proof the organisation. It aligns with our Statement of Purpose and our three-pronged strategy of maximising our cash generators, expanding our core business and stepping out to new energy with a solid commitment to sustainability.
Our target of capping greenhouse gas (GHG) emissions by 49.5m tonnes of CO2 equivalent (tCO2e) by 2024, announced in 2019, set the move to gradually reduce more emissions to meet phased targets up to net zero. Our continuous emission reduction in the short term will be supported by increasing renewable energy installed capacity by 2024. We adopt life cycle thinking to appraise our environmental footprint across the value chain and create new, inclusive opportunities that contribute towards a just transition where we operate.
PETRONAS will continue leveraging technology in its strategy. We also plan to use carbon capture and storage (CCS) in addition to other technology solutions, including energy storage, electrification of gas turbines and wind turbines. These are in the pipeline for deployment starting 2025.
To complement this, we have identified forest-based carbon offsets as a viable solution to push us further towards our 2050 goal. This holistic approach will be steered by our four sustainability lenses: continued value creation, safeguarding the environment, positive social impact, and responsible governance. We believe this will enable us to create new, inclusive opportunities that contribute to just socio-economic development. We have also prioritised seven United Nations Sustainable Development Goals – those where we believe we can make the greatest impact – to give us more focus.
Can you tell us a little more about the technologies PETRONAS is deploying to decarbonise its oil and gas operations?
We continually carry out R&D for sustainable development; moving forward, we are shifting from grey to blue to green hydrogen technologies. To decarbonise oil and gas operations, we have incorporated technologies such as carbon capture, utilisation and storage (CCUS), automation, robotics and offshore low wind speed wind turbines through our Facilities of Future programme.
We are also embarking on the second phase of a sequestration project at our Kasawari gas field – a major step towards sustainable development. It will be our first complete offshore CCS project and the world's largest, based on the amount of CO2 injected into the offshore site per year.
The project will feature CCS technologies to separate the CO2 gas and inject it into the reservoir for permanent storage. Carbon capture technologies include miniatured cryogenic distillation (Cryomin) and membrane for bulk CO2 removal range. We have also qualified potential CO2 storage sites, providing solutions for permanent CO2 sequestration. Subsurface and well technologies will include coupled modelling for CO2 storage application, fibre optic, and geopolymer cement for high CO2 wells, ensuring CO2 injection performance and monitoring of CO2 sequestration. We have also developed CO2 utilisation technologies, converting CO2 into high-value products such as precipitated calcium carbonate, high purity methanol and other minerals.
Our Facilities of Future programme paves the way for a revolutionised operating philosophy by leveraging subsea factory technologies, digitalisation, automation, robotics, advanced material and machine learning. Robotic operations free our workers from hazardous environments and physically demanding tasks, minimise our carbon footprint, and bring costs down by a significant margin. Looking ahead, the ultimate form of an unmanned operation – the subsea factory – will soon be a reality.
PETRONAS has also embarked on advanced materials, turning refinery waste into high-value graphene. In pursuit of cleaner energy, we have introduced offshore low wind speed wind turbines for hybrid offshore power generation, offering lower carbon emissions due to the reduction in the number of offshore gas turbine generators, lower maintenance costs and additional gas revenues.
What other low-carbon solutions are you planning to deploy in the long term?
PETRONAS's strong sense of appreciation for resources has instigated projects on biomass-to-chemicals, bio-based speciality surfactants and plant-based aviation fuel from crude algae oil. We continue with our research into fuels and lubricants – looking at novel additives for fuels and ionic liquid and graphene for future mobility – and thermal management fluids for energy storage.
Our hydrogen business is working towards achieving competitive cost in production. We have built our green hydrogen production testing facility, complete with an advanced electrolyser that we developed to enable efficient and cost-effective green hydrogen production. The system is designed to deliver about 50kg of clean hydrogen per day. Combined with competitive clean electricity, hydrogen will be the new source of fuel in the future.
What is PETRONAS looking for from supply chain companies to help decarbonise its oil and gas operations?
As already mentioned, with our aspiration to achieve net-zero carbon emissions by 2050, we intend to continue to intensify our efforts to reduce GHG emissions of 49.5m tCO2e by 2024. This can be done via continuous improvements in operational excellence, through technology such as automation and robotics, and by deploying innovative operations and technologies.
In addressing the decarbonisation of our supply chain, it is pivotal for companies within this industry to unlock value and deliver sustainable solutions for our industry.
What advice can you give to UK suppliers interested in working with PETRONAS?
PETRONAS is progressively searching for solutions partners. Foreign companies have two options be to be licensed and registered with us:
By appointing a local company as an agent
By incorporating a local joint-venture company with a local partner to perform business operations in Malaysia.
The application must comply with the requirements as stipulated in the Licensing and Registration General Guidelines and the general requirements for licensing and registration.
For further information, please visit PETRONAS Be Our Partner page at www.petronas.com/be-our-partner.
Image Credit | Petronas