As Europe races to secure new energy sources, EIC Energy Consultant Gustavo Berlie looks at the region's LNG expansion plans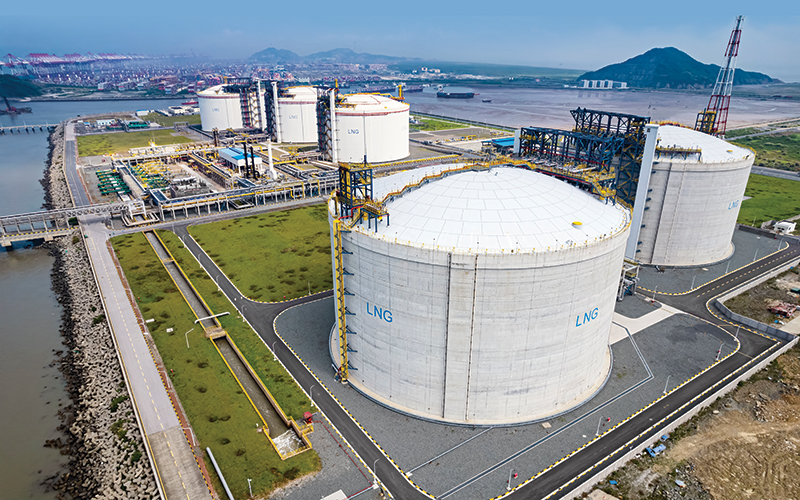 In 2022, following the Russian invasion of Ukraine, energy flows and trade shifted dramatically.
Faced with uncertainties over its energy supply, the EU announced its REPowerEU scheme, which involves a progressive reduction in Russian pipeline gas supplies, a new round of investments in regasification capacity and the intention to cut more than half of natural gas demand by 2030. It also accelerated its plans for energy efficiency, doubled down on renewable power, and turned to global markets for gas – particularly the US.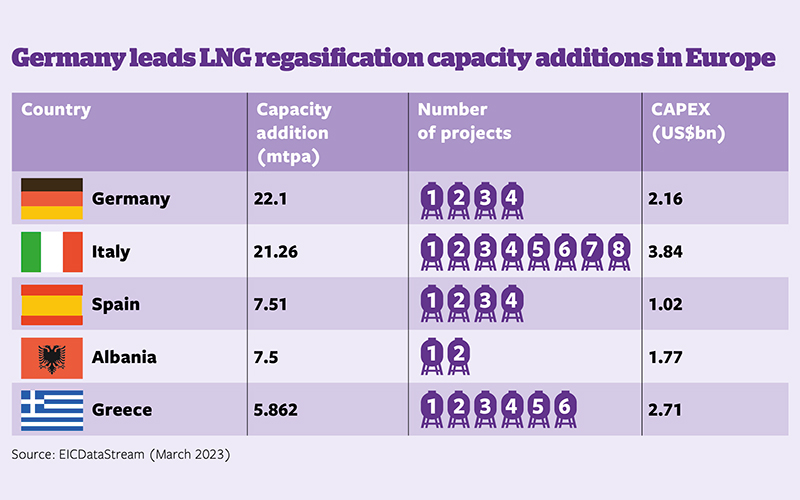 Europe goes large on LNG
Since the start of 2022, several governments and companies within the EU have disclosed plans to add an estimated 110Bcm of new liquefied natural gas (LNG) import capacity, including more than 20 projects based on floating storage regasification units (FSRUs). According to data from EICDataStream, Germany, Italy, and Spain account for the highest share of under-construction capacity.
LNG imports to the region jumped by nearly 60% last year and overtook pipeline gas to become the new primary gas source. However, Europe did secure that extra supply at sky-high prices, and sometimes at the expense of poorer countries; Pakistan and Bangladesh, for example, suffered power cuts last year after having to slash their LNG imports when European demand inflated prices.
LNG supply chain under pressure
The rapid movement of European countries to install LNG infrastructure has put pressure on the sector's supply chain, and the high demand for new regasification installations has resulted in international competition for both available and newbuild FSRUs. With construction yards in south-east Asia working at maximum capacity, the CAPEX for new projects in the LNG sector is likely to surge in the near future. In terms of supply and demand, the market is expected to remain tight and exposed to shocks. In the short term, more investment in supply is needed to meet the demand.
High demand for new regasification installations has resulted in international competition for both available and newbuild FSRUs
Terminal convertibility is key to a climate-neutral future
Over the medium to long term, the range of uncertainty widens. Despite pledged carbon targets, the signing of several long-term gas deals in recent months risks jeopardising Europe's energy transition. One of the main concerns is that planned capacity will not be needed in future, as the demand for LNG is expected to grow at a different pace than facilities are expected to be built. As a result, these new LNG terminals could become stranded assets if they are not converted to handle low-carbon gases.
LNG will continue to play a critical role in meeting Europe's energy needs. However, to meet longer-term decarbonisation targets, the industry must reinvest its profits to make these new renewable projects commercially viable, rather than counting on gas to meet our energy needs.
---
Germany's quest for energy security
Germany was particularly affected by the energy crisis. In fact, in 2021, the country had no infrastructure for the direct import of LNG and depended solely on pipelines, with almost 55% of its gas imports coming from Russia, 30% from Norway and 13% from the Netherlands.
As the situation in Ukraine escalated, the nation decided to suspend the commissioning of Nord Stream 2, a 1,290km pipeline that crosses the Baltic Sea from Russia to Germany, and invested for the first time in LNG regasification terminals as part of a package of measures designed to help reduce its dependence on gas imports.
This approach to reducing gas imports from Russia worked, with Norway taking over as the number one supplier – it now accounts for 33% of the total volume of gas imported by Germany. Russia, which contributed the majority of German gas imports in 2021, cut its deliveries via Nord Stream 1 successively by 60%, then 80%, with the flows falling to zero at the start of September. As of the end of 2022, Russia had been responsible for only 22% of total gas contributions to Germany that year.
Germany's LNG revolution
To meet LNG development timelines, the German government had to create a favourable regulatory landscape and therefore introduced the LNG Acceleration Act in June 2022.
The Act allows the licensing authorities, under certain conditions, to temporarily waive certain procedural requirements, especially in the area of environmental impact assessment. The urgency required to pass the bill was unprecedented: the traditionally bureaucratic German licensing process usually takes years to approve new energy projects – it can take up to seven years to gain permission and build a wind turbine – yet the construction of an LNG terminal was achievable in a mere four months.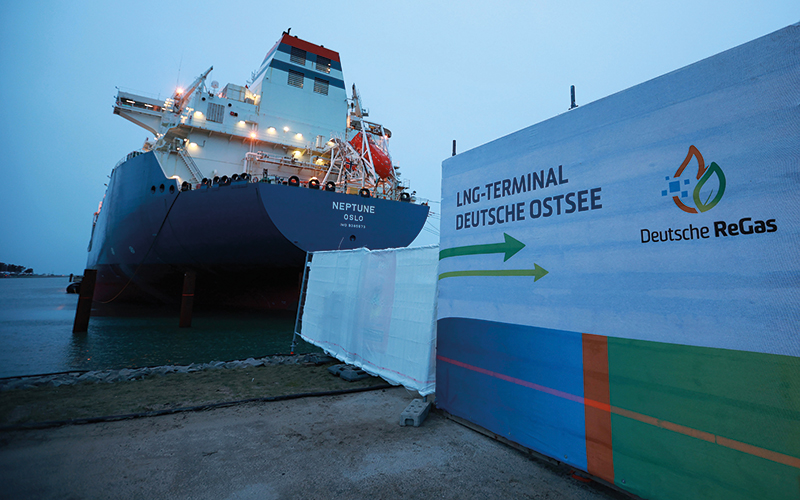 FSRUs fast-track LNG
Germany's accelerated LNG strategy has resulted in two terminals already being operational at the start of 2023: Lubmin LNG Terminal, an FSRU that will supply gas into Germany's long-distance EUGAL and NEL transmission network (a second FSRU will be deployed at the terminal by the end of 2023), and the first phase of the Brunsbüttel LNG Terminal, another FSRU located in the greater industrial and economic zone of Hamburg.
Regarding planned projects, Stade LNG Terminal and Wilhelmshaven LNG Import Terminal are set to start up in 2023, and the second phase of Brunsbüttel is expected to commence operations in 2026. The quick launch of both these projects is primarily due to the leasing of an FSRU vessel. Both Lubmin and Brunsbüttel will be followed by a permanent onshore terminal.
---
By Gustavo Berlie, Energy Consultant, EIC South America
Image credit | iStock | Getty