Look beyond traditional markets for growth
As energy security takes centre stage for the oil and gas sector in the year ahead, three global hotspots for activity – Papua New Guinea, Guyana and Namibia – offer exceptional opportunities for businesses to raise their ambition beyond established export markets, say EIC analysts Hirzi Iskandar, Lucas Ramos and Muhammad Arif Syafiq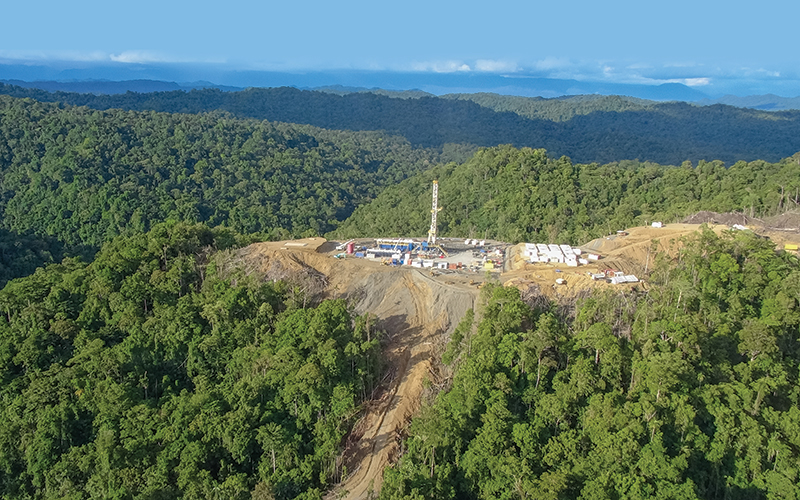 Namibia
Tax incentives
Tax holidays
Customs and duties exemptions/reductions
Investment allowances
Subsidised loans and grants
Namibia has emerged as a major player in global oil exploration after TotalEnergies and Shell made significant discoveries in 2022. While exploration has yielded few results in the past several decades, Shell's Graff and TotalEnergies' Venus discoveries are expected to propel the country to the head of Africa's upstream future. Both discoveries are being appraised, with first flow expected in 2026. Dubbed the 'new Guyana', estimates suggest Namibia could have up to 11bn barrels of crude. 
The momentum in Namibia's upstream exploration has gained significant traction in 2023, with EICDataStream tracking six oil and gas projects worth US$19.6bn.
Who are the key players?
TotalEnergies has allocated a substantial portion of its global exploration budget for the year to confirm the presence of a multi-billion-barrel discovery in Block 2913B and Block 2912. 
In March 2023, Shell, in collaboration with QatarEnergy and the National Petroleum Corporation of Namibia, made a notable oil discovery in the Orange Basin offshore Namibia. The Jonker-1X well, situated about 270km offshore, is a substantial find that could potentially yield more than 1bn barrels of recoverable oil. Shell has achieved a 100% success rate with the three exploration wells drilled in Block 2913A.
Namibia has drawn other oil majors including Chevron, who acquired an 80% stake in PEL 90 in the Orange Basin through a transaction with Trago Energy. Similarly, Woodside Energy has secured an exclusive option with Pancontinental to gain a 56% participation interest in PEL 87.
Why invest?
Namibia offers a favourable investment climate, welcoming foreign investors and providing a solid foundation of stable governance and infrastructure. Its legal, regulatory and accounting systems are transparent and aligned with international standards. Namibia's financial system offers comprehensive services to support investors. The country's competitive incentive and fiscal regime include the Foreign Investment Act, as well as special incentives for manufacturers and exporters.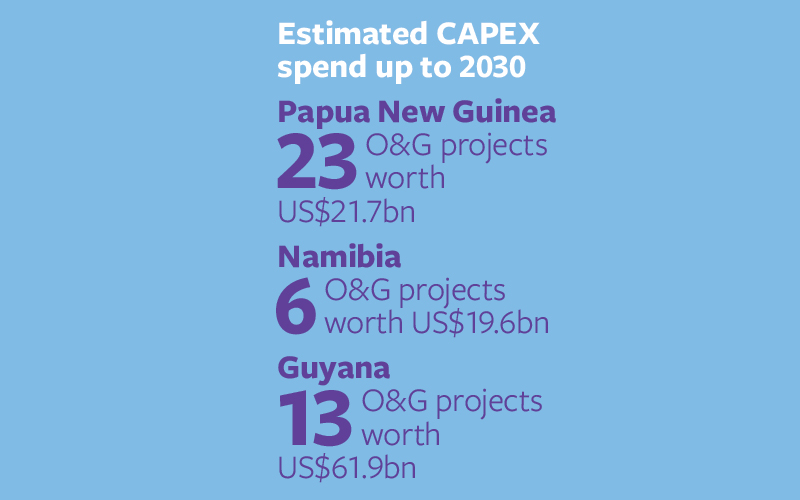 ---
Papua New Guinea
Tax exemptions, deductions, and reduced tax rates
Duty exemptions
Special economic zones offer tax exemptions, simplified regulatory procedures and infrastructure support
Papua New Guinea is benefiting from recent gas projects and the global rise in liquefied natural gas (LNG) prices, which are boosting the country's economic prospects. To capitalise on these opportunities, it aims to double its LNG exports by 2032.
The first LNG production began in April 2014 with the PNG LNG project. Worth US$19bn and with a capacity of 6.9m tonnes per annum (Mtpa) of LNG, the project has exceeded export expectations.
Papua New Guinea is currently shifting its focus to two main LNG projects, Kumul LNG and Papua LNG, which are in the development phase. When completed, these will have a combined capacity of 5Mtpa.
Who are the key players?
Papua New Guinea's national oil company Kumul Petroleum plays a vital role in developing the country's oil and gas industry. It operates several major blocks, including PRL 9, PRL 8, PRL 38 and PRL 10. Other notable operators include ExxonMobil, Horizon Oil, Oil Search, TotalEnergies, Twinza Oil Limited and Arran Energy Pty Ltd.
EICDataStream is tracking 23 active and future projects. In the last year, significant contracts have been awarded to notable projects. The joint venture (JV) between Hyundai Engineering & Construction and Japan Gasoline Corporation secured the front-end engineering design (FEED) contract for Papua LNG. Furthermore, two FEED contracts for the Elk-Antelope Gas field were awarded to a JV between Clough Limited and TechnipFMC, as well as a JV between Daewoo Engineering & Construction, Saipem and PT Tripatra.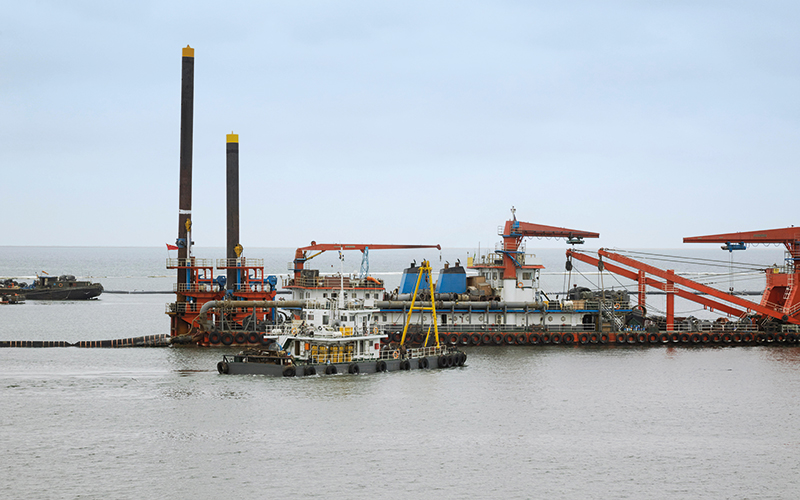 Papua New Guinea also aims to attract more oil exploration activity as it changes its fiscal regime for upstream projects in 2025.
Why invest?
Papua New Guinea presents compelling investment opportunities in the oil and gas sector. It is aspiring to build a liberal investment environment and encourages foreign investment with relatively few restrictions. It is rich in natural resources and has a proven track record of successful operations, making it attractive for international investors.
The country offers attractive incentives, including tax benefits, duty exemptions and access to financing options. The government also provides stability through transparent and consistent legal and regulatory systems.
---
Papua New Guinea
Elk-Antelope Gas Field
Operator: TotalEnergies
Value: US$1.5bn
Stage: FEED
Status: Contract awarded
Elk-Antelope LNG Liquefaction Project (Papua LNG)
Operator: ExxonMobil
Value: US$9bn
Stage: FEED
Status: Contract awarded
Kikori LNG Project (Kumul LNG)
Operator: Kumul Petroleum Holdings Limited (KPHL)TotalEnergies
Value: US$1.5bn
Stage: Feasibility
Status: Contract awarded
---
Namibia
Block 2913B Venus-1X Oil Discovery
Value: US$500m
Startup: 2026
Project stage: Exploration
Project status: Drilling and appraisal
Operator: TotalEnergies
Block 2913A Graff Oil Field
Value: US$200m
Startup: 2026
Stage: Exploration
Status: Drilling and appraisal
Operator: Shell
Jonker-1X Oil Discovery
Value: US$200m
Startup: 2026
Stage: Exploration
Status: Drilling and appraisal
Operator: Shell
---
Guyana
Tax incentives
Accelerated depreciation rates
Full and unrestricted repatriation of capital, profits and dividends
Exemptions on import duties for equipment and materials
In recent years, Guyana has emerged as a major hotspot of the offshore oil and gas industry, attracting international oil companies and independent players keen on tapping the oil-rich Guyana-Suriname basin.
EICDatastream is currently tracking 13 oil and gas projects with a combined investment of US$61.9bn, including various field developments at Guyana's resource-rich Stabroek Block.
Who are the key players?
ExxonMobil, Guyana's first and largest oil producer, is advancing its fifth project on the Stabroek block. The Liza field currently has two floating production storage and offloading (FPSO) vessels producing 360,000 barrels per day (bbl/d). Oil production at the block is expected to increase to 1.2m bbl/d by 2027, when at least four new FPSOs, with a combined investment of more US$40bn, will be operating.
The block is estimated to hold 11–12bn barrels of oil equivalent in recoverable reserves, development of which could require the installation of 10 FPSOs.
SBM Offshore is the FPSO supplier for the Prosperity (third phase, Payara development) and the OneGuyana (fourth phase, Yellowtail development) production units; Modec is the engineering, procurement and construction (EPC)contractor for the Errea Wittu FPSO (fifth phase at Uaru).
TechnipFMC and Saipem have been chosen to supply the subsea production systems/subsea umbilicals, risers and flowlines for the Payara and Yellowtail projects, respectively. Exploration work at Stabroek is supported by equipment supplied by Stena Drilling and Noble Corporation.
Expanding horizons
The Stabroek block has made more than 30 significant discoveries since 2015, including 2023's Lancetfish discovery. As drilling contracts continue, additional discoveries are anticipated.
Guyana will carry out its 2022 Licensing Round later this year, offering 14 oil and gas blocks in the Guyana-Suriname basin for exploration. This includes three blocks in deepwater depths and eleven in shallow waters, presenting new opportunities beyond the Stabroek block.
The country is also pursuing the Gas-to-Energy project, which involves generating power from associated gas produced offshore in the Liza field. This initiative includes a gas pipeline, a natural gas processing unit, and a combined cycle thermal power plant. Subsea7 and Van Oord are expected to begin laying the pipeline infrastructure on the seabed mid-2023.
Local content requirements
Guyana has implemented local content requirements. The Local Content Act, approved in December 2021, promotes the involvement of local businesses in the oil and gas industry. It includes 40 items with varying local content requirements, and operators and contractors are expected to submit annual plans outlining strategies to comply with these regulations.
Why invest?
Guyana is working hard to modernise its legal and regulatory framework to reflect current and future developments in the economy. A realistic legal framework is anticipated to improve transparency and accountability in the sector, maximise economic gains, and curtail any associated risk.
---
Guyana
Uaru Oil Field (Errea Wittu FPSO)
Value: US$12.7bn
Startup: 2026
Stage: EPC
Status: Contract awarded
Operator: ExxonMobil
Yellowtail Oil Field (One Guyana FPSO)
Value: US$10bn
Startup: 2025
Stage: EPC
Status: Contract awarded
Operator: ExxonMobil
Payara Oil Field (Prosperity FPSO)
Value: US$9bn
Startup: 2023
Stage: EPC
Status: Contract awarded
Operator: ExxonMobil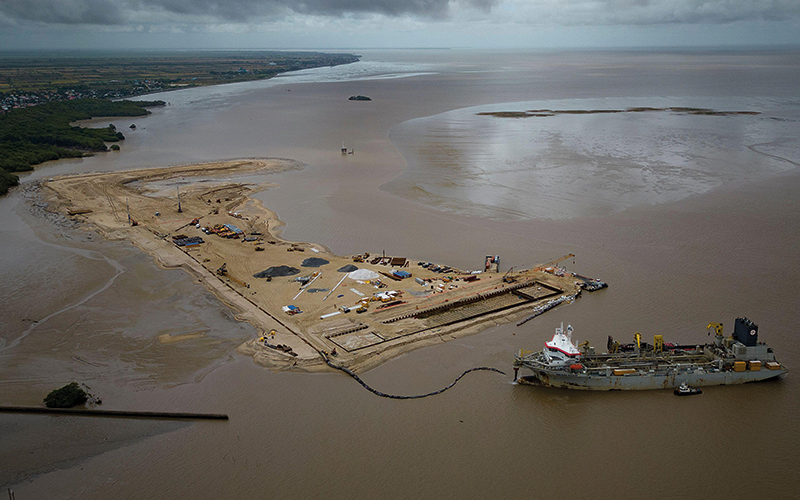 A ship creates an artificial island by extracting offshore sand to create a coastal port for offshore oil production at the mouth of the Demerara River in Georgetown, Guyana in April 2023. Guyana is poised to become the world's fourth-largest offshore oil producer, placing it ahead of Qatar, the US, Mexico and Norway
---
Thinking of doing business in Papua New Guinea, Guyana or Namibia?
---
Image credit | Alamy | Shutterstock