Make your mark in Latin America
Looking to expand into Latin America? Maximise opportunities at EIC Connect Mexico Energy Forum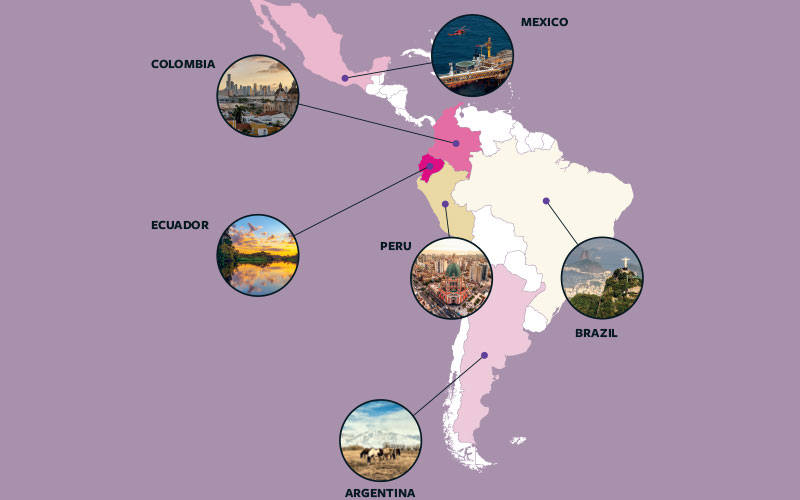 As we enter a new decade, Latin America's oil-producing nations are increasing efforts to attract foreign investment amid an unprecedented wave of free-market energy reforms gaining traction across the region.
Mexico's populist president Andrés Manuel López Obrador is investing billions into the struggling state-owned Pemex. Argentina's new Peronist government is hailing a new shale oil development in Patagonia as a lifeline and Brazil's administration has touted multi-billion-dollar oil rights auctions as transformative. Smaller South American economies have also caught on. This year Guyana will join crude-producing nations as new offshore fields come on stream, while Colombia is looking to boost declining output.
EIC goes to Mexico
The US Gulf of Mexico now appears to be springing back to life after years in virtual hibernation, as the region's production rises and oil companies prepare for future growth even amid uncertain oil prices.
In December 2013, Mexico amended its constitution to allow both local and foreign private investment into the energy sector for the first time since its nationalisation in 1938. The reforms permitted international energy companies to operate in Mexico and included provisions for competitive production sharing contracts and licenses.
In addition to increasing the demand for technology and technical expertise for the development of upstream deepwater and shale oil and gas fields, the energy reform also allowed for greater private investment in retail fuel distribution.
Seven years on, the López Obrador administration has indicated it will respect the current legal framework of the energy reform, which provides greater certainty to oil and gas contractors already in Mexico.
EIC Connect Mexico Energy Forum
The EIC will be hosting its Connect Mexico Energy Forum 2020 on 27 February in Mexico City. The event will give contractors and suppliers in the oil and gas industry the opportunity to meet with leading operators, developers and OEMs, and explore growth prospects and upcoming projects to help expand their business within the region.Attendees will gain an insight into Mexico's energy sector from business and political leaders, access to conference supply chain briefings, and one-to-one appointments with potential buyers, in addition to networking and sponsor opportunities.
EIC Connect consistently attracts a high-profile audience from across the entire energy spectrum, all sharing a genuine desire to meet and do business with companies from the UK. Last year EIC's inaugural forum in Mexico City received 130 attendees and 11 sponsors/partners.
This year's forum will be opened by Her Majesty's Ambassador to Mexico, Corin Robertson. Speakers include Arendal, BHP Billiton, Brunel, DIT, Dragados Offshore, EIC, Grupo Mexico, iPS Powerful People, Kiewit, McDermott, Modec, Scottish Development International TransOcean, Turner & Townsend and UK Export Finance representatives. A trade delegation has been organised in partnership with the Department for International Trade and Scottish Development International to coincide with the event. 
---
Activity to watch across the region
Colombia
This year Colombia's oil and gas industry is set to take off as efforts to increase exploration and production move ahead amid problems with community relations and security. Colombia has around 2Bbbl of oil reserves and produces about 880,000bbl/d of crude, half of which are exported. Energy giant Noble is set to drill its first Colombian well this year in the Caribbean and is qualified to bid in the current oil round, which includes five offshore blocks. Elsewhere in the offshore, in 2020, Petrobras and Ecopetrol are looking to drill a well in the offshore Tayrona Block.
Ecuador
Ecuador aims to increase its current oil production from around 550,000bbl of crude oil to nearly 600,000 this year, when its departure from the Organization of the Petroleum Exporting Countries (OPEC), announced in October 2019, becomes effective. On average, the country is expected to produce between 543,000bbl and 550,000bbl, a figure above the OPEC limit of 528,000bbl. The goal, according to former Minister of Energy Carlos Perez, is to begin drilling and production in the Ishpingo field, on platforms A and B, which are outside the so-called 'buffer zone' of Yasuni, within six to eight months.
Mexico
Mexico is expected to have an eventful year as international companies have lined up to fulfil the pending well commitments on the offshore acreages that they acquired in rounds 1 and 2. Approximately 20 offshore explorations were expected to be completed in 2019, and a similar well count is predicted in 2020. A series of 20 oil and gas discoveries, onshore and offshore, have been selected by Pemex under its New Fields Development Plan to be fast-tracked to first hydrocarbon. The results of the 2019 wells will be watched closely by the industry and will play a large role in shaping the industry's perception of Mexico's deepwater exploration potential, determining growth in activity in the near term.
Peru
The oil and gas industry has an enormous potential in the country with national oil and gas licensing agency, Perupetro, forecasting that Peru has the potential and reserves to produce more than 100,000bbl/d of oil across the country, including both onshore and offshore blocks to the year 2023. Irish oil company Tullow oil was expected to spud the Marina prospect offshore Peru, in Block Z-38, at the end of January, taking around 60 days to complete. The prospect sits adjacent to the prolific Talara basin on the northwest section of the Peruvian coastline.
Argentina
The Vaca Muerta shale formation in Patagonia has some of the largest unconventional oil and gas deposits in the world. The government has forecast that Vaca Muerta will double the country's overall oil production to 1.1MMbbl/d in 2030, making 500,000bbl/d available for export. Over the same period, gas production could double to 260MMcm/d in 2030, allowing Argentina to ramp up exports from less than 10MMcm/d this year to more than 60MMcm/d by that time, with further growth expected in subsequent years.
Brazil
The importance of oil and gas is growing in Brazil as it seeks to diversify its energy mix. Oil and gas currently represent 14.74% of energy usage – still relatively low when compared with hydropower which provides 60.97% of total energy demand. At the end of 2019 Petrobras announced its 2020–24 investment plan, with a new budget of approximately US$75.7bn. Petrobras' decision to encourage the divestment of certain upstream, midstream and downstream assets has opened new opportunities for foreign investment. Drilling of 26 new production and injection wells has commenced at the Barracuda and Caratinga oil fields in the Campos basin offshore. The project includes 14 new wells at Barracuda and 12 new wells at Caratinga.
---
Doing business in Latin America
With more organisations looking to expand internationally and enter new markets, Latin America is becoming an increasingly popular choice, with an overall GDP expected to grow by 2.6% in 2020. With strong trade links, a lucrative geographic position and a growing middle-class market, the territory offers significant business opportunities to businesses with the right value proposition.
Perhaps one of the biggest challenges and barriers to entry facing entrepreneurs and foreign investors is the ease of doing business in Latin America. 
When doing business abroad, it is unlikely that no legal complications will occur. Labour agreements, commercial contracts, and corporate obligations are day-to-day issues when operating in Latin America. Without a deep understanding of the local business environment, legal issues may arise.
Business in Latin America is personal, and relationships matter. It is important to cultivate strong relationships with Latin American counterparts. When doing business, whether it is outsourcing or working with a local business partner, you may need to adjust communication methods to explain a coherent vision and strategy.
Latin America includes 20 different countries with nearly 20 different currencies, customs areas, legal frameworks, political developments and economies. It is important to treat each market individually. Doing business in Colombia is not the same as doing business in Mexico, and doing business in Venezuela is not the same as doing business in Uruguay.
Thinking of growing your business in Latin America? Then take advantage of the EIC's LaunchPad services in Rio de Janeiro and Houston and let the EIC help you grow your knowledge and understanding of key issues in the exporting process. With expert analysts on hand and access to contacts in key energy hubs, as well as a range of training courses, we will help you expand your business across the entire region.
Image credit | iStock