Oil and gas will remain crucial components of the world's energy future, while renewables will grow their share, writes Graham Bennett at DNV GL – Oil & Gas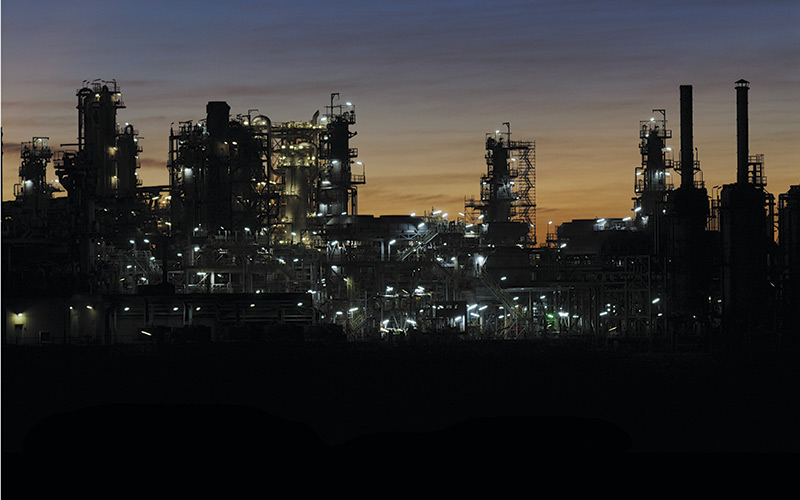 Oil and gas will account for 44% of world energy supply in 2050, compared to 53% today, while gas will become the largest single source of hydrocarbon energy from 2034, latest figures from DNV GL's Energy Transition Outlook (ETO) predict.
The ETO, a forecast that spans the global energy mix to 2050, predicts demand for energy will flatten in 2030, then steadily decline over the next two decades thanks to step-changes in energy efficiency. The fossil fuel share of the world's primary energy mix will reduce from 81% currently, to 52% in 2050.
Demand for oil will peak in 2022, driven by expectations of a surge in the number of light electric vehicles, accounting for 50% of new car sales globally by 2035. However, the stage is set for gas to become the largest single source of energy towards 2050, and the last of the fossil fuels to experience peak demand, which DNV GL expects will occur in 2035. This significant shift is a key part of a wider energy transition.
Gas in the future energy mix
Gas will play a key role alongside renewables in meeting future lower-carbon energy requirements. There will be increased interest in the fuelas traditional oil majors reduce the carbon impact of their business portfolios by increasing the share of gas in their reserves, and by investigating ways to decarbonise the gas networks.
The world has abundant natural gas resources: 530tn cubic metres (Tcm), of which around a third (180Tcm) are identified, proven conventional reserves, and 350Tcm are other gas resources, such as unconventional and hydrate sources.
North-east Eurasia and the Middle East and North Africa will increase gas output until at least 2040, as per the ETO report. They will overtake North America, currently the world's largest gas producer, where gas production is essentially flat for the next decade.
The model also predicts a decline in European gas production. Production is forecast to rise in South East Asia, China and the Indian subcontinent, where it will more than double in the latter two regions.
The DNV GL report forecasts a doubling of gas production in Sub-Saharan Africa, though absolute levels will remain relatively modest. Challenges to the market position of gas include regulatory issues such as carbon pricing and emission caps; these could pose risks to gas' future share of the global power generation mix.
Gas competes with coal on availability and affordability. While coal-to-gas switching will continue, coal is easier to transport and import, two reasons why we have seen lower uptake of gas in Europe and Asia. Combusting gas generates less carbon than burning an equivalent amount of coal or oil, but gas must also compete with cleaner renewables. Carbon capture and storage is part of the solution to this, and could further reduce the carbon footprint of gas.
Over the next two decades, as gas demand matures, hydrogen, wind, solar, biofuels and other new energy technologies will continue to gain momentum. However, as the ETO makes clear, there are uncertainties that could change the trajectory of the energy transition and impact on the prospects of gas. The ultimate mix, location and scale of gas transport projects is continuously evolving, while geopolitics and regulatory reforms have the potential to alter many aspects of the supply-demand equations.
Digitalisation and automation
The oil and gas industry faces broad challenges in maintaining a sharp focus on cost efficiency, safety and sustainability for hydrocarbons to make a positive contribution to the energy transition.
Digital technologies and smarter use of data can assist in meeting these challenges. Digitalisation will play a primary role in containing costs while improving safety by enabling reduced downtime, predictive maintenance, performance forecasting, real-time risk management and energy efficiency.
Across industries in general, collecting, moving, analysing and interpreting data is becoming progressively easier and cheaper through the impact of remote sensing, automation, augmented reality, the industrial Internet of Things (IoT) and other advances in information and communication technology.
Cloud-based digital twins represent an opportunity for greater operational and cost efficiencies in future oil and gas operations. Analysing sensor data from a corporate IoT, digital twins can provide easy-to-understand dynamic updates on asset condition and operational parameter states, helping to optimise scheduling of costly inspection and maintenance regimes.
---
DNV GL ETO reports
DNV GL has published a suite of reports on the Energy Transition Outlook, which are available to download free of charge. The main ETO report covers the transition of the entire energy mix to 2050. Sector-specific supplements accompany this, such as the oil and gas supplement and a renewable, power and energy supplement. The report will be updated annually and the next issue will be published on 30 August 2018. 
---
Midstream and downstream applications
Midstream and downstream, greater computational power and more sophisticated software are enabling strategic responses to market demand and regulation, and to energy policy and decarbonisation targets, driving energy transitions.
Data is a strategic asset for gas transmission and distribution system operators (TSOs and DSOs). For TSOs, one driver of demand for data is that balancing transmission networks is becoming more sophisticated. Some DSOs are meanwhile piloting real-time smart networks as they prepare to operate using mixed gas sources such as natural gas, re-gasified liquefied natural gas, biomethane and hydrogen in their systems. The heating value of each gas varies by type and source, posing questions about what is priced.
Greater computational capabilities and more powerful software will allow operators to manage a larger volume of data and increase its value by interpreting it in ways tailored to the needs of external and internal audiences.
There is significant potential for the industry to become more accustomed to openly sharing data across projects and operations, integrating supply chains and creating transparency to increase trust and raise efficiency. Similarly, significant cost savings can be identified through the use of data to increase visibility of key aspects of multi-year, multi-stakeholder construction projects in oil and gas to all relevant parties.
Whichever tools are chosen, it is becoming clear that our world still relies on an energy mix, within which the energy transition to cleaner fuel sources has started. Moving through the decades to 2050, the importance of the activities currently underway within companies and at government level will become clearer, showing tangible outcomes that make a difference to how energy businesses operate.
By Graham Bennett, Vice President, UK and West Africa, DNV GL – Oil & Gas