Tap into Australia's big clean energy opportunities
As Australia hurtles toward its clean energy future – prioritising CCUS and hydrogen and backing offshore wind – the UK's trusted trading partner has much to offer, says Joe Doleschal Ridnell at energy and resources consultancy JDR Advisers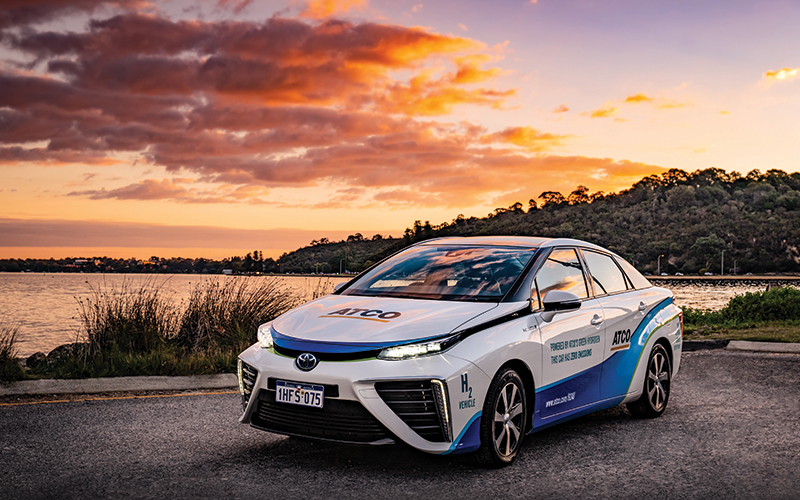 The UK and Australia share strong trade and investment links, underpinned by an intertwined history and cultural similarities. Outside of Ashes tours and the Rugby World Cup, it is a relationship marked by cooperation and synergy.
This is reflected in the energy sector – the omnipresent Scot Network in Australia can speak to this, where North Sea knowhow has helped support the tremendous growth in Australia's LNG sector during the past two decades.
Clean energy partnership
There is no indication that this will slow through the energy transition, with opportunities abounding across hydrogen, carbon capture, storage and utilisation (CCUS), and offshore wind.
Critically, these are areas in which UK developers, technology providers and companies through the supply chain can deliver additional expertise into these burgeoning growth areas.
At government-to-government level, the relationship is stronger than ever.
The recent signing of a Free Trade Agreement signals a reinvigoration of bilateral trade and investment, while the Australia–UK Clean Technology Partnership has been established to deliver a joint industry 'challenge' to increase industry competitiveness, reduce emissions and support economic growth. This partnership is part of the Australian government's US$400m commitment to building new international technology partnerships. This investment to support the commercialisation of new technologies is just the tip of the iceberg.
Opportunities in CCUS and hydrogen
The Australian government has gone to great lengths to embed CCUS as a priority low-emissions technology. It will soon announce the first recipients of its US$177m Carbon Capture and Storage (CCS) Hubs and Technology Program.
The government has also implemented a new methodology for its Emission Reduction Fund, which will enable CCS proponents to accrue Australian carbon credit units from eligible projects. This was pivotal for the final investment decision on Santos' US$156m Moomba CCS Hub in South Australia.
Another important component of the CCUS growth story is its role in delivering clean hydrogen, or blue hydrogen. Globally, blue hydrogen operations captured 3.7m tonnes of CO2 in 2021, compared to 0.4m tonnes a decade earlier. This would rise substantially if the hydrogen market took off and existing infrastructure was retrofitted with carbon capture.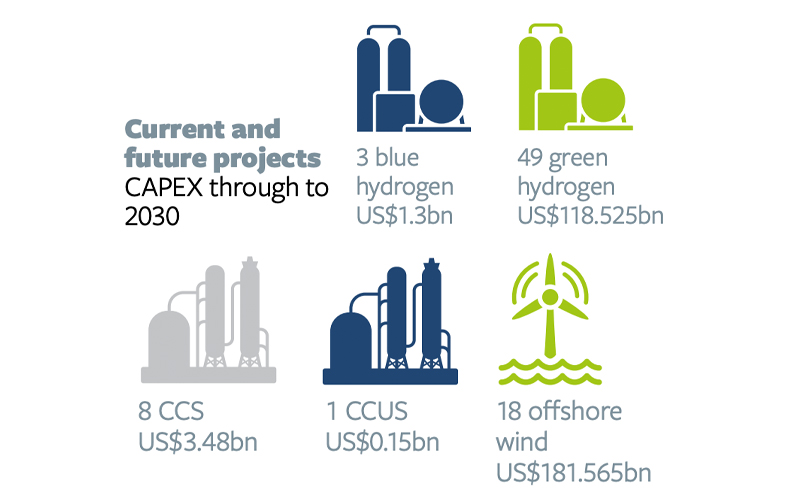 With its technology-neutral approach, Australia is pursuing both opportunities. Great fanfare greeted the export of the first tranche of liquified hydrogen from La Trobe's Valley brown coalfields to Japan in January this year. While the export of liquid hydrogen was important, the CCS element of the project remains to be executed.
Powering ahead with green hydrogen
Hydrogen produced from renewable energy – or green hydrogen – is being pursued with fervour across Australia. Last year the Australian government pumped more than US$71m into three green hydrogen projects, delivered separately by Yara and Engie, ATCO and AGIG.
Since then, the government has committed to investing US$328m into a network of hydrogen hubs to support the scaling up of production and stimulation of demand. Such government investment is being matched with grand ambition from the private sector.
It is hard to miss the plethora of opportunities being pursued by Andrew Forrest and Fortescue Future Industries (FFI). FFI projects are being delivered across the globe, including a 50-50 joint venture with North American hydrogen technology company Plug Power to build an electrolyser Gigafactory in Queensland, Australia.
And regardless of policy settings and co-investment, companies through the mining sector are progressing with their decarbonisation agenda, underpinned by clear 2030 and 2050 targets. For example, Rio Tinto will invest US$5.3bn out to 2030, with its operations in the Pilbara alone being earmarked for rapid deployment of 1GW of renewable energy.
Big boost for offshore wind
Offshore wind is also beginning to make inroads. While Australia has a lot of space for onshore wind, several factors are leading to increasing interest in offshore wind; 12 projects with a combined 25GW+ capacity are now in development. The industry is now regulated for the construction, operation and decommissioning of offshore electricity infrastructure in Australian Commonwealth waters. Offshore wind in Australia has comparable wind speeds to the North Sea and, with new technologies, theoretical capacity factors of 45%–55%.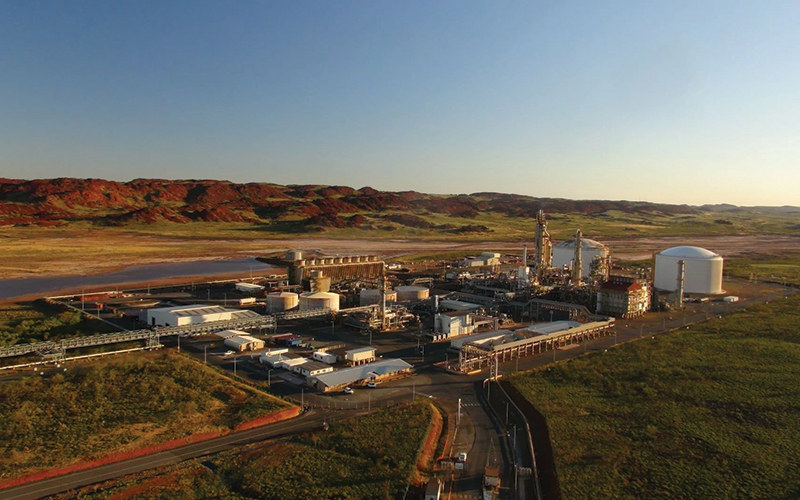 (Above) Ammonia production (Yara) provides a ready-made end-use case for hydrogen and provides a long-distance transport option
Doing business in Australia
If you are unfamiliar with the Australian market and do not have a foothold, the best first point of call is your local Austrade and Australian state government representative, whose job is to support your entry into Australia.
UK developers, technology providers and companies can deliver additional expertise into the burgeoning growth areas of CCUS, hydrogen and offshore wind
There are also several private services that can help you with your ambitions. The key areas of focus from governments are to understand how your business plans to invest in Australia, how your company can address skills and technology gaps, and how you plan to establish yourself in the market over the medium-to-long-term. It is worth reflecting on this before engaging.
After two years, Australia has re-opened to the world and international missions earlier this year are back on the agenda. EIC and other trade associations can be an important avenue to visit the market.
Given Australia's size and the nuances between different state and territory jurisdictions, it is important to take the time to visit the market and projects you are interested in pursuing to help you make an informed decision.
While the past two years have been difficult, the energy transition has not slowed and the Australian economy has withstood the pandemic incredibly well. Underpinned by strong domestic and regional demand, government investment in industrial capabilities, and an established relationship with the UK, Australia is a market well worth exploring.
By Joe Doleschal Ridnell, Director, JDR Advisers
Image credit | Tony McDonough