Towards a cleaner, smarter energy future
Australia's transition to a less carbon-intensive energy system presents exciting new opportunities for the UK supply chain, says Miranda Taylor at National Energy Resources Australia (NERA)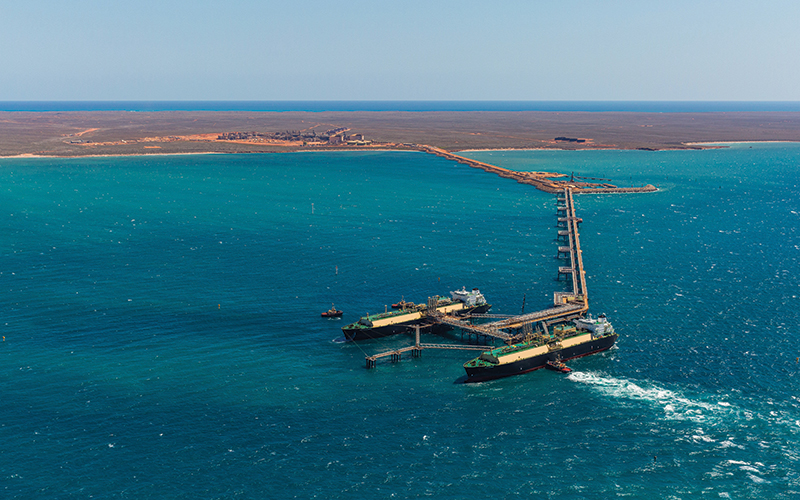 Western Australia (WA) is already a global powerhouse in the world of liquefied natural gas (LNG) and has other significant competitive strengths that it can leverage as the state emerges from the COVID‑19 pandemic – the most severe economic shock since the Great Depression. The WA government and industry are working together to regenerate the economy, transforming from being heavily commodity-based and emissions-intensive to a more diverse, technology-led and decarbonised economy. And a major part of this regeneration plan is to grow technology supply chains and develop and scale clean energy solutions. This presents exciting new opportunities for collaboration between local and international businesses.
Natural gas dominates
Australia's gas industry, domestically and through LNG export, contributes substantially to WA's economy, with more than half of Australia's LNG export capacity located in the state through 12 LNG processing plants and all associated offshore, LNG export infrastructure and capabilities.
As a cleaner alternative to other fossil fuels, LNG will play a key role in reducing global greenhouse gas emissions, particularly for our Asian trading partners across the Asia-Pacific. However, this needs to go hand in hand with other solutions to reduce local emissions at the point of production. Carbon emissions occur at many points along the gas value chain, and so there are numerous opportunities to reduce those emissions, including:  
the deployment of renewables technologies (e.g. large scale solar and battery storage) to reduce the need to consume gas as the energy for processing and converting into LNG  
the implementation of carbon capture and storage (CCS) to remove the entrained CO2 from natural gas production and store it in naturally occurring geologic formations  
improving the energy efficiency of LNG plants and other gas assets through research into new processing techniques and the increasing deployment of artificial intelligence and machine learning  
the use of methanation and reformation technologies to combine produced and recovered CO2 with hydrogen to generate synthetic gas and other products
Clean energy hub plans
While WA currently relies overwhelmingly on gas to supply the bulk of its energy needs, the state is transitioning from a large, centralised system heavily reliant on fossil fuels, and with limited use of digital technology and data, to a system that is cleaner, smarter, more distributed and consumer-focused. According to the WA government, energy from wind and solar now accounts for around 16% of electricity supply in WA's South West Interconnected System (SWIS), up from around 4% a decade ago.
WA, along with the whole of Australia, has committed to clean hydrogen as a key future fuel and an energy storage solution. WA knows how to scale a global industry – it has with LNG – and there are many hydrogen projects in early engineering design and approvals phase, such as the Asian Renewable Energy Project in WA's far north. With a planned 10-year project construction and a 50+ operational phase, this hub will create significant new manufacturing opportunities and generate cheap, clean power, enabling new and expanded mines, downstream mineral processing and large-scale production of green hydrogen products for domestic and export markets.
The state is also already host to the Yara Pilbara Fertilisers Plant, one of the world's largest ammonia production sites, exporting ammonia to domestic and global markets, mainly to be used in fertilisers for food production. Yara's future ambitions are to transition ammonia production away from the use of gas towards renewable alternatives for producing hydrogen and ammonia for export, continuing to leverage WA's substantial export capabilities.
Local supply chain gaps
Alongside the rapid growth of Australia's LNG and mining industries, a large and dynamic technology and services supply chain has also grown to support the operations, maintenance and decommissioning phases of LNG project lifecycles. Suppliers to the LNG sector have secured more than US$8bn in Australian operational contracts annually, and thousands of domestic suppliers have emerged in the past two decades to compete alongside larger, more mature global firms.
This domestic supply chain has been an important source of value to the WA economy, developing globally competitive technologies and solutions in such areas as automated remote operations, maintenance of subsea and offshore infrastructure, long subsea tiebacks, and floating and LNG production. However, there are significant growth opportunities, both local and global, as the WA supply chain has not yet realised its full potential – heavily concentrated as it is in relatively low complexity and local advantage technologies and services (see Figure 1). Innovation by suppliers is needed to secure the WA LNG sector's global competitiveness in an increasingly competitive market.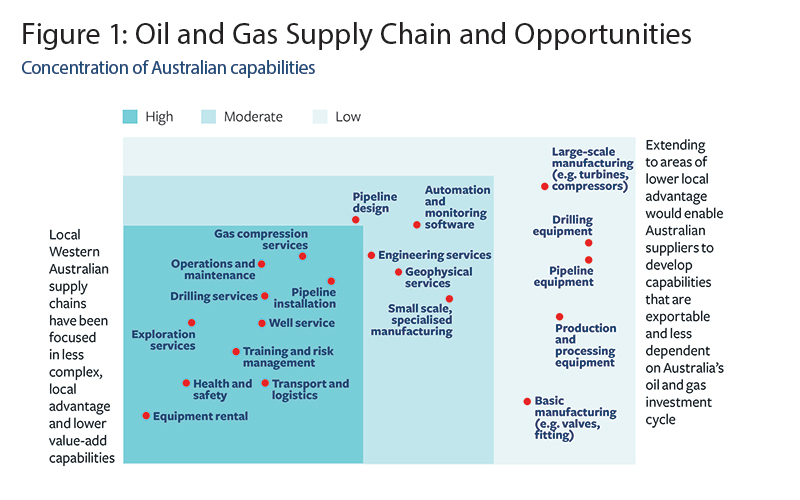 UK opportunities
WA's oil and gas producers face significant challenges, including a relatively high-cost jurisdiction, low commodity prices, increasing global competition for export markets, social licence issues and the urgent need to decarbonise. To address these challenges, WA is looking to accelerate and deploy digital and low emissions technologies and solutions. These technologies and capabilities are increasingly being transferred across different industry sectors, for example across energy, mining, space, defence and agriculture in areas such as automation of remote operations (vehicles, drones etc) and AI and robotics technology for monitoring, maintenance and repair. In a rapidly changing digital world, this rapid cross-industry technology transfer, adaptation and adoption will be essential if WA is to compete in global markets.
In addition, the rapid growth of a diverse range of renewable energy projects is creating new opportunities, and the number and scale of hydrogen projects will also enable the creation of new supply chains for the manufacturing and assembly of equipment for wind and solar generation and hydrogen production.
Enabling transition
In 2021, fostering innovation and supporting collaboration between the energy producers, supply chains, innovators and entrepreneurs will become ever more critical if WA industry is to adapt to and benefit from a rapidly changing digital and energy technology landscape and be globally competitive. As an independent growth centre for Australia's energy resources industries, NERA, is playing a central role in creating opportunities for that innovation, collaboration, and helping commercialise and scale technology solutions to create a greener, cleaner and smarter energy future for WA.  
---
Looking to grow your business in Australia? 
The EIC can help If you are thinking about doing business in Australia, our team in Kuala Lumpur are on hand to help. For more information on the projects and developments mentioned in this article, please contact Azman.Nasir@the-eic.com.
---
By Miranda Taylor, CEO, National Energy Resources Australia (NERA)