Building the energy transition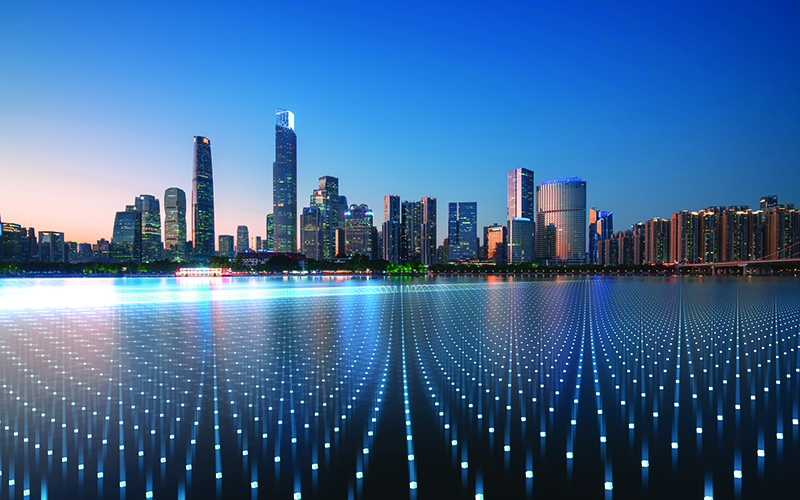 Cities are a focal point for some of the most profound economic, environmental, social, and technological issues facing the world today. Not least of these is the need to move to cleaner and more efficient energy resources to meet the demands of urban populations that will expand by 2.5 billion people over the next 30 years.  
Building grid flexibility
Energy networks underpin the smart city, but cities are also examining the sources of that energy and how efficiently it is being used as they look to reduce both greenhouse gas emissions and energy costs. Many cities already have plans to 
be carbon-neutral or zero-carbon by 2050 or earlier.
Strategies to create sustainable cities are well aligned with changes in the energy sector as energy providers and other players adapt to the requirements of a low-carbon economy. Guidehouse characterises the transformation in the energy sector as the emergence of the Energy Cloud. The Energy Cloud represents the shift away from centralised energy generation and distribution toward a highly distributed, networked and dynamic grid in which distributed energy resources, building-to-grid, transport-to-grid, transactive energy, and city energy systems all play a role. This energy sector transformation provides the bedrock for the creation of the zero-carbon cities of the future.  
Building back better
Accelerating the energy transition also offers cities an attractive route to building back better in the wake of the coronavirus pandemic. Cities can combine decarbonisation and economic programmes to create jobs and ensure all communities share in the benefits. And they can work with the energy sector to achieve their sustainability and recovery goals by:  
Accelerating the shift to renewable energy: Cities are increasingly proactive in setting targets for their power utilities to shift from fossil fuels to renewable energy in generating electricity to help meet carbon emissions targets. Many are now embedding these goals in their pandemic recovery programmes.  
Driving the adoption of smart grid technologies: Support for renewable generation by city authorities increases the pressure on utilities to deliver an infrastructure that can integrate these new resources in a manageable way and accelerates other changes in a city's energy services. Investment in new grid infrastructure will be essential to help manage the shift to renewable energy and to increase the resilience of power networks during extreme weather events.    
Boosting energy efficiency initiatives: Collaboration between city departments and local energy utilities to improve energy efficiency is one of the simplest, most effective measures for reducing a city's energy footprint. Coordinating programmes for energy efficiency improvements is an obvious step and enables cities and utilities to target the most appropriate residents, businesses and communities for retrofit and rebate programmes. It is also a way to create local jobs and build skills in economically disadvantaged communities.  
Increasing resilience: City goals and energy sector programmes also intersect in the need to build more resilient communities. Resilience is increasingly important as the impact of extreme weather events and other consequences of climate change became evident. Resilience is not just a question of identifying and acting on specific impacts. It also requires an assessment of a city's complex and interconnected infrastructure and institutional systems that span the physical, economic, institutional and sociopolitical environment. Energy systems are at the heart of this complex web of infrastructure interdependencies. A failure in the electricity network can have a dramatic impact on water, sewerage, health, communication and transportation systems.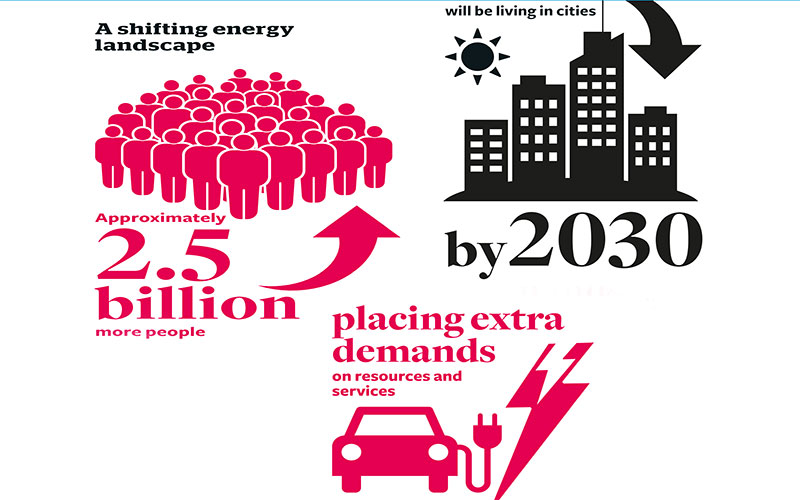 Building smart, sustainable and resilient cities
There are many opportunities for the energy sector to engage in city sustainability and innovation programmes. Energy players and their partners looking to develop or expand their city activities should focus on the following steps:  
Engaging with local smart city stakeholder groups and leadership teams, and actively participating in the development of low-carbon city strategies. Energy companies can help chart viable programmes to turn ambitious city energy and emissions targets into reality.  
Delivering benefits for all communities. Energy providers have a unique connection to all city residents, which provides a strong basis for furthering community goals around social equity and helping improve and redefine customer relationships.  
Creating platforms for the delivery of new energy services that can also be a launchpad for innovative urban service offerings. Holistic thinking enables existing assets and services to become a base for expansion into other areas.  
Building partnerships between energy providers and technology companies. The combination of sector and service knowledge with technology leadership and innovation is a strong proposition.  
Establishing themselves as key orchestrators of new urban energy platforms and the ecosystems they support. Playing a central role in these new networks is key to the development of new services and business lines in the city of the future.  
The energy sector has a responsibility and an opportunity to work even more closely with local governments to ensure that more resilient, more sustainable, and more equitable cities emerge from the current crisis.  
---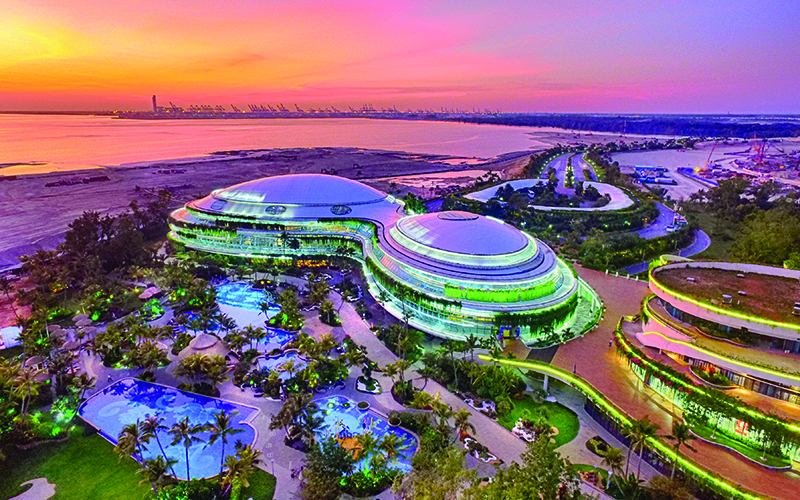 Building from the ground up
Although technology is available to reduce city running costs, cut resource consumption and improve service delivery, retrofitting existing urban infrastructure is more complicated and expensive than building from scratch. The pandemic continues to affect the pace of developments, but there are more than 120 new cities currently being built in 40 nations around the world. Below are five futuristic smart cities to track during the 2020s.
New Administrative Capital, Egypt
Egypt is busy building its new capital, designed to be the country's new administrative hub and home to more than
6.5 million residents across 700km2. The vision includes smart monitoring of traffic congestion and accidents, smart utilities to reduce consumption and cost, smart buildings and energy management – including a focus on renewable energy and using IoT to save power consumption – and optical-fibre infrastructure connecting every building using FTTX technology. There are also plans for a 90km2 solar farm and to make the capital the first cashless city in the country. Projected costs are around US$44–50bn.
Woven City, Japan
Toyota plans to transform a 708,200m2 site in Japan into a 'prototype city of the future', powered by hydrogen fuel cells, solar panels and geothermal energy. Dubbed 'Woven City', the urban incubator is expected to serve as a 'living laboratory', where residents will test modern technology such as autonomy, personal mobility, smart homes, robotics and
Forest City, Malaysia artificial intelligence in a real-world setting. The city will initially house 2,000 residents. A ground-breaking ceremony for the project is expected to be held in early 2021.
Forest City, Malaysia
Malaysia's new US$100bn city development (pictured below) is being promoted as a 'smart and green futuristic city that combines environment, technology and cutting-edge technology to create an ideal, idyllic and technology-driven living and working space ecosystem'. Forest City is explicitly being designed as an eco-city, with buildings covered in plants and roads free from parked cars. It will be built on four artificial islands in the Straits of Johor, the thin strip of water between Malaysia and Singapore. In total, these will offer up 14km2 of reclaimed land.
Neom, Saudi Arabia
Powered by solar and wind energy, Neom is expected to be completed by 2030, housing one million people and costing US$500bn. The 5G 'living laboratory and a hub for innovation' will incorporate high tech and digital industries such as robotics and AI. Other features will reportedly include an artificial moon, phosphorescent beaches and flying taxis. With plans for the world's largest green hydrogen plant, Saudi Arabia is seeking to make Neom a global centre for green hydrogen and renewable energy as a whole. The 26,500km2 mega city will be around 17 times the size of London.
Belmont, Arizona, US
Since Bill Gates purchased 24,000 acres of land outside of Buckeye, Arizona in 2017, there has been limited information on the billionaire's plans to build Belmont – a proposed smart city, with 80,000 homes, schools, offices and retail sites. According to reports, Belmont will create 'a forward-thinking community with a communication and infrastructure spine that embraces cutting-edge technology'. The development will incorporate high-speed digital networks, data centres, new manufacturing technologies and distribution models, autonomous vehicles and autonomous logistics hubs.
---
Big data will drive smart city innovation
says Jon Kirkpatrick, COO at Connected Places Catapult
The density of demand in cities offers an opportunity to drive innovation and uptake of new services, not just in the energy sector but across a whole swathe of city living: its transport system, built environment, public spaces and population can all become an interconnected system that dynamically responds to optimise economic, environmental and health benefits. The key to this is data-driven decision-making: the use of IoT, ubiquitous computing, advanced data analytics and Digital Twinning to explore in near-real-time how decisions will play out across different domains and optimise decisions for the greatest good.
 
The technology already exists but needs to be applied to the place context. For example, the Digital Twins used by Rolls Royce for remote engine management can be applied to optimise energy consumption in buildings. Extending this to neighbourhood level allows intelligent decisions on building design and microgeneration to move whole districts towards net zero. The hurdles are not technological but related to business models and culture: meaningful change will require the sharing of data between organisations and domains (e.g. energy systems and buildings management). This, in turn, will require common standards for data, a shift towards sharing by default, and increased willingness among organisations to adopt data-driven insights (especially when the data is generated outside the organisations).
 
Another barrier is legacy infrastructure, which often does not have the sensing or remote management capabilities needed
to make the city smart. Infrastructure operators are beginning to work closely with technology providers (some transferring from other sectors or disruptive start-ups) to make intelligent decisions about where to invest in retrofitting technologies and where to wait for the next planned maintenance cycle to invest in upgrading infrastructure.
 
Ongoing work at, for example, the Centre for Digital Built Britain, Connected Places Catapult, DCMS and i3P, is building up significant momentum towards this dynamic digital future.
---
By Eric Woods, Research Director for Smart Cities, Guidehouse Insights
Image credit | Getty