Carbon storage as a service
Northern Lights is responsible for developing and operating CO2 transport and storage facilities, open to third parties, as part of the Norwegian government's full-scale CCS Longship project.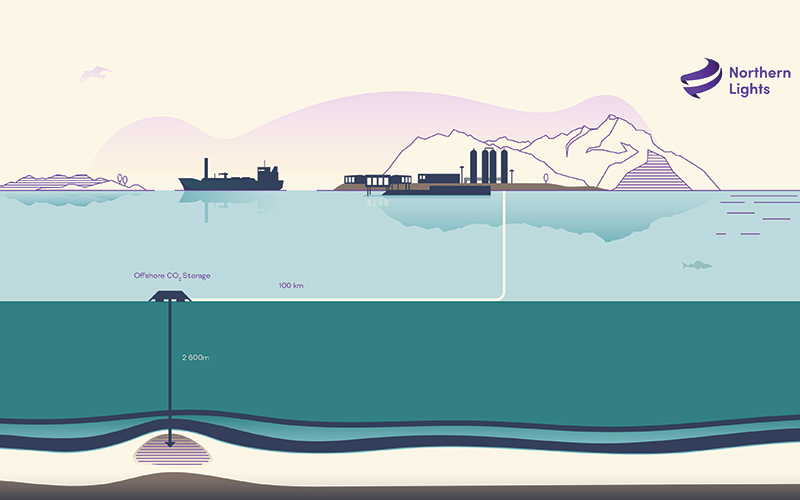 When it is operational in 2024 it will be the first-ever cross-border open-source CO2 transport and storage infrastructure network, and will offer companies across Europe the opportunity to store their CO2 safely and permanently underground.
The project reflects the Norwegian government's ambition to develop a full-scale CCS value chain in Norway by 2024, demonstrating the potential of this decarbonisation approach.
Northern Lights JV DA is equally owned by Equinor, Shell and TotalEnergies. The first development phase will have the capacity to store 1.5Mt CO2 annually, and we plan to increase the capacity to 5Mt CO2 in a second development phase (subject to a final investment decision).
Based on interest from industrial customers, we have decided to raise our ambition from the current 5Mt as demand grows across Europe. We recently received €4m under the Connecting Europe Facility funding scheme to support FEED studies enabling this expansion.
The interest in carbon capture and demand for storage capacity is growing fast as companies and countries implement net-zero strategies. We are positioning ourselves to receive CO2 from several different sectors. The opportunity is enormous as it is almost impossible to achieve the world's climate goals without this technology.
At our Øygarden receiving terminal, most of the civil works for site preparation have been completed. The construction of the import jetty is well underway, and the project office and visitor centre are due for completion in Q3 this year. Fabrication and installation of the onshore plant are about to start.
Our first offshore CO2 injection well was drilled in 2020, and the second well is set for drilling mid-2022. The fabrication of the umbilical is completed, and fabrication of the power and fibre optic control cable is ongoing. Engineering of pipelay and fabrication of pipeline is continuing.
In October 2021, we awarded contracts to build two dedicated CO2 carriers. These will be delivered in the first half of 2024. We are on schedule to start operations in 2024 as planned.
An important goal of the Norwegian government's commitment to Longship is to demonstrate that CCS is sustainable. The Norwegian project is intended to trigger CCS investments in Europe, and the significant increase in the ambitions of Northern Lights testifies that the European market is moving in a positive direction.
---
GHG Emissions
1.5 Mt CO2 Phase one of Northern Lights will capture 1.5Mt CO2 per year
5Mt CO2 The ambition is to expand capacity to 5Mt CO2 per year in Phase 2
Jobs The project's construction phase will bring between 1,500 and 3,000 jobs, with around 170 jobs created directly during operation
Startup Phase 1 is on track to start operations mid-2024
Partners Equinor, Shell, TotalEnergies
Project value US$1.63bn
---
By Børre Jacobsen, Managing Director, Northern Lights JV DA
Image credit | Northern Lights