Changing power demand in Asia Pacific
Although there is growing pressure on the global power sector to decarbonise, coal remains one of Asia Pacific's cheapest new-build power generation options. With the region's electricity demand growth expected to be double the rate of the rest of the world this decade, EIC Regional Analyst for Asia Pacific Dr Madana Nallappan looks at Vietnam, the Philippines and Indonesia and the opportunities on offer amid their energy conundrum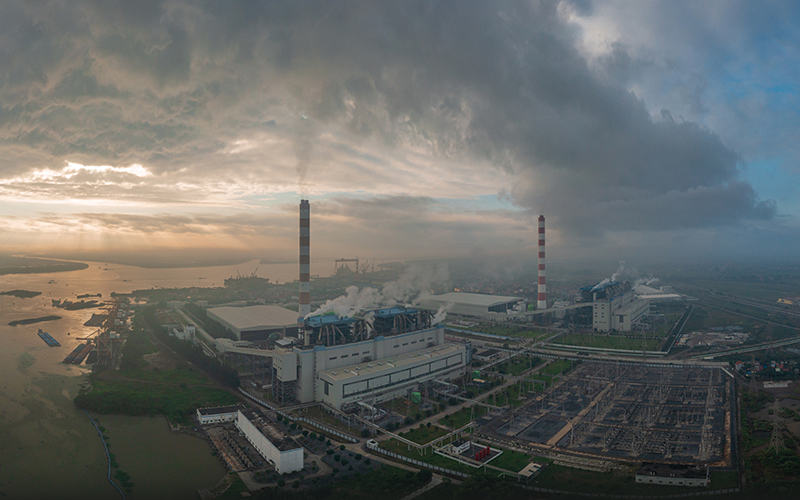 Vietnam
Energy demand is surging in Vietnam due to its rising prosperity and expanding commercial activities. It has one of Asia's fastest power consumption growth rates, with 10%–12% growth expected yearly through 2030. As of 2020, installed power-generation capacity stood at around 69GW. According to the Power Development Plan 8 (PDP8) capacity is expected to exceed 150GW by 2030.
Net-zero target
In 2020, coal accounted for most of Vietnam's total power generation. Despite its coal dependence, Vietnam announced at COP26 that it would aim to be net zero by 2050, and also made a commitment nthat it would not build any new coal power capacity, barring projects that were already underway.
According to PDP8, Vietnam will completely phase out all coal-fired power plants by 2050 in line with its climate commitments. However, the combined capacity of coal-fired power plants will increase to 30.1GW by 2030, from 21.4GW at the end of 2020, in a bid to strengthen energy security.
Large coal pipeline
Vietnam's coal consumption is expected to rise from 94–97 million tonnes (Mt) in 2025 to a peak of 125–127Mt in 2030, before declining to 73–76Mt by 2045. There are currently 6.13GW of coal power plants under construction, including Na Duong II, An Khanh – Bac Giang, Vung Ang I, Quang Trach I, Van Phong I and Long Phu. Another 7.22GW worth of projects are behind schedule due to financial difficulties, including Thanh President, Nam Dinh I, Quang Tri, Vinh Tan III and Song Hau II.
PDP8 states that the Ministry of Industry and Trade will work with investors to get lagging projects mobilised by June 2024. If its efforts fail, they will be considered for termination.
Leading up to 2050, all coal power plants will either be decommissioned or converted to use biomass or ammonia as fuel.
Gas to be new primary source
PDP8 highlights that power plants using locally sourced gas and imported liquefied natural gas (LNG) will be the key power source by 2030. The plan for the gas sector includes prioritising the Block B Ca Voi Xanh gas power project, which will contribute 6.90GW of gas power. This project involves plants such as O Mon II, III and IV (totalling 3.15GW), Central I and II, and Dung Quat I, II and III (totalling 3.75GW). Additionally, O Mon I (0.66GW) will be converted to use Block B gas.
The total capacity of gas power production, including LNG, is expected to exceed 37GW by 2030. The plan also calls for the synchronised development of LNG power plants and LNG import infrastructure. By 2030, the maximum total capacity of LNG power sources is expected to reach 22.40GW. By 2050, the majority of Vietnam's gas power plants are projected to transition to hydrogen.
---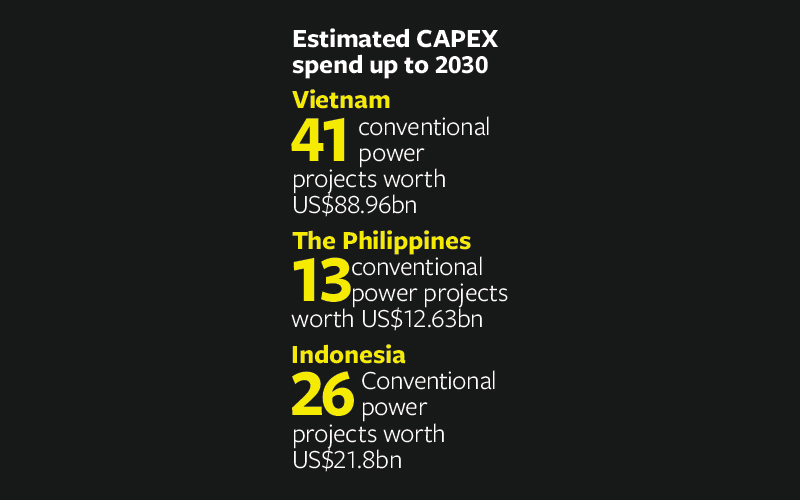 ---
Philippines
The Philippines generates most of its power from fossil fuels, with coal and gas accounting for 58% and 18% of capacity generated in 2021. This was followed by geothermal (10%) and hydropower (9%).
While coal accounts for a large portion of the country's power generation, new coal project development came to a halt after the nation declared a moratorium on proposals to build new coal-fired power plants in October 2020. Six coal-fired power plant projects are currently underway, approved before October 2020. These projects have a cumulative capacity of 4.6GW and are in various stages of development.
Cleaner coal
In response to concerns around coal's environmental impact, clean coal technologies are being implemented. The Philippines commissioned its first 500MW supercritical coal plant, by San Buenaventura Power Ltd. Co, in September 2019. The second, by GNPower Dinginin Ltd Co, is expected to be in operation by the end of 2023. With the coal moratorium, the growth of conventional power generation is expected to shift to gas-fired power plants.
Move to gas
The Philippines currently has six operating gas-fired power plants, mostly in the Batangas province. It is expected to add around 4GW of additional capacity by 2040. With the declining reserves of the Malampaya gas field (the Philippines' only source of gas supply), the Department of Energy aims to secure LNG imports in the future for its existing and upcoming gas-to-power projects, approving the development of seven LNG import terminals. Recent power projects announced include the 1.1GW Batangas LNG Power Plant by ACE Enexor Inc and Gen X Energy, with construction works to begin in 2023 with completion expected in H2 2026.
---
Indonesia
Indonesia is shifting towards using more renewable energy, although coal still accounts for 64% of power generation capacity as of 2022. This is followed by gas, which represented 15% of electricity generation. Renewables made up 20%, led by hydropower, geothermal and biofuels.
New coal on ice
There are 19 coal power projects in planning and development, with capacity of over 10GW; 10 are in the engineering, procurement and construction stage and will mostly come online by 2027. The rest are in the early stages, and are likely to face difficulties due to the deteriorating investment climate for coal power and the Just Energy Transition Partnership (JETP) agreement Indonesia signed in November 2022.
The agreement, signed with a group of developed countries led by the US and Japan, entails the provision of US$20bn in support for Indonesia's energy transition, mainly targeting coal-fired power plants. It is expected to speed up the phase-out of coal-fired output in the medium-to-long term, and involves putting coal-fired plant projects on ice.
Diesel-to-gas conversion
There are currently 21 gas-fired projects in the pipeline with total generation capacity of 4.52GW, all to startup by 2027. Gas-fired projects could move at an accelerated pace as Indonesian officials see gas as a quick fix to cutting emissions. The nation plans to convert its diesel fuel-fired power plants to gas-fired power plants starting this year as a part of its energy transition programme.
The Indonesian government hopes that the gas conversion project could be funded by the JETP. There are currently 5,200 diesel power plants in 2,130 locations throughout Indonesia; the plan is to convert at least 52 into gas plants, with the first stage of the plan seeing the conversion of 33 plants. The project is reportedly still at the auction stage and is expected to commence this year.
---
Regional opportunities
Vietnam, the Philippines and Indonesia are expected to build coal-fired power plants throughout the 2020s. Opportunities will primarily stem from existing and planned plants, many of which will be operational until 2050. Carbon capture, utilisation and storage is anticipated to grow strongly in the region, although implementation will vary. Another key opportunity will be the deployment of digital technologies to increase the operational efficiency of legacy assets – maximising power generation, minimising emissions and reducing unplanned downtime. Finally, for regions closing their plants, there will be significant decommissioning opportunities.
---
Image credit | iStock