The UK grid stands ready to support the electric vehicle revolution, says Graeme Cooper at National Grid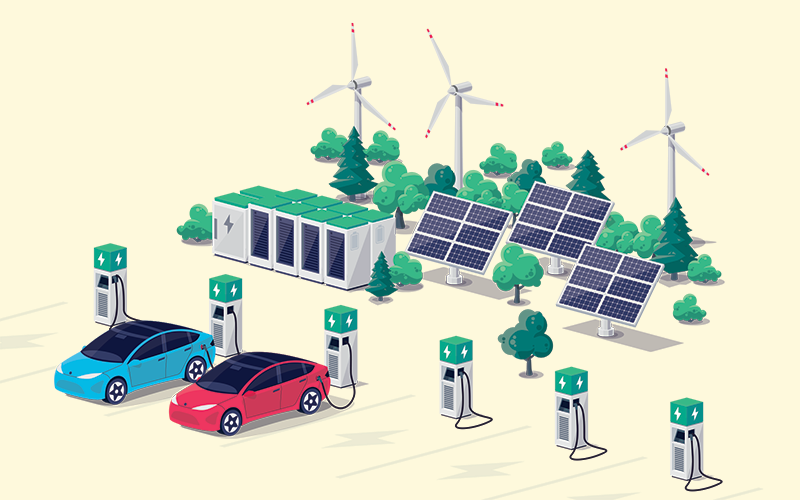 Transporting people and goods is one of the dirtiest things we do in the UK. It equates to around 27% of the UK's carbon emissions – around 126m tonnes of CO2. To achieve a greener future, have cleaner air and reach net zero, we need to decarbonise vehicles. Electric vehicles (EVs) are a viable solution that, while not a silver bullet, will be a significant part of the mosaic of solutions needed. With the government banning the sale of new diesel and petrol cars and vans from 2030, we can expect a faster transition than initially anticipated. Ensuring there is enough clean energy to power the revolution will be critical – and at National Grid, we are confident the grid can support the extra demand for electricity that this shift will create.
By 2030 the industry must install around 60,000 charging points to power around 11m EVs
Enabling the EV transition
The data for the last five years shows decarbonisation increasing at pace, culminating in 2020 being the greenest year on record for Britain's electricity system. In total, the country was powered coal-free for more than 5,147 hours in 2020, compared with 3,666 hours in 2019, 1,856 in 2018 and 624 in 2017. The growth in renewable energy – such as wind power from the offshore wind farms being developed – will adequately meet future demand from EVs.
Of course, getting the right charging infrastructure in place is essential to support the transition and encourage consumers and businesses to make the switch. Research shows that once people feel confident there is a viable network of charging points in place, they will be encouraged to make the move to EVs. We also know consumers would feel more comfortable buying an EV knowing that recharging facilities are not just widely available, but also fast. This means it is crucial for energy companies to support UK development of a network of future-proofed, ultra-rapid chargers, especially at key places such as motorway services.
While the scale of the move to EVs is massive, businesses will grab those opportunities if they can see the financial incentives. We have seen the global costs of renewables come down significantly – and whole-life costs of electric cars. It is daunting but it gives people opportunities to crack the challenge, and change can happen quickly.
We still have some way to go to get the infrastructure in place for the 'early majority', and it is important we work with government to map out where critical network infrastructure is needed to enable the faster roll-out of charging points. We are already seeing action in the right direction – for example, government has already committed to significant investment in EV infrastructure, with a £950m fund for future-proofed electricity connections for a rapid charging network, and the recent Transport Decarbonisation Strategy has provided an overall strategy that sets out how the targets will be achieved, giving more confidence to both consumers and industry.
Smart charging will also be key to this transition, allowing electric cars to 'talk' to the grid and using data to assess when is the best time for the car to charge. This will save consumers money and provide a more energy efficient and sustainable way of charging EVs.
From a policy and business perspective, the clean energy transition, including EV uptake, will rely heavily on plugging the green skills gap – if we do not, it could hold back progress. The UK needs 400,000 extra recruits to meet the 2050 net-zero time frame, according to National Grid research, and many of these roles will be in transport decarbonisation.
Driving the UK to net-zero
As we look ahead to COP26 and beyond, there is still lots of work to be done on the managed transition to net-zero. We are focused on how we can support government with the rollout of EVs at pace and in a way that will future-proof capacity. While there are still challenges posed at street level for the arrival of mass EVs, the implementation of EV infrastructure on the grid will be hugely beneficial to the overall net-zero ambition and will achieve lower costs for consumers, too.
The shift to EVs will not happen overnight, but it is by no means an impossible transition. We know there is definitely enough energy, and that the grid can cope – and as the EV revolution gets underway, we are ready to play our role in putting the right wires in the right place to meet future demand. 
By Graeme Cooper, Head of Future Markets at National Grid
Image Credit | iStock