Powering up digitalisation
Advances in technologies, telecommunications and data analytics are bringing benefits to the power industry, and now more companies are adopting digital tools, says Bob Aldridge at AVEVA Solutions.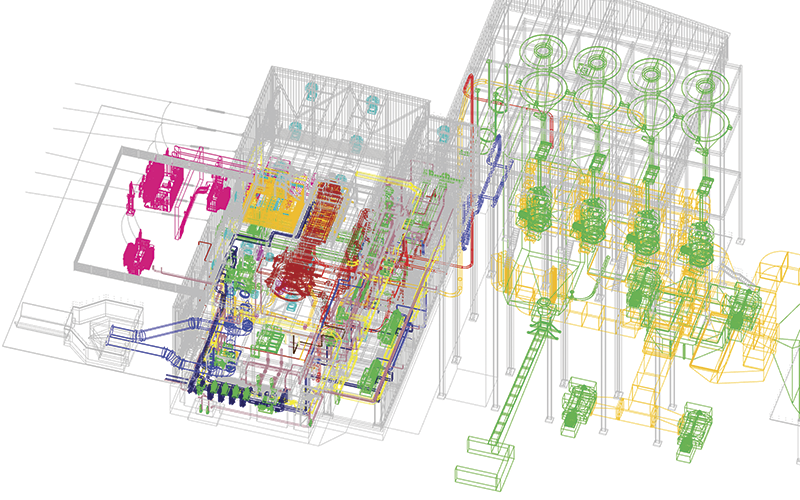 Digitalisation is the most powerful trend reshaping industrial performance today. In power generation, momentum is building towards data-centric engineering solutions. From design, build and asset management processes rooted in a complete, integrated set of data, to intelligent information systems and better process management tools, technology is changing the ways major capital projects are executed and plant is operated and maintained. But progress is patchy and there are implementation challenges that companies need to tackle.
The power sector's approach is not unusual within complex engineering industries. As tech analyst Monica Schnitger set out in a recent blog, the challenges affect owner operators as much as the engineering, procurement and contracting companies that work with them, albeit in different ways. As Monica says: 'It's easy to digitalise if you're a newish company, with a digitally savvy workforce. Make some apps, roll them out, collect lots of data, find the important bits, create a dashboard, start moving things around and making decisions. It's much harder if you're a 100-year old engineering firm, serving a conservative customer base, trying to eke out a bit more production in an environment that's financially unforgiving.'
Power generation businesses, subject to weighty regulation, rightly have little appetite for systems risk. Yet as some early adopting companies have found, integrated engineering and design tools together with seamless information management can help to increase efficiency and grow margins, even in today's tough environment.
US$1.3tn in untapped potential

Modern digital tools that support data-centric processes across the entire plant lifecycle not only enable new plants to be delivered more effectively and with full data-centric digital information – but also allow established power plants to manage their operations more efficiently than ever before.

A recent World Economic Forum paper on digital transformation in industry, the Digital Transformation Initiative Report, estimates that US$1.3tn of value could be captured globally from rapid digitalisation in the electricity sector between 2016 to 2025. It says: 'By leveraging the building blocks of digitisation, such as service platforms, smart devices, the "cloud" and advanced analytics, companies in the industry have the opportunity to increase the asset lifecycle of infrastructure, optimise electricity network flows and innovate with customer-centric products. New pools of value could also be tapped "beyond the electron" by harnessing big data across sectors.'
These advantages intensify when you can automatically link and select relevant information to optimise day-to-day activities. With structured, searchable information, integrated laser scan and 3D visualisation, and the opportunity to connect to real-time plant performance metrics during operation, you can execute more efficiently because you can:
Coordinate and collaborate better between different teams across all stages of a plant lifecycle from initial plant design to decommissioning

Use more effective mechanisms to validate and maintain completeness and consistency across your entire data set, reducing delays, errors and rework across a wide variety of activities

Manage construction, commissioning and handover more effectively, leading to swifter start-up and a faster transition to full-scale production

Handover progressively, avoiding rush and delivering validated digital asset data that can develop into a true digital twin, closing out the design/build phases quickly and easily

Enable optimised plant performance and minimise unplanned outages

Optimise planned outages

Ensure that regulatory and safety requirements are met at all times
More data-centric tools provide personnel at all levels of the organisation with better data to make both day-to-day and strategic decisions. Moving from document-centric to data-centric tools builds the touchstone – a standard file format used to store measurement results; 3D laser scanning and plant visualisation layer on intuitive, data-driven reporting in real time. But are these benefits widely understood?
What power leaders think about digitalisation
A recent study by technology research specialists Vanson Bourne and AVEVA Solutions asked senior business leaders to discuss digitalisation in their businesses. Questions focused on how leaders perceive new technologies such as intelligent data systems and digital assets. They also explored the challenges of digitalising diverse power plants and the benefits technology offers plant businesses and those that support them.
Some 88% of respondents felt that adopting digitalisation will increase revenues for their organisation. Over 70% believed plant digitalisation is a rapidly growing focus of attention or that it is happening now in their business. And most respondents found that digitalisation can boost production capacity and cut operating costs.
There is faith in the benefits of digitalisation. From promoting integrated, collaborative working across disciplines, to facilitating interaction between companies there is appetite to digitalise at all levels of the supply chain. Yet despite these myriad advantages, adoption remains limited: only one quarter of power companies said digitalisation is happening in their assets. What are the reasons for the slow start?
Drivers of demand, barriers to adoption
MIT Sloan's recent review, Achieving Digital Maturity, concludes that several factors influence a company's journey towards digital maturity. These include the extent to which technology is core to their organisation, the time horizons companies impose on tech strategies and how quickly businesses can scale up from small pilot projects to systemic change.
Here, the Vanson Bourne report showed that momentum is building. Nine out of 10 participants said that plant digitalisation is a top priority for 2018 onwards. Changing consumer demand, increased costs and regulatory change are the key drivers behind this trend. This reflects the close links between power generation and the networks that transmit and distribute power to mass market consumers. Technology is driving behavioural change in all aspects of consumption, so it is unsurprising that these preferences are reshaping the power supply chain, alongside other business-to-consumer industries.
In addition, nearly all those interviewed say there are significant barriers to adopting full digitalisation in their operations. These include a lack of appropriate IT infrastructure, a dearth of in-house skills, and an over-reliance on legacy IT systems unsuited to either intelligent plant management or digital asset development. This is where positive examples of successful digitalisation in adjacent industries can be useful models for power companies to copy.
Not if but how…
It seems that, in power, the question is no longer if a company should digitalise, but how. Over 40% of respondents said that digital information management will help them to make more informed decisions. More than 50% plan to invest in intelligent information management systems.
The challenge for the technology industry is to adapt their tools to the specialist needs of power generators by creating robust, integrated engineering design and operational tools that can support the specific needs of the power industry. As demand grows, so the research shows that adoption will become more widespread.
By Bob Aldridge, Senior Business Strategy Manager, AVEVA Solutions.