Recharging the UK's energy sector
As the UK sets course for a battery-based energy future, Oliver Metcalfe, energy analyst at the EIC, looks at the meteoric rise of battery storage and the opportunities on offer for an innovative supply chain.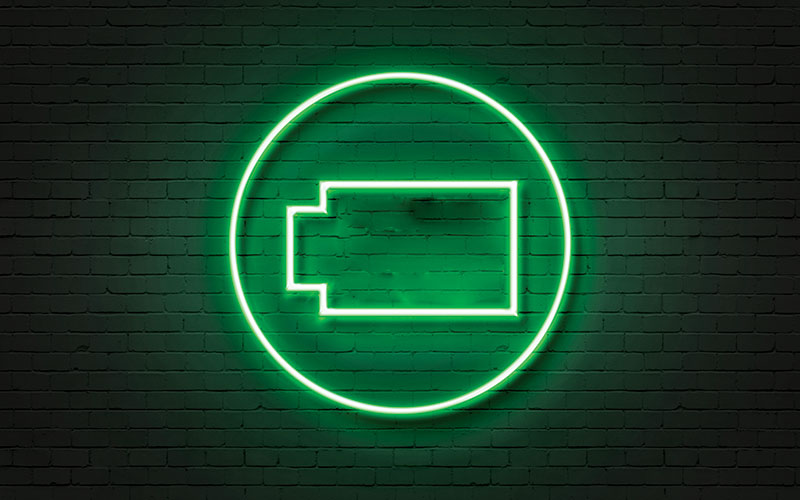 The UK's battery storage industry saw a boom in 2017. Installed capacity in the UK increased from 60MW in January to around 200MW by the end of the year, while 100MW was commissioned in November and December alone. This strong growth is set to continue and recent research by Solar Media predicts that 9,000MW of battery storage could be installed by 2022.
What's behind the rise?
Batteries can help smooth out the variable power provided by the increasing proportion of renewables in the UK energy mix. National Grid's Enhanced Frequency Response (EFR) product was designed specifically for batteries, which can respond to system needs within milliseconds. The first EFR auction in August 2016 secured 200MW of capacity. The Blackburn Meadows, Cleator and Glassenbury projects have already come online, with the remaining few due to be operational in early 2018. The transition to electric vehicles has started to take hold. Each vehicle requires a significant battery pack and this manufacturing experience has led lithium-ion battery costs to fall rapidly. It is now profitable for developers to install energy storage systems on the same site as renewables. For example, Anesco claimed that the addition of storage was key to the business case of their subsidy-free solar farm, a UK first – the 10MW Clayhill project was commissioned in September 2017. With over 30GW of wind and solar installed in the UK, we can expect to see many more existing and new build renewable projects co-located with storage.
Companies that can deliver improvements on current cell components and battery packs will be well placed to win funding and receive support from the Faraday Challenge to scale up their business
Government support and supply chain innovation
The government's Smart Systems and Flexibility Plan was published in July 2017. It made clear the objective to remove commercial and regulatory barriers to greater deployment of batteries. The document also unveiled the Faraday Battery Challenge, a commitment to provide £246m for smart systems and battery technology research over the next four years.
The purpose of the research and innovation programme is to make the UK a world leader in next-generation battery development, and the funding represents a big opportunity for the UK supply chain. £80m will be spent on a new automotive battery development centre in the West Midlands. The facility will take early and mid-stage battery research and development activities and attempt to turn them into commercially-viable business propositions.
Innovate UK has emphasised the importance of developing materials and manufacturing capabilities across different sectors. This could create a new supply chain to support battery production at scale. Companies that can deliver improvements on current cell components and battery packs will be well placed to win funding and receive support from the Faraday Challenge to scale up their business.
Lessons from abroad
The UK is a very attractive market for investors, but there is still plenty to learn from abroad. The US has established itself as the world leader in utility-scale battery storage. Consumers and utilities in the country are beginning to build battery facilities for innovative applications. For example, in November 2017, National Grid announced the construction of a 6MW/48MWh system coupled with a diesel generator that will defer the need to build an expensive undersea cable to the island of Nantucket, Massachusetts, by 22 years. Further investment could be unlocked in the UK if companies could access financial rewards for building similar innovative facilities.
French developer Neoen has built a reputation in Australia having delivered the world's largest lithium-ion battery project with Tesla. The 100MW/129MWh system has helped South Australia increase the resiliency of its grid following state-wide blackouts in 2016. The project now works to serve peak demand in the state every day. Following this success, Neoen has started to build a pipeline of further projects in the country. Identifying markets with political momentum behind battery storage could be a good way to begin exporting products and services.
---
Electric vehicles key to driving battery storage
Worldwide sales grew by 45% in 2016

Investment in car batteries is a massive opportunity for Britain, and one estimated to be worth £5bn by 2025

200,000 electric vehicles set to be on UK roads by the end of 2018
---
Being visible is key
A project's selected engineering, procurement and construction (EPC) contractor is usually responsible for buying the batteries and balance of plant equipment, pre-front-end engineering and design activities, along with engineering and construction services. Often the same company also operates the asset on behalf 
of the owner throughout its lifetime. It is common for developers to request fully warranty-wrapped contracts. This means that all warranties (the batteries, control system and balance of plant) are covered under one deal.
Most of the utility-scale projects operating in the UK, so far, have been constructed by large multinational companies with experience across several industries. These include UK-based RES, along with NEC Energy Solutions, Younicos, AES, GE and Siemens. Smaller UK-based energy storage integrators have also had some success.
Project developers rarely tender for EPC services but rather select companies with which they already have a relationship. This means making your organisation visible in the sector is key to win work. Networking and attending events is vital to break into this fast-growing industry.
By Oliver Metcalfe, Power, Nuclear and Renewables Energy Analyst at the EIC
For further information: The EIC Energy Storage Insight Report is now available. EIC Reports are available free of charge to EIC members and for purchase (£195+VAT) by non-members. Please contact info@the-eic.com for more information or to buy your copy.