Kickstarting a green economy in UK's largest industrial heartland
After being selected on Track-1 of the government's cluster sequencing process in October 2021, effectively receiving the green light to become operational in the mid-2020s, the East Coast Cluster (ECC) stands ready to decarbonise industry across Teesside and the Humber. The cluster will protect thousands of jobs and establish the region as a globally competitive climate-friendly hub for industry and innovation.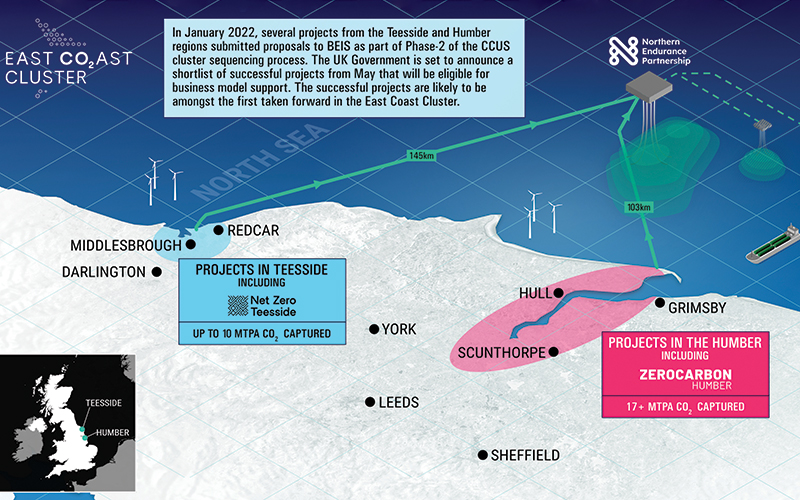 The region has historically been the UK's engine room and is currently responsible for almost 50% of the UK's industrial cluster emissions. Many of its industries are hard to abate, making carbon capture, utilisation and storage (CCUS) integral to reducing its emissions.
By 2030, the cluster could capture up to 27m tonnes of CO2 (Mt CO2) from a diverse mix of low-carbon projects, including industrial carbon capture, low-carbon hydrogen production, negative emissions power, and flexible power with carbon capture.
Deploying CCUS technologies in Teesside and the Humber is an opportunity to support the government's levelling up agenda. It will safeguard traditional industrial roles while creating thousands of new jobs in the green economy. Across the region, we will support on average more than 25,000 jobs per year, peaking at 41,000 in 2026 when the ECC is operational.
The ECC's selection as one of the UK's first two clusters was the first milestone along the road to making CCUS a reality on the East Coast. The next milestone will come in summer 2022, when we find out which projects the government will select to connect to the infrastructure.
Government support has been, and remains, integral to delivering CO2 reduction through carbon capture, providing the clarity and guidance needed to unlock private investment.
Meanwhile, the construction of the CCUS infrastructure is already planned to begin in 2023. We will actively work with the industry's supply chain and local communities as we take on the exciting development of this first-of-its-kind project for the UK.
The Climate Change Committee has highlighted the vital role of CCUS in the decarbonisation of the UK, stating that achieving net-zero by 2050 will not be possible without CCUS. The ECC stands ready to kick-start a new green economy by decarbonising one of the UK's industrial centres.
---
GHG Emissions 27Mt CO2
By 2030, the cluster could capture up to 27Mt CO2 per year
10Mt CO2 captured by Net Zero Teesside
17Mt CO2 captured by Zero Carbon Humber
50% ECC aims to remove nearly 50% of all UK industrial cluster CO2 emissions
Jobs 25K ECC will support over 25,000 jobs per year,  rising to 41,000 in 2026
Building starts 2023 Construction of CCUS infrastructure is slated to start in 2023
---
By Andy Lane, Managing Director, Net Zero Teesside and Northern Endurance Partnership
Image credit | East-Coast-Cluster