Net zero, just transition and the energy supply chain
Climate action, fairness and opportunity can and must go together, says Chair of the Scottish Just Transition Commission, Professor Jim Skea CBE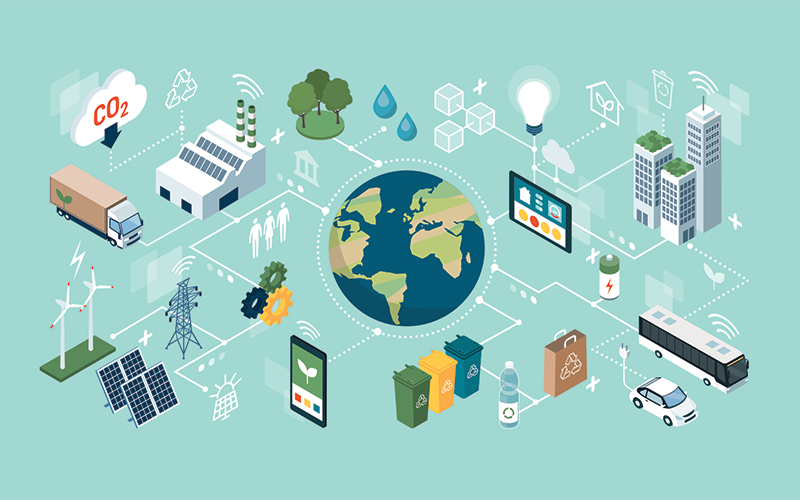 Aligning the UK's net-zero ambition with a thriving economy is not a utopian aspiration. Unless that alignment takes place, it is hard to see how social consent will emerge for the needed changes. The energy industry will be at the heart of the net-zero transition, so redirection of the sector's existing skills and competences is critical.
In 2019, the Scottish Government established a Just Transition Commission to provide realistic, practical and affordable recommendations on maximising the economic and social opportunities offered by Scotland's goal of reaching net-zero emissions by 2045. The Commission, comprising representatives from business, trade unions, NGOs and academia, reported in March this year. It grouped its recommendations into four themes.
Practical steps for fair transition
The first theme concerned making an orderly transition, involving sectoral planning, as unplanned transitions tend to be unjust transitions. The second concerned equipping people with skills and education needed to participate in the transition. The third concerned empowering local communities and strengthening local economies. The final theme was about sharing benefits widely and ensuring burdens are distributed on the basis of ability to pay.
Following the Commission's recommendations,  a new ministerial post for just transition, employment and fair work has been established to co-ordinate the just transition to net zero across the Scottish economy.  The Just Transition Commission has been re-established to provide independent advice on and scrutiny of government policy. The Scottish Government has already established a Climate Emergency Skills Action Plan to provide access to skills training critical for net zero and to help create new, high-quality green jobs.
A Just Transition Planning Framework, which will act as an umbrella for more specific sectoral Just Transition plans, is being established. Reflecting its importance for the Scottish economy and its critical role on a path to net zero, the first Just Transition Plan will address the energy sector.
Creating lasting local value
The challenges are considerable, as the events of the past year have shown. While the UK has been successful in deploying offshore wind, employment creation associated with the deployment has been less so. The situation at Fife-based fabricators BIFab, which went into administration in December last year, crystallised several concerns for members of the Just Transition Commission. In a letter to Scottish Ministers, Commissioners identified actions that could be taken to avoid such situations arising in the future. They emphasised in particular the need to invest in and support regional supply chains.
In its March report,  the Commission returned to these challenges. It identified a need for some reform of the Contracts for Differences mechanism used to procure offshore wind and other forms of renewable energy, so that it takes account of local content. It also suggested exploring options such as a border carbon tax to ensure UK firms are not competitively disadvantaged by operating in an economy with high levels of climate ambition relative to other countries. This latter option needs to be approached carefully, as a just transition is also a global challenge. The perception that trade barriers are being erected needs to be avoided, particularly with COP26 in mind.
The green road ahead
The path to net zero will not be easy, but by planning ahead and investing in skills, it will be possible to build on the UK's substantial energy sector competences and secure a place in the global green economy.
By Professor Jim Skea CBE, Chair, Scottish Just Transition Commission and Chair in Sustainable Energy, Imperial College London
Image Credit | iStock