On the path to carbon neutrality
Uniper CEO Andreas Schierenbeck sets out the company's decarbonisation strategy and how other fossil fuel generators can reduce global emissions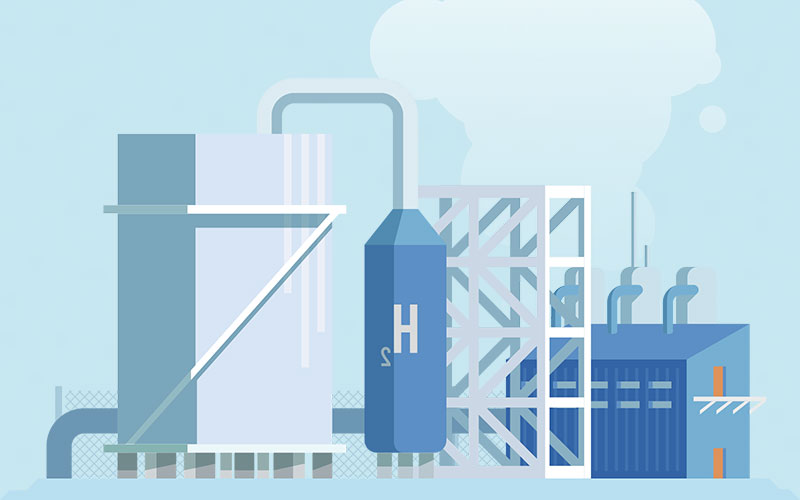 During the past couple of years, activists have spurred a vigorous and much-needed debate over the future of energy and the planet. The focus has been on a shift to renewables, and the voices of legacy fossil fuel producers have largely been overlooked. These companies, though, are best-placed to make the most significant impact in the reduction of global emissions.
In March 2020, Uniper set out a bold decarbonisation strategy to achieve carbon-neutrality by 2035 – something that may once have seemed an unlikely step for a company with a history as a conventional generator. However, there is a clear path for energy generators to play a vital role in the future energy mix. It is incumbent upon them not only to take the necessary steps, but also to share knowledge and bring all stakeholders together for maximum impact.
Converting coal to gas
Completing the coal exit is the crucial first step towards decarbonisation, and this is therefore the cornerstone of Uniper's strategy. By 2025, we plan to close 2.9GW of coal-fired capacity in Germany. By the end of 2025, we will have reduced our German carbon emissions by 40%, and we intend to submit a further 1.4GW to the federal government's shutdown scheme by 2026. Including previous closures, this will yield total carbon savings of up to 18m metric tonnes per year.
Converting to gas sits alongside Uniper's coal exit. With around half the emissions intensity of coal, conversion to gas as a fuel is the fastest way for Europe to reduce carbon emissions by up to 65% during the next two decades. While renewables now make up 20% of Europe's energy output, demand continues to outpace uptake, so gas will be vital in making emissions cuts quicker and in complementing wind and solar. Where possible, Uniper is also repurposing existing coal plants such as our site in Scholven for gas generation, making use of existing infrastructure.
---
Uniper's net-zero future  
Carbon neutral by 2035  
2.9GW of coal capacity closed by 2025  
German carbon emissions reduced by 40% by end 2035  
Invest £1.08bn over next three years in low-emissions new growth  
Plans for a 35MW-capacity electrolysis facility  
World's first 59MMCM green hydrogen storage facility = 150m KWh to heat 20,000 households
---
Innovation in hydrogen
Energy companies need to increase the carbon efficiency of gas further by investing in blue hydrogen, and in the great potential of green hydrogen. Hydrogen can be produced using renewables-powered electrolysis, only giving off water in the process and thus making it possible to avoid 90% of the greenhouse gases emitted by the conventional hydrogen production. Power-to-gas (P2G) hydrogen can then be refined into renewable liquid fuels such as synthetic diesel and aircraft fuel, providing a clean energy source for the vast areas of the economy in which renewables are not viable power sources.
Uniper is, therefore, reinforcing its early investment in green hydrogen, having opened the first P2G plant in Falkenhagen, Germany in 2013. We already have a second plant that runs on wind power, but soon we will start building an industrial-scale green-hydrogen plant and underground storage facility.
Coronavirus and beyond
Decarbonisation is a meta trend that shows no signs of abating amid the economic fallout of COVID-19. Indeed, investment in decarbonisation initiatives is a vital part of the EU's €1.85trn (£1.67trn) recovery package. Uniper itself is continuing to press on with its decarbonisation strategy, while also keeping the lights on in the current crisis. Our recent partnership with Siemens is just one example of this; the partnership will deliver many decarbonisation and green hydrogen projects during the next few years.
Uniper is also making €1.2bn (£1.08bn) available during the next three years to invest in low-emissions new growth. This involves expanding and maintaining our hydropower plants, as well as introducing new CO2-efficient revenue streams. This includes green hydrogen, but also renewables, by investing significantly in power purchase agreements.
Uniper is looking for ways to share its engineering expertise in order to be a catalyst, helping other companies drive their own decarbonisation efforts. We will continue to help power generators and industrial enterprises achieve greater energy efficiency, and to share experience on the effective operation and maintenance of power plants. Furthermore, we are calling on governments to put in place a robust framework to support the growth of the hydrogen economy.
Conventional generators face a crucial moment and will be trying to determine their future direction. But they must recognise the vital role they can play in reducing emissions. It is important to look back at the business and see where their expertise lies – and where they can add the most value in the urgently needed energy transition.
By Andreas Schierenbeck, CEO, Uniper
 
Picture Credit | Shutterstock