Time for policymakers to face the truth about net zero
Based on data and sentiment obtained by the EIC from surveys, discussions and conversations from across the energy supply chain, there is a growing sense of apathy and doubt about the viability of reaching net zero by 2050, writes Jonathan Dyble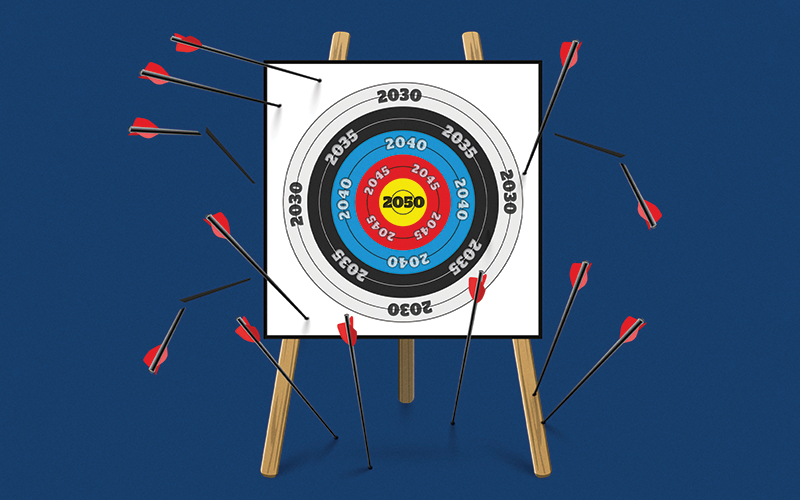 Is the energy sector in danger of becoming alienated from net zero? Could a lack of urgency, a hesitance to take risks and unwillingness to be the first mover in the supply chain threaten the energy transition journey?
There is no doubt that momentum and enthusiasm for net zero has been tested by recent events. The financial shocks caused by the pandemic and Russia's invasion of Ukraine have raised questions about what societies can afford to do, both economically and in terms of short and long-term energy security. 
EIC data also suggests that a degree of apathy is starting to kick in. In 2021, 30% of member companies featured in the annual Survive & Thrive report were involved in energy transition stories. The latest two editions (2022 and 2023) have seen this figure drop to 22%.
Why is there net-zero apathy?
Alongside Survive & Thrive, EIC has conducted dozens of panel discussions and interviews involving hundreds of industry stakeholders – and based on these conversations, it is clear that vanishingly few in the supply chain believe that the UK will hit net zero by 2050.
Furthermore, EIC members report that they are not seeing energy transition and renewable sector work come through onto their orderbooks.
This is fed by a range of challenges, from port infrastructure delays and supply chain crunches to financial barriers caused by higher interest rates and inflation, which is causing projects previously bid to become loss-making with low margins. Meanwhile, finance is generally more difficult to come by, with investors looking for lower-risk, bankable developments.
Investment data backs this up. Only 8% of the world's offshore wind projects that have been announced and are currently open have so far been funded. In addition, just 3% of the world's hydrogen projects, 2% of the world's carbon capture projects and 1% of the world's floating offshore wind projects are funded.
With such little investment activity happening, many are naturally asking: is net zero is unaffordable?
Sverre Alvik, Programme Director of DNV's Energy Transition Outlook, says that while cost might be perceived as a barrier to reaching net zero, from a societal point of view this is not the case.
"The transition is affordable in the sense that it represents a lower share of global GDP than the present energy system," he explains. "The challenge, however, is that overall costs to reach net zero are higher than those associated with the business-as-usual trajectory. Those higher costs may be used as an excuse for inaction."
John Gummer, Lord Deben, who served as the chair of the UK's statutory Climate Change Committee, believes that the key to overcoming hesitancy and restoring momentum lies in investing in the grid.
The policy that we have does not move fast enough, nor is it complete enough, for us to see the detailed way in which we reach 2050. What we need is urgent delivery. The government must realise just how serious this is, and how important its actions are Lord Deben, former chair of the Climate Change Committee
"The grid must be changed from one that puts out electricity from large central stations to one that is able to pick up electricity from a very dispersed group of generators, from people's PV cells on their roofs right the way through to nuclear power stations, he explains.
"It's a revolutionary change which has got to take place, and it's going very much too slowly."
Indeed, the pace of action, as has been underlined by investment data and EIC survey findings, is underpinning doubts about the likelihood of reaching climate targets.
"This is no longer just a personal view – doubts about net zero by 2050 are increasingly based on data and evidence," says EIC CEO Stuart Broadley. "It is absolutely time for policymakers to bring all of the key stakeholders together again, to put their hands up and say, 'these are the legally binding targets that we set and we passionately, desperately want to hit'."
The gap between policy and reality
Lord Deben says that the grid issue, and the importance of grid infrastructure, has been acknowledged. However, he also states that the UK is not aligned across the spectrum of government, with departments lacking concrete strategies on how to decarbonise key sectors such as steel and agriculture.
So, while headline targets exist, the detailed policy frameworks and ideas needed to hit them are lagging behind. Many in the private sector believe that the current political community is failing to acknowledge this reality.
"Creating a cohesive global policy is the most obvious hurdle that has proven insurmountable," says Alvik.
"As well as being more ambitious, policymakers must be more pragmatic. The passing of every day without a global net-zero plan diminishes the likelihood of reaching the Paris Agreement. In our pathway to net zero we lay out how this is possible, but it requires a massive and immediate policy response."
This policy hesitancy is fuelling a dynamic that EIC refers to as 'net-zero jeopardy'.
"How broad is the gap between policy and reality?" Broadley muses. "We think it is getting wider by the day. And every day that policymakers do not put their hand up and say we have problems is another day where the gap gets bigger.
"What surprises me in the political energy space right now is that I don't know of a single energy minister around the world who has currently accepted in a public arena that their own net-zero country commitments are at risk. It feels like it's too much of a political hot potato for any one country to be the first to say they are in trouble."
Broadley further outlines that the situation is reaching the point where industry leaders no longer believe policymakers or even listen to them. This is extremely concerning, not least because it could result in a disconnect between investment and policy.
Without implementing more robust and legally enforceable net-zero policies, it is probable that climate targets will not be met. In a new study, Imperial College London reveals that only 12 out of 35 net-zero policies are legally binding. Increasing this number will enhance the chances of these policies enduring over the long term and spur concrete actions
---
Is net zero being left behind?
The struggles of transforming ambition into reality
Financial investment decision (FID) rates are key indicators of whether projects are moving beyond policy ambition into industrial reality. EIC data starkly highlights that transitional technologies have much lower FID rates than oil and gas, as developers struggle to secure the necessary finance and offtake agreements for clean energy projects.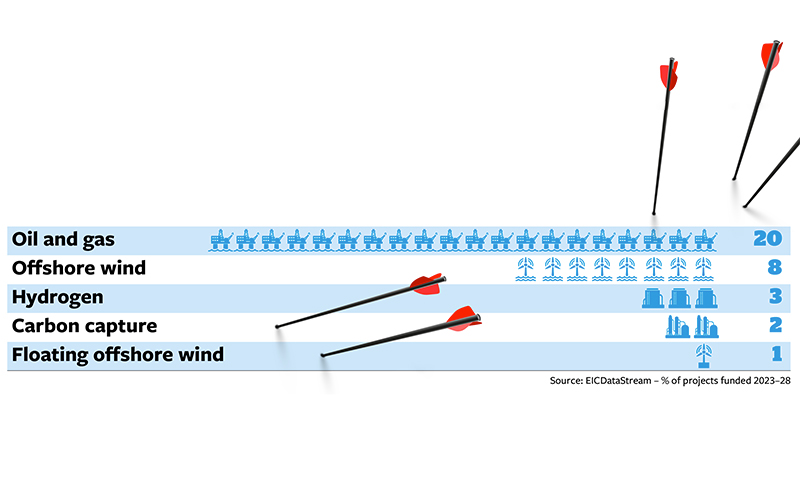 ---
Getting back on track
To reach net zero, all stakeholders need to be aligned with the same concept of reality. Together, politicians, enterprises, investors and other energy sector protagonists need to foster an enabling framework that supports partnerships, R&D and sustainable practices.
A logical place to start is to develop a reliable and robust way of measuring net zero progress. Worryingly, the path to 2050 is not being properly tracked, meaning stakeholders up and down the value chain have very little to hang their hats on and base strategies around.
That the journey towards net zero has to happen is widely acknowledged as essential. Solving the climate crisis, energy security in a volatile world, economic prosperity – these critical issues all hinge on a successful energy transition. If net-zero apathy is to be overcome, now is the time for policymakers to get on track, listen to industry operators and properly align themselves.
"I am absolutely clear that net zero is achievable by 2050," says Lord Deben. "It was laid down on the basis that it was achievable, it could be done – and it still can be done.
"The gap between policy and reality is fundamentally a gap of time. The policy that we have does not move fast enough, nor is it complete enough, for us to see the detailed way in which we reach 2050. What we need is urgent delivery. The government must realise just how serious this is, and how important its actions are."
Alvik agrees, adding: "If we are to achieve net zero by 2050, then the world needs get onto a war footing. Massive, early action to curb record emissions is critical. No new oil and gas will be needed after 2024 in high-income countries, and after 2028 in middle and low-income countries. It has to happen now."
Image credit | Shutterstock