Unlocking the potential of floating offshore wind
The floating offshore wind industry is an exciting global opportunity that will play a key role in the energy transition. However, there are barriers to full commercialisation that must be addressed and overcome, says EIC Senior Analyst Pietro Ferreira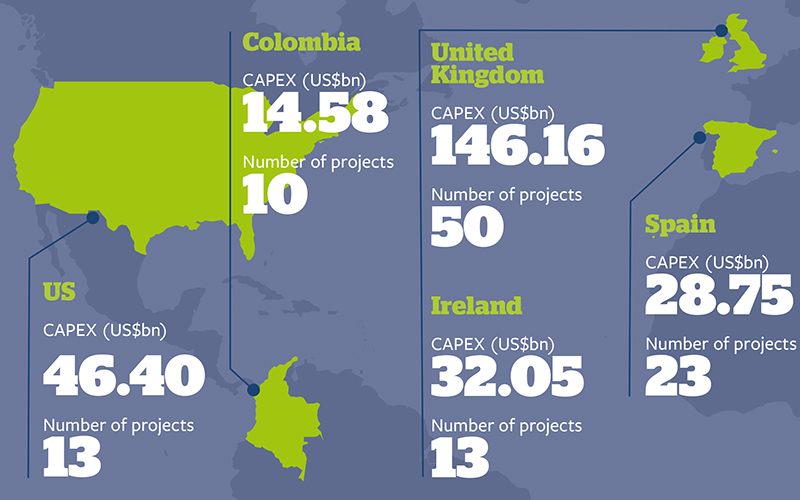 Located approximately 13km off the coast of Aberdeen, a significant achievement for the UK offshore wind industry stands out. The Kincardine wind farm – the world's largest floating offshore wind (FOW) farm – started operations in 2021. Its development marked another step towards achieving the UK government's goal of reaching 5GW of FOW by 2030.
Other countries are following suit: from the west coast of California to the Mediterranean Sea and onwards to the Japanese coast, the FOW segment has seen ambitious capacity targets supported by various project announcements.
However, scaling up and delivering on these targets remains a key challenge. For floating wind to be a long-term, cost-competitive, sustainable solution, we must do it right. But what will it take to deliver FOW as a global industry at scale?
First, there must be potential. With the right drivers, globally installed floating wind capacity could amount to 264GW by 2050, according to DNV. Looking at the existing project pipeline, EICDataStream – the EIC database of energy projects – indicates that there are close to 200 FOW developments across the world, amounting to potential investment of US$470bn.
Most of these projects are expected online from 2030 onwards, led mainly by installations in the UK, Sweden and Italy. Indeed, these three countries capture almost US$300bn of combined CAPEX in FOW developments, concentrating close to 100 projects, according to EICDataStream.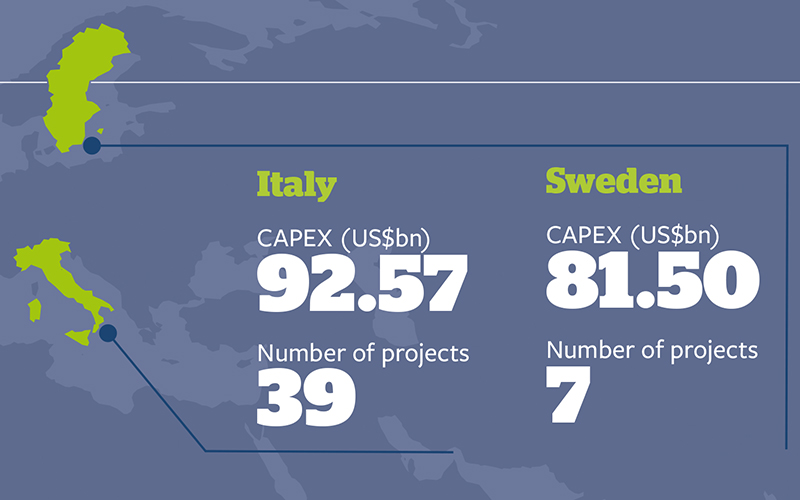 Policy matters
To make the market more commercially attractive, it is essential for strong government policy to provide clarity and robust support mechanisms that allow developers to access offshore wind areas.
The UK government's target of achieving 5GW of FOW by 2030, plus the Crown Estate's announcement that it will lease areas in the Celtic Sea with potential FOW capacity of 4GW (expected by 2035), are steps in the right direction.
Meanwhile, across the Atlantic, the Biden administration has announced plans to accelerate FOW deployment in 2022. The US aims to have 15GW of FOW capacity along its coastlines by 2035. To support this ambitious goal, the administration has pledged US$50m for research, development and demonstration funding, and will advance lease areas in deep waters.
The US Bureau of Ocean Energy Management's recent California auction awarded five areas suitable for FOW developments to major local and international players.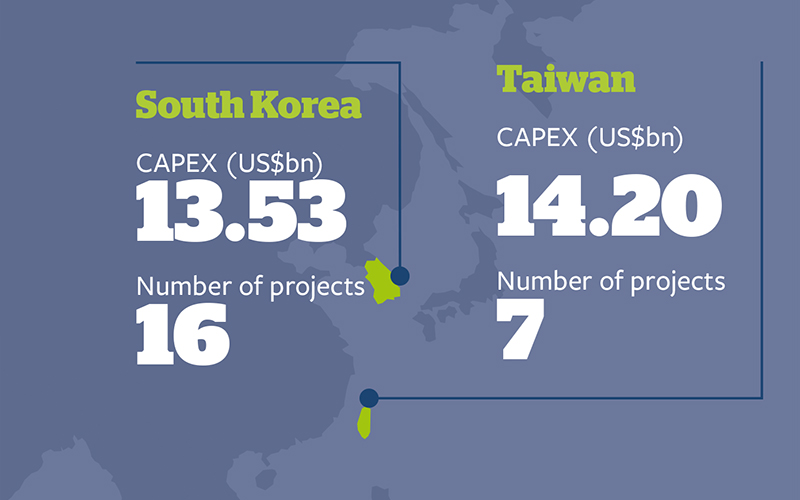 Make FOW cost-competitive
Countries across the world have discovered various mechanisms to unlock renewable energy development during the last two decades; the same will need to happen for floating wind.
Tax incentives have become a popular subject in recent months following the approval of the US$369bn Inflation Reduction Act (IRA) in the US last year, which extends production tax credits and investment tax credits to developers in various clean energy segments – including FOW. The recent move by the EU to respond to the IRA with a similar package of incentives in its Green Deal Industrial Plan is good news for FOW developers and the supply chain.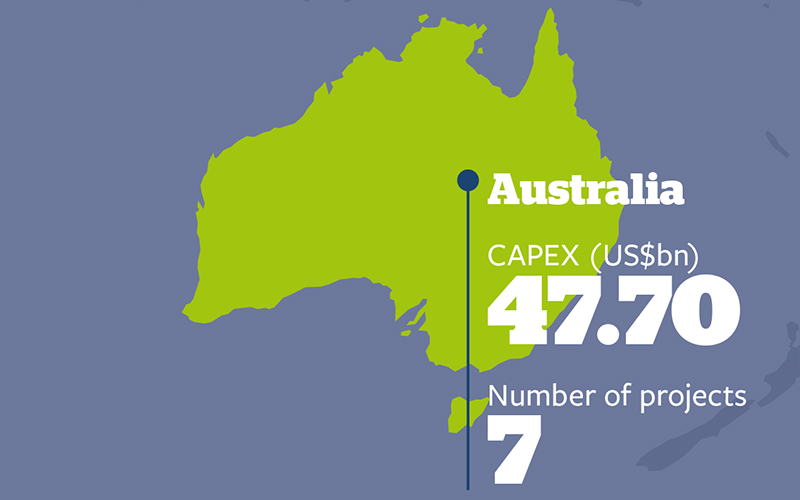 Create demand
Ensuring demand is critical. As the world transitions to cleaner sources of electricity, floating wind can help countries tackle every part of the energy trilemma, provided that suitable power purchase agreements are in place (the UK Contracts for Difference model is an interesting example).
Clean hydrogen generation is also a key opportunity for FOW: a pilot project by Lhyfe off the French coast was inaugurated in 2022.
Focus on the supply chain and infrastructure
Lastly, supply chain readiness and infrastructure development are two crucial elements to help unlock FOW development. The lack of capacity to meet the current project pipeline – associated with equipment production and installation vessels – is a major obstacle for the sector, leading to delays and increased costs. The issue is exacerbated by port infrastructure that is not fit for purpose. Government support for the supply chain is essential to bridge this gap.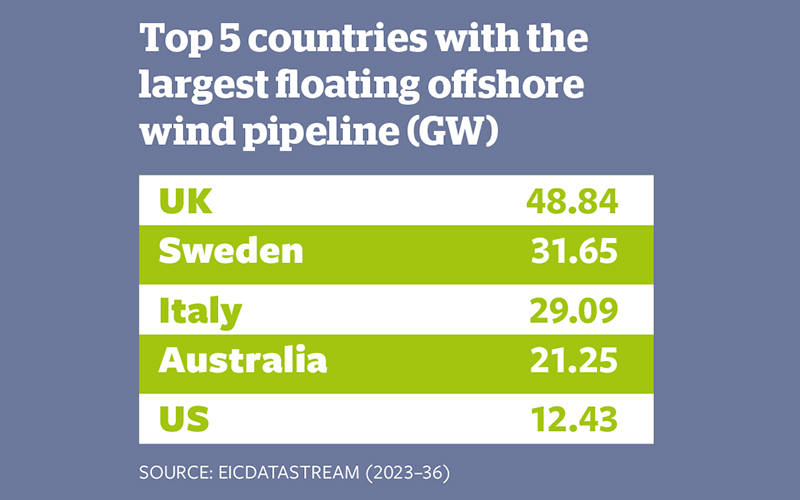 Making FOW a reality
A variety of project announcements across the globe promise a scale-up of floating wind in coming years, but critical challenges remain. Advancing the signing of offshore leases is a fundamental step. But for FOW to become a commercialised reality, all barriers must be addressed, including regulatory frameworks, environmental licensing processes and technology development.
Looking ahead, a combined effort between governments and the supply chain will be vital to unlocking FOW's potential and enabling the sector to be a key player in the energy transition process.
By Pietro Ferreira, Senior Regional Analyst Americas, EIC