A brighter future for low-carbon heat?
The UK government's new Clean Heat Grant shows tentative lessons have been taken from the failed Renewable Heat Incentive, writes Jess Ralston at the Energy and Climate Intelligence Unit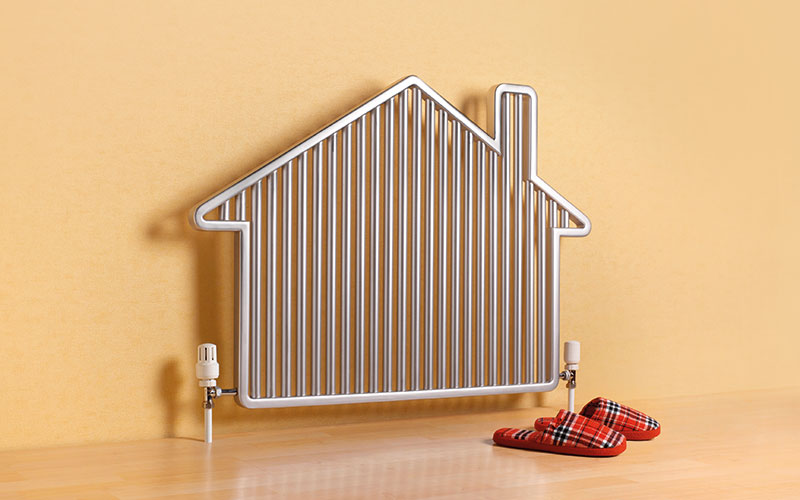 Heat decarbonisation in the residential sector – which is responsible for about a fifth of the UK's greenhouse gas emissions – has been recognised by the Committee on Climate Change (CCC) as one of 'the toughest challenges facing climate policy'. While the UK is doing well on decarbonising power and industry, challenges remain for energy efficiency and heating in housing.
Flagship policy falls short
One scheme that targeted carbon emissions reductions from heating was the Renewable Heat Incentive (RHI). The domestic RHI was launched in 2014 as the flagship policy for supporting low-carbon heat in the UK. It paid households incremental sums over seven years to help cover the costs of renewable heating systems such as electric heat pumps and biomass boilers.
However, many experts consider the domestic RHI to be a failure. It is easy to see why: with only two years to go, just one-fifth of the installations expected have been delivered. It seems unlikely that even half of the estimate will be achieved. The National Audit Office concluded that the scheme has "not achieved value for money" and that overpayments may be a problem, resulting in taxpayers' money being wasted.
Some might say that this is due to the format of the scheme. While there are savings and earnings to be made in the long-term when it comes to technologies with a high upfront cost, such as air and ground source heat pumps, the initial capital outlay can be prohibitive.
---
More ambition needed to decarbonise heat 11k
Clean Heat Grant to support the installation of around 11,000 heat pumps per year, for 2 years      
To meet net-zero emissions goal, the CCC says the UK needs nearly 19m heat pump installations by 2050
---
Back on track but shaky start
The new Clean Heat Grant, proposed by the government in April 2020, is a welcome step for many. Not only does it help to address the upfront cost barrier, but it also includes incentives that encourage households to plan changes to their heating systems instead of purchasing like-for-like systems when they break.
An upfront cash grant is understandably more attractive to families than smaller sums paid back over time. This is a process known as hyperbolic discounting, where cash in hand now is viewed as more certain than an equal or larger sum of money at a later date. The new Clean Heat Grant is more aligned with these sorts of behaviours, and it could spell the difference between low or high uptake of the heating systems that are needed put us on track to reach net zero.
A £4,000 lump sum towards a low-carbon heating system is more in tune with consumer preferences, and suggests that lessons have been learned from poor RHI uptake. The low levels of projected heat pump installations as part of the new grant (just over 21,000 per year) – only slightly more than the number under the RHI – are therefore surprising.
This level of uptake does not fit with the CCC's view that more than one million annual installations will be needed by the mid-2030s. According to the Heat Pump Association, this trajectory will require at least 300,000 heat pumps to be installed per year by 2025. Perhaps the low estimates reflect the government's 'once bitten, twice shy' approach to heat decarbonisation in the residential sector.
All eyes on government
The modelling of limited installations during the first few years could pave the way for an increased budget – currently set out at £100m over two years – and a stronger push for low-carbon heating, if the scheme is proven successful and renewed. One thing is certain: more ambition will be needed if we are to ensure heating decarbonisation. All eyes are on the government's upcoming and long-awaited Energy White Paper and Heat in Buildings Strategy.
When 2022 rolls around and the new scheme is introduced, we will gain an indication of how many people are willing to move to low-carbon systems. By then, we will be well on our way to a 'green recovery' from coronavirus.
If we are to reduce residential emissions, there is no doubt that £9bn spending on energy efficiency that was promised in the Conservative manifesto will be just as important as removing gas-guzzling boilers through schemes such as the Clean Heat Grant.
---
Proposed Clean Heat Grant  
Start: April 2022  
Close: March 2024  
Budget: £100m  
Upfront funding: < £4,000 for low-carbon technologies  
Air, ground and water-source heat pumps, biomass boilers up to 45kW capacity cap in households and small non-domestic buildings
---
Towards net zero
Energy efficiency and low-carbon heat could boost jobs in construction – a sector that has been hit hard by the pandemic – all over the country. The new support mechanisms for low-carbon heating, and pledges on energy efficiency, will equally help deliver much-needed economic stimulus and set homes on the right path for net zero. As boilers break and need replacing, there might as well be a policy that incentivises households to choose a low-carbon alternative, thus creating a natural move away from fossil fuels.
Let us hope that the future for heat is much brighter in a post-coronavirus world than the dark and dingy RHI past.  
---
Big industry loses out
For small non-domestic buildings, the same Clean Heat Grant is available; on a larger scale, the non-domestic renewable heat incentive (NDRHI) will be closed to new applicants on 31 March 2021.
Viewed as a greater success than its domestic sister, the NDRHI has produced more than 5,000MW of capacity and pays users back over 20 years. However, come April 2021, those wishing to install renewable heat in industry may face a higher cost, and the current lack of a replacement risks losing the goodwill of businesses hoping to decarbonise heat. 
By Jess Ralston, Analyst, Energy and Climate Intelligence Unit
Image Credit | Getty