A brighter future for solar
With several projects under construction or at tender phase, considerable growth in solar PV is expected to drive the solar power market in the Middle East and North Africa. Discover new solar energy opportunities in the region with the help of the EIC MENA team.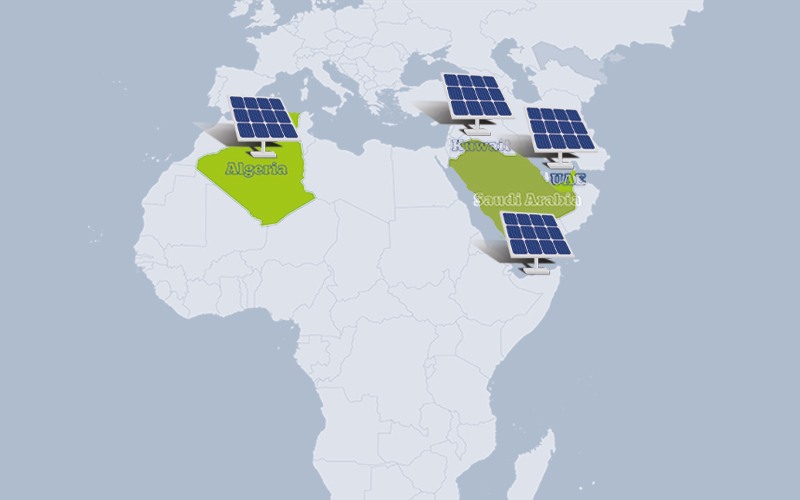 North Kuwait solar PV plant
Northern Kuwait
With its exact location yet undecided, North Kuwait is a PV plant proposed by undisclosed private investors to the Ministry of Electricity, Water and Renewable Energy. Now under studies by the Kuwait Authority for Partnership Projects, the 5GW project will require an investment of US$3.5bn. Its objective is to support urban expansion in northern Kuwait, as well as reduce the price for electricity production in the country and create around 2,000 jobs related to the construction and operation of the plant.
Al-Dibdibah PV plant
Al Abdaliyah, Kuwait
Al-Dibdibah is the second development phase of the  Al Shagaya renewable energy complex, located in a desert area 100km west of Kuwait City, near the Iraqi border. With the first phase being a 70MW demonstration facility designed by the Kuwait Institute for Scientific Research, Al-Dibdibah will extend the complex's capacity to 3GW. A tender process for consultancy services was opened by KAPP, and reports confirm that seven firms have already made their offers. Energy production is likely to commence by 2026.
Solar 1,000 project
Algiers, Algeria
Seeking to expand the country's photovoltaic generation, Solar 1,000 is a solar programme promoted by the Algerian government. Totalling 1GW and located in 11 different sites of Algiers Province, the initiative consists of a number of solar PV power plants with capacities ranging from 50MW to 300MW. Algeria's Ministry of Energy Transition and Renewable Energy launched the tender for these projects and their 25-year concessions in December 2021. As of February 2022, more than 80 developers had already been attracted by the tender process. Bidding deadline is now scheduled for June 15.
Al Faisalia solar PV plant
Makkah, Saudi Arabia
Al Faisalia's PPA, signed between ACWA Power and Saudi Arabia's Renewable Energy Project Development Office in April 2021, reached the world's lowest record tariff of US$1.04/kWh. Located around 80km from Jeddah, Al Faisalia aims to be a 600MW solar plant in the Makkah province.
Sudair solar PV plant
Ar-Riyad,Saudi Arabia
Having reached financial close in August 2021, ACWA Power's Sudair project entails the construction of a 1.5GW solar plant in Ar-Riyad. With start-up scheduled for the second half of 2022, full production will take place in 2023. Larsen & Toubro is the EPC contractor, and NEXTracker is providing its smart solar trackers with TrueCapture technology, which uses machine learning and advanced sensors to maximise performance.
Al Dhafra solar PV plant  
Abu Dhabi, UAE
Currently under construction by EDF and Jinko Solar (owners of 40% of the project, with TAWA and Masdar holding 60%) since the second half of 2020, the Al Dhafra solar power plant will be the largest photovoltaic facility of the Middle East once completed. With full operation scheduled for 2022 and a 30-year PPA scheme to be valid after that, Al Dhafra's 2GW of capacity will be enough to support 160,000 homes in the UAE. Before being surpassed by Al Faisalia in April 2021, the project held the world's lowest record tariff of US$1.35/kWh.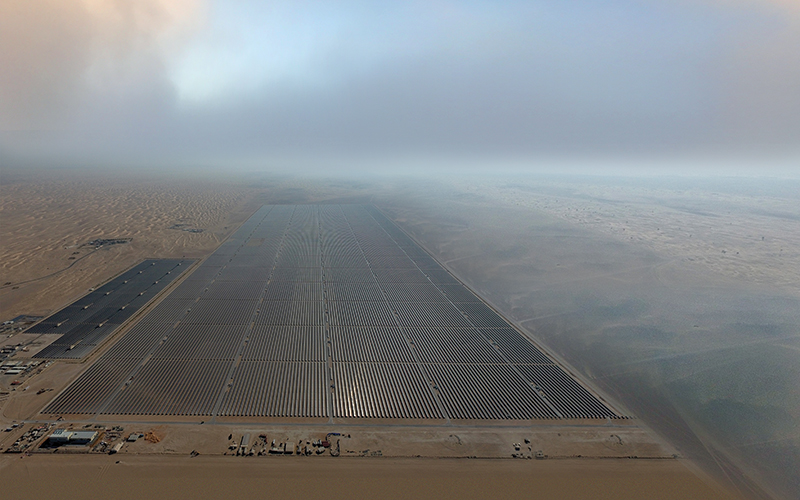 Mohammed bin Rashid al-Maktoum Solar PV Park (Phase V)
Dubai, UAE
The fifth implementation phase of the Mohammed bin Rashid (MBR) al-Maktoum project will add 900MW to the complex's capacity. Civil works, carried out by Shanghai Electric since July 2020, have surpassed 60% of completion in January 2022. Featuring NEXTracker's TrueCapture technology, output of MBR V will be boosted by up to 30%. Combining PV and concentrated solar power, the finished MBR project will count with a combined capacity of 5GW by 2030.
---
Middle East and North Africa (MENA)
The global energy industry has been experiencing the impacts of the COVID-19 pandemic for more than two years, and it is no different in the Middle East and North Africa
(MENA), especially for solar power:
the region has seen several tenders postponed, logistics hampered and prices rise. For example, the cost of a photovoltaic (PV) module hit US$0.30 per watts peak in 2021, a significant increase from below US$0.20 just a year before.
However, along with the current international movement for energy transition, and following a decade of major developments for the renewables industry in MENA, the countries in the region expect to overcome these obstacles via several net-zero programmes – with solar playing a huge part in their success.
Saudi Arabia and the United Arab Emirates (UAE) have designed some of the most ambitious plans. Saudi Arabia's National Renewable Energy Program intends to grow the country's renewable energy production to 50% of the matrix by 2050, enabling the installation of more than 50GW in solar projects only. Meanwhile, the UAE's Energy Strategy 2050 targets 44% of the Emirati matrix to correspond to renewables, with Dubai, its largest city, aspiring to have the world's lowest carbon footprint by the mid-century.
When it comes to investments, EICDataStream reveals that the UAE leads the region with CAPEX of US$7.56bn on new solar facilities, closely followed by Egypt (US$7.51bn) and Kuwait (US$6.7bn). The majority of these initiatives – about 65% – are currently under construction, with the remaining 35% currently going through their early development stages.
---
Image credit | Shutterstock|DNV