Capturing opportunity in the energy transition
It's a small market financially, but there's lots of activity in the new energy transition markets and businesses are moving cautiously, writes Editor Sairah Fawcitt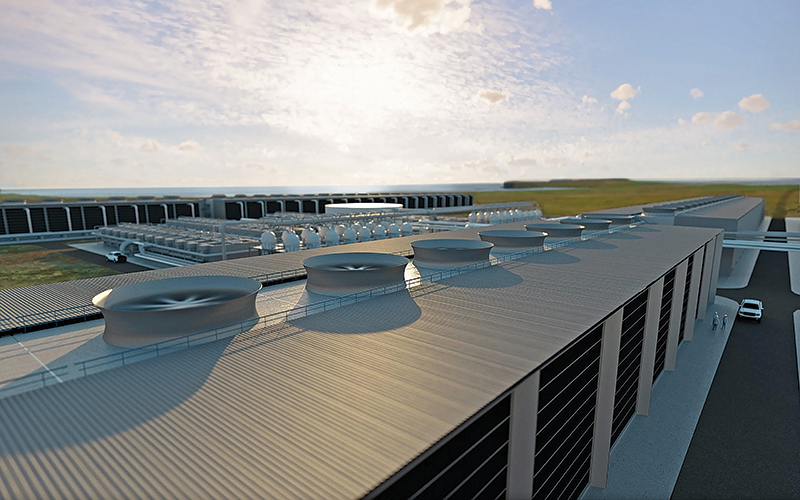 The energy transition is well underway, and EIC members are diversifying their portfolios to position themselves to thrive in a low-carbon future. This year's EIC Survive & Thrive Report reveals that 30% of participating companies are moving into the new energy transition space of hydrogen, carbon capture, utilisation and storage (CCUS), energy storage and floating offshore wind.
However, while many companies believe it is an area they should be considering as environmental, social and governance (ESG) metrics become increasingly important to shareholders, clients and employees, investments are relatively low, and energy transition has yet to become a primary growth strategy.
This cautious approach is understandable, especially in a market that is still over-hyped but under-fed. Indeed, data from EICDataStream indicates that assuming all energy transition projects announced actually reach financial investment decision, they will only account for 3% of global spend by 2026.
Early movers in hydrogen
TÜV SÜD National Engineering Laboratory's initial interest in hydrogen arose through its role as the UK's Designated Institute for Flow measurement, part of the UK's National Measurement System, funded by the UK Department for Business, Energy and Industrial Strategy.
The company has worked in the water and oil and gas industries for decades, providing the underlying measurement traceability that backs all fiscal and financial transactions based upon the reading of a flow meter while also conducting sector-wide R&D.
"With the emerging hydrogen economy, we could see the same need as being apparent. Hydrogen (and hydrogen carriers such as ammonia) will be used in gaseous or liquid forms, and therefore trade will rely upon accurate, traceable flow meter readings," explains Martin Hanton, Technical Director of TÜV SÜD National Engineering Laboratory.
The energy transition is well underway, with opportunities to act upon lying in wait
The primary challenge for the business, he says, is how to invest in this new area while the hydrogen economy is still embryonic and revenues still primarily come from other sectors.
"The more certainty that government can give industry regarding future direction, the more this challenge is ameliorated," he says.
Jon Constable, Group Technology and Engineering Director at tpgroup, sees hydrogen as one of the critical paths to bridging the gap between renewable power and decarbonising UK energy consumption by 2050.
With more than 50 years of defence-centric experience in hydrogen production and carbon capture, tpgroup is evolving its hydrogen generation capability to deliver an innovative modular and customisable green energy system that can develop hydrogen safely and efficiently for a range of applications and industries.
"In 2019, we pivoted our gas management system capability, predominantly around life support systems on submarines, into the world of clean, renewable energy," says Constable.
"Today, the company is engaged in projects across rail, aviation, defence, road, carbon capture and zero-carbon projects, and delivering green energy to remote sites and locations. This includes providing the integrated hydrogen fuel cell solution for the HydroFLEX, the UK's first hydrogen train."
Shaping the path of carbon capture
Identifying the business opportunity in CCUS was relatively straightforward for Crondall Energy as "much of the required technology is already within our core business portfolio," explains Murray Anderson, Director of Crondall Energy Subsea Ltd.
"CCUS schemes will be dependent on subsea pipeline and well infrastructure to access storage sites, and we have the experienced engineering resources to address the associated challenges. CCUS and the challenges of hard-to-abate emissions and direct air capture also offer exciting and motivating opportunities for young engineering staff looking to build a sustainable career," he adds.
However, Anderson says it is crucial to understand the uncertainties and focus on delivering solutions that help reduce the development risks associated with CCUS. "Many of the risks are business and commercial obstacles rather than technical problems, and an understanding of the CCUS business models and policies is essential."
Like Hanton, Anderson believes government policy must be clear, consistent and stable to ensure industry has confidence that new business models can be sustained long term. "The legislative and financial incentives must be maintained to ensure investing in CCUS is sustainable; the market will then open for more of the UK supply chain to transition into CCUS and other energy transition markets."
Engineering energy transition
KBR Project Solutions is another company leveraging its competencies, already successfully deployed in the oil and gas sphere, into energy transition markets.
"There is a great drive in KBR to transition to cleaner energy sectors and complementary areas like CCUS, hydrogen and biofuels, and we are seeing successes in these markets," says David Cole, Director of Project Solutions International at KBR.
"Engineering energy transition is exciting, and we see a great potential across the board, including CCUS, hydrogen offshore wind and even EV charging. There are great synergies in the engineering skills required, and the demands on project management for such large scale, complex and technically challenging projects are the same."
For energy services company Petrofac, new energy projects accounted for 22% of intake in 2020, and this continues to grow strongly. As well as supporting various low-carbon projects, including CCUS, blue and green hydrogen, and waste-to-value, Petrofac is a customer of Europe's first large-scale direct air capture facility.
Looking ahead, Nick Shorten, Chief Operating Officer for Petrofac Engineering and Production Services, points out that while the UK has created the world's most active offshore wind market, it has lacked the infrastructure and competitiveness to secure the CAPEX opportunity.
"Learning from that, we must proactively plan what we need in the sunrise industries, develop a globally competitive proposition, and anchor capability to the UK," he says. "For the supply chain, it's about using market information to plan, evaluate and build our skills base, understand the applicability of vendor products and services, and fill in the gaps."
From the success stories highlighted in this year's EIC Survive & Thrive report, it is apparent that industry collaboration and knowledge sharing is key to driving the energy transition, says EIC Energy Analyst Joanne Sivanathan. "With this, costs will be driven down and the markets will grow. Alongside the part industry can play, governing bodies need to act now to aid the movement. The energy transition is well underway, with opportunities to act upon lying in wait."
---
Market opportunities
Focus on hydrogen
The majority of the 200+ hydrogen projects that exist across the value chain are in Europe, Asia and Australia, with activity in the Americas, the Middle East and North Africa accelerating as well.
If all projects come to fruition, total investments will exceed US$300bn in hydrogen spending through to 2030. Of these announced projects, the largest projects (more than 1GW for renewable and more than 2,000 tonnes per year for low-carbon hydrogen) are in Europe, Australia, the Middle East and Chile.
Europe leads the number of announced hydrogen projects globally, with Australia, Japan, Korea, China and the US following as additional hubs. While Europe is home to 112 production projects, the announced projects cover the entire hydrogen value chain, including midstream and downstream.
In expected major demand centres such as Korea, Japan and Europe, the focus is on industrial usage and transport application projects.
Today, hydrogen is most used in petroleum refining and fertiliser production, but R&D efforts are using hydrogen in fuel cells to generate electricity or power and heat.
Focus on carbon capture
There is renewed interest in the carbon capture market, linked to industry emissions capture and blue hydrogen.
The UK leads the way in terms of the number of developments and CAPEX. It has a critical role to play in terms of a drive to net zero and decarbonising industry.
Further developments are being announced around bioenergy carbon capture and storage (BECCS), direct air capture (DAC) and carbon capture and storage (CCS) off the back of LNG liquefaction facilities, notably in the US.
CCS is not for every market yet, but more developments bring greater experience, which drives down costs as the sector moves from first-of-a-kind to nth-of-a-kind projects.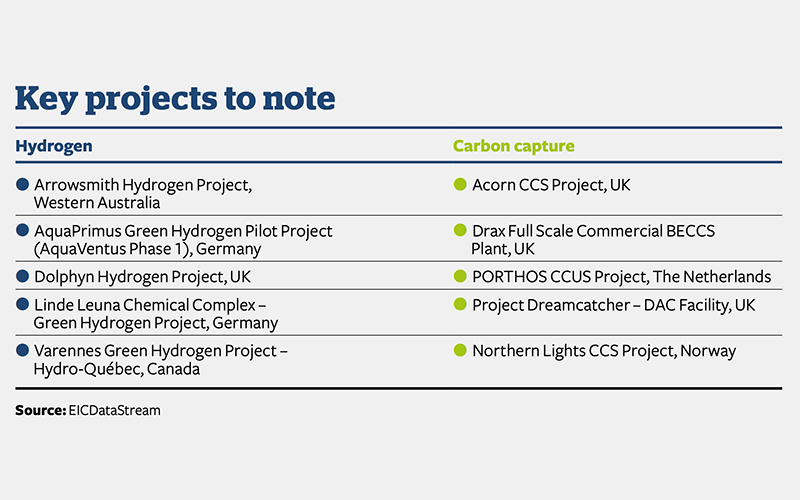 Image Credit | Carbon Engineering LTD