Having been held back artificially for the past five years, the cheapest form of new power in the UK – onshore wind – is set to make a comeback, writes EIC analyst Sharanya Kumaramurthy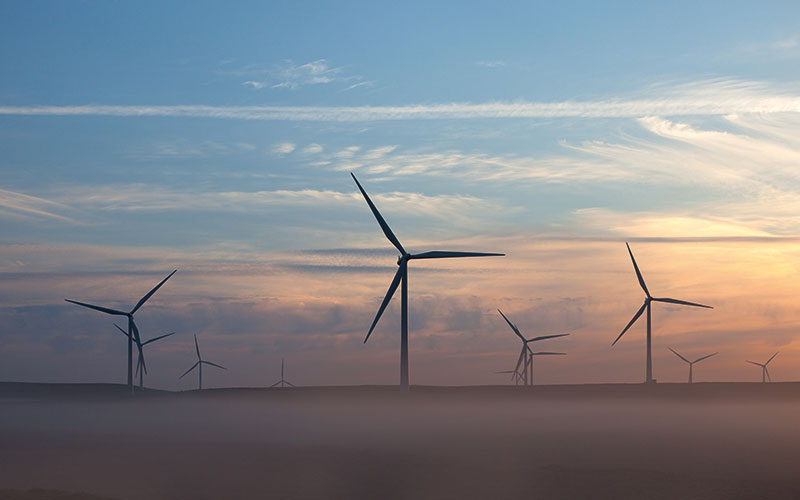 Onshore wind is a mature and proven technology, playing a vital part in the UK's energy mix. Surging renewable energy demand during the past decade, and the sector's subsequent growth, has created a favourable space for onshore wind's development. Currently, the UK has around 13.6GW of installed onshore wind. At the end of 2018, onshore wind generated the largest capacity of renewable energy, amounting to 30%, and its generation rose by 6.6% in 2019 to 32.2TWh.
Investment choked by policy
Despite the need and capability for the market to be pushed forward at full speed, the government's lack of financial support in recent years has stifled UK onshore wind.
The exclusion of onshore wind from the Contracts for Difference (CfD) subsidy scheme in 2015 caused installation rates to plummet. With no way of entering power generation auctions, no subsidy support, and a hostile planning environment, there was no clear route to market for developers.
In 2017, developers built record amounts of onshore wind power as they raced to complete their projects in time to qualify for government support – 343 projects added more than 2.6GW of capacity combined. In 2018, the number of projects fell to 91 totalling 651MW, dropping to 623MW across 23 projects in 2019.
Powering ahead
This year sees onshore wind back on the agenda. With an unprecedented rise in climate change activism and the government under pressure to deliver on its legally binding promise to reach net-zero emissions by 2050, onshore wind has been reinstated in the CfD regime – allowing it to bid for subsidy support.
Buoyed by the news in March, an increasingly optimistic industry now looks set for a boost in activity in its existing portfolio. A significant amount of new capacity is expected to come online as early as 2025, allowing the backlog of consented shovel-ready projects to progress.
EICDataStream project tracking database currently shows that 64 projects (5MW or more capacity) have secured consent and are yet to commence construction. Reports say that more than 4GW of onshore wind could bid at the next CfD auction in 2021.
Reforms needed
While the announcement supports the technology, permitting bottlenecks must be addressed if the sector's full potential is to be unlocked. To speed up the approval process and make investments happen, there must be reforms to the current complex and lengthy permitting rules and procedures.
EICDataStream is currently tracking 152 proposals (5MW or more capacity) in the planning pipeline, of which 16 are facing appeals – prolonging timeframes even more. In 2019, local authorities only granted consent for two projects in England (three turbines totalling 1.9MW), and there was only one planning application for a 5MW project put forward. In Wales, no new proposal was consented or lodged.
Although the UK's National Planning Policy Framework advocates a presumption in favour of sustainable development, Local Development Plans continue to deter onshore wind investment, with weaker policies and indistinct site identifications for the technology. For many years, onshore wind has also faced a backlash from local residents resisting proposals for new turbines in proximity to their surroundings. EDF Renewable's 110MW Garn Fach project, for example, has faced opposition since the project's announcement at the start of 2020.
To help address these issues, the government has set out a requirement for all local authorities to renew Local Development Plans by December 2023. Public support for onshore wind has also risen to 77%, according to the Department for Business, Energy and Industrial Strategy.
Scotland leads the way
Onshore wind developers continue to be attracted to the UK regardless, enticed by the success rates in Scotland. With a favourable wind resource and a renewables-positive government, the devolved nation has a dynamic portfolio of projects –  holding around 60% of the UK's capacity. Scotland is expected to have more than 20GW installed by 2050.
In 2019, the nation's planning-friendly legislation saw 556MW of capacity across 26 proposals secure consent, and 35 new proposals totalling 1,969MW submitted. Four schemes in Scotland's remote islands were awarded CfD deals in the last auction that range between £39.65 and £41.61 per MWh, further demonstrating onshore wind's vital role in the energy system. These schemes are Uisenis Power's 189MW Muaitheabhal, BayWa's 49.5MW Druim Leathann, and Hoolan Energy's 20.4MW Hesta Head and 16.32MW Costa Head.
Despite the lack of financial support, Scotland's onshore wind market has seen steady growth – due in large part to the rise in subsidy-free projects. Now the CfD mechanism has been restored, the UK wind powerhouse will become the likely location for the majority of future onshore development, as investors capitalise on Scotland's abundance of new opportunities.
Repowering
With more than 8GW of the UK's capacity set to retire during the next 10 years, the repowering of ageing plant is gaining traction. The UK saw its first wind farms installed in the 1990s, and with wind turbines having an average lifespan of 20 to 25 years, the first generation of projects have started coming to the end of their lives.
The chief drivers for repowering are the vast improvements in turbine technology, lower costs and meeting climate targets. EICDataStream is tracking 10 proposed schemes in the UK, including the repowering of SSE Renewable's Tangy IV. The original 18.7MW development has consent to increase its capacity to 80MW by replacing its 22 existing 0.85MW turbines with 16 more efficient 5MW turbines.
Real opportunities
As one of the cheapest sources of power in the UK, onshore wind has shown its potential in the nation's energy mix during the transition from fossil fuels. The push from climate change bodies has heightened discussions around the sector and abetted its re-entry into the region's subsidy support scheme. With financial aid now accessible and non-subsidy developments on the rise, 
it is impossible to ignore the overall anticipation for the industry and the expected surge in opportunities for supply chain companies in the near future.
For more information on current and future onshore wind projects in the UK, please email sharanya.kumaramurthy@the-eic.com
---
Scotland: UK wind powerhouse
Scotland holds nearly 60% of UK onshore wind capacity
In 2019 clear and positive planning policy consented 556MW across 26 projects
In 2019 35 new projects totalling 1,969MW submitted for planning application
More than  20GW to be installed by 2050
By Sharanya Kumaramurthy, Energy Analyst, EIC
Picture Credit | Getty