Emracing the fuel of the future
The potential of hydrogen is clear, it's the least disruptive means to decarbonise the global economy, but the route to realising this potential is uncertain, 
writes Jeremy Bowden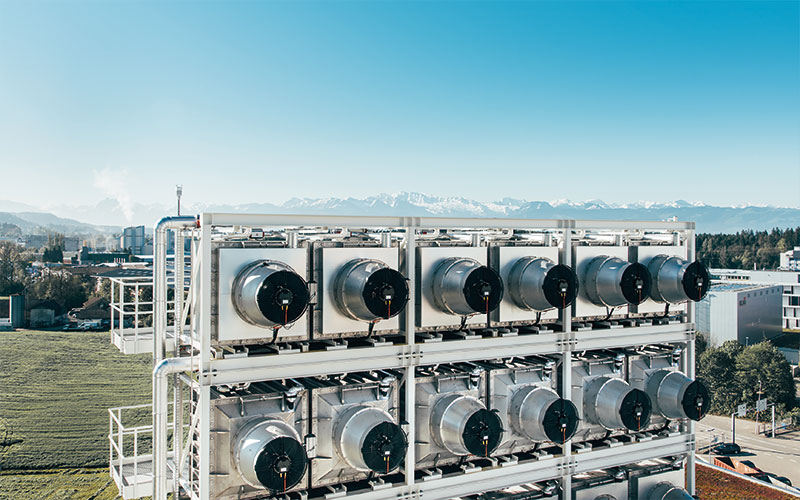 The energy industry continues to face disruption on several fronts. Technology is marching on from Industry 4.0 (digitalisation and a focus on the interconnectedness of machines and systems for optimal performance) to Industry 5.0 – which takes such efficiency and productivity further by enhancing the interaction between humans and machines. Introducing this new paradigm to the energy energy sector will take time and money, but should enable more to be done with less in both conventional and lower-carbon sectors.  
Harnessing disruption for growth
At the same time, the transition to lower-carbon energy is proving the biggest disruptor, and presents major challenges for the industry. It increasingly influences the decision-making of many senior energy executives, as well as those investing in the sector. Given its long-term inevitability, many established energy companies are reducing company emissions and seeking out the longer-term transition route that will involve the least disruption and the fewest stranded assets – while offering the most lucrative opportunities.
Most experts in the industry are now agreed, backed up by technocrats at the EU and many politicians, that the optimum route involves extending renewables and adopting dual gas/power systems, in combination with hydrogen, carbon capture and storage (CCS) and electric vehicles (EVs). This route also happens to be the least-cost option and therefore the most likely to succeed, according to many observers. It involves the use of a variety of existing assets that are currently part of the hydrocarbon economy – including the gas grid and storage facilities, modified oil tankers, depleted oil and gas fields, and even some natural gas itself, possibly well beyond 2050.  
Zero-carbon lynchpin
Chris De Beers of Mott MacDonald sees hydrogen as the lynchpin of this zero-carbon system, alongside renewables – with the hydrogen initially produced through reforming methane and used both to back up wind in calm periods and fed into the existing gas grid and storage at concentrations of up to 20% (after which networks and appliances may need to be adapted in places to accommodate higher concentrations).
The approach maximises use of existing assets and involves the least disruption to both the sector and energy customers while avoiding green energy waste,  which often results during periods of high wind (when power prices turn negative and turbines are sometimes paid to switch off). Graham Cooley, CEO of electrolysis manufacturer ITM Power, said: 'The gas grid is a huge tank, so it represents a huge opportunity to store excess renewable power. If you add in existing gas storage facilities, then very large volumes of renewable energy can be stored over long periods.'  
Enabling the transition
The accommodation of hydrogen production and mass renewables on the power grid (which will also expand to accommodate EVs) needs to take full advantage of the Industry 5.0 swing towards the use of artificial intelligence (AI) and even collaborative robots ('cobots') that augment human capabilities to make people more innovative and productive. This improved interaction between people and machines may be the only way to optimise and balance what will be a very complex energy (power, gas and liquids) system, with intermittency issues, heating demands, vehicle charging, hydrogen production and combined cycle gas turbine back-up.  
Several specialist consultancies are already being established, including Kaiserwetter, which uses predictive analytics, machine learning and AI, among other things, to 'catalyse investments into renewable energy,' according to media officer Gabrielle Dupuy d'Angeac. In the hydrocarbons sector, the UK is setting up a new Net Zero Solution Centre, which aims to accelerate the development and deployment of technologies to decarbonise offshore operations and position the UK North Sea as the first net-zero oil and gas basin globally, supporting the industry's Roadmap 2035.  
Incentives to switch
The carbon price is already providing an incentive for industrial customers to switch to lower-carbon fuels, and this is in turn providing an incentive to switch from hydrogen produced through methane reforming (brown hydrogen) to that produced from electrolysis using green power, according to Mr Cooley.
'Carbon prices are why industrial users of hydrogen – including Shell, BP, RWE, Innogy, Engie – are all announcing 100MW projects. Why are they doing this? They can obviously see it is commercial. RWE and Innogy announcing 100MW in the Netherlands, BP 250MW… companies are looking at the economics and it adds up for them.'
He says hydrogen does not need subsidies in the same way that biogas does: 'In the case of hydrogen, the point of incentives is to get the market to the point where the volume increases rapidly, costs come down and then it's a virtuous circle – it won't need long-term subsidies, whereas biogas will always need subsidies. It was done with solar, onshore and offshore wind, where prices have come down massively, but it has not yet been done with hydrogen. So, there have been no incentives in place to get the market growing to industrial scale.'  
A smart combination
However, if CCS is used in combination with methane reformation, then brown hydrogen can also be produced without emissions, and that is the plan at Hynet – Europe's biggest planned hydrogen project. Based in northwest England and led by grid operator Cadent, it involves supplying two million residential gas grid customers, as well as local industry, with natural gas that includes a 20% hydrogen mix. The hydrogen will be produced from methane, with waste CO2 and carbon monoxide captured and stored in a depleted offshore gas field in the eastern Irish Sea.
The UK's Committee on Climate Change  says that this type of CCS and hydrogen technology, developed in regional clusters, is essential if Britain is to achieve a 'net-zero' carbon economy by 2050. Cadent CEO Andy Lewis says that both the Hynet project and its twin in the northeast (which the company also leads) have strong support from a variety of major industrial users and from local government. He adds that there was support from other gas grid operators in the UK too – not least those in South Wales, which see depleted fields in the East Irish sea as the nearest option to store Welsh industrial CO2 emissions.
Utilities and power generators are also expected to be key UK investors in hydrogen. In Yorkshire, for example, Drax, Equinor and National Grid Ventures are exploring strategic opportunities to develop a large-scale hydrogen demonstrator within the Drax site in North Yorkshire by the mid-2020s. They also plan to scale-up the bioenergy carbon capture and storage pilot project at Drax Power station, which currently captures a tonne of CO2 per day, to create the world's first 'carbon negative' power station. Any hydrogen is likely to be from methane reforming plus CCS.
The European Commission is also pushing hydrogen and a dual-energy system model, which links the development of gas and power grids as both can carry green energy, which it says will be essential for the low-carbon system to work effectively. 'The UK needs to do some joined-up thinking: we have an electricity grid that needs energy storage to decarbonise it, and if you store that using hydrogen molecules, you can also decarbonise the gas grid and many industrial processes,' said Mr Cooley.  
Ready to go
Both the scale of renewables and hydrogen production will have to grow rapidly to meet the goal of a zero-carbon world by 2050, while technology in the form of Industry 5.0 also needs to be fully adopted – which should make it easier to reach other goals. However, barriers remain – not least how a coordinated approach can be applied to what is now a decentralised and privately held sector. Nevertheless, those with a national role are all set: speaking at a recent conference, National Grid's Innovation Manager Stuart Gregg said: 'When the industry button on hydrogen is pressed, we want to be ready to go!' 
Picture Credit | Climeworks