Energy islands take offshore wind to the next level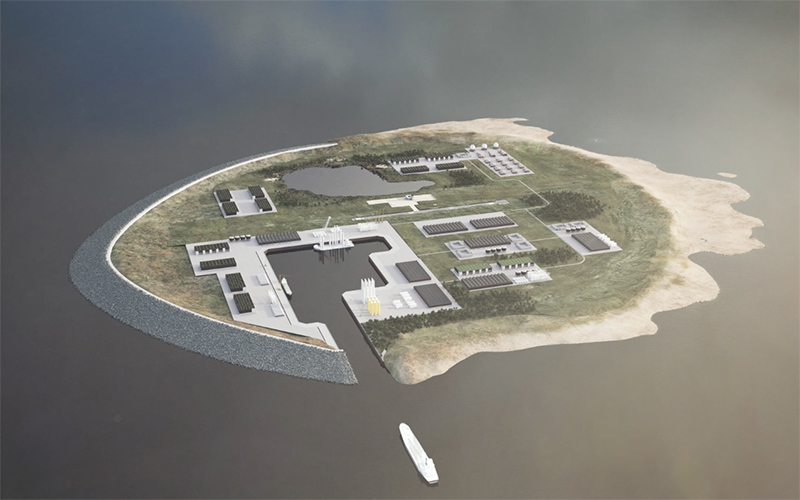 Europe's energy system is changing. The transition to clean and renewable energy is well under way, with offshore wind slated to play an instrumental role in helping us reach energy and climate objectives for 2030 and 2050.
However, annual installation rates will have to scale up considerably in the coming years if we are to reach the European Commission's goal of having up to 450GW of offshore wind power in 2050. The vast potential of the North Sea could contribute in a significant way to this increased and accelerated deployment, but international collaboration and a visionary approach are needed.
The European Commission has stated that 150–400GW of offshore wind will be necessary to deliver climate neutrality by 2050, with a growth rate of 3–15GW per year between 2031 and 2050. Long-term scenarios set out a range of 70–50 GW of future deployment of offshore wind power in the North Sea as early as 2040.  
Unlocking North Sea potential
To accelerate the connection and integration of large scale offshore wind in the North Sea, a consortium of transmission system operators – TenneT (the Netherlands and Germany), Energinet and Gasunie – has joined together to develop the North Sea Wind Power Hub (NSWPH) programme.
The NSWPH proposes an internationally coordinated approach that is based on a total energy system view and integral energy infrastructure planning across national borders and energy sectors, and using hybrid infrastructure assets.
Based on a 'hub-and-spoke' concept, offshore wind farms (built to location-specific needs) will connect to one or several hubs  via alternating current cables. The power is converted into direct current electricity by converters on the hub islands before being exported by a series of interconnectors (the 'spokes') to connecting North Sea countries. The project may also use power-to-gas technologies on the hubs to convert offshore wind-generated power into hydrogen, which would then be exported via new and existing gas pipelines.  
To meet the COP21 Paris Agreement commitment, the NSWPH plans for a gradual roll-out of 10–16 GW-sized hubs to facilitate the offshore wind roll-out towards 2050.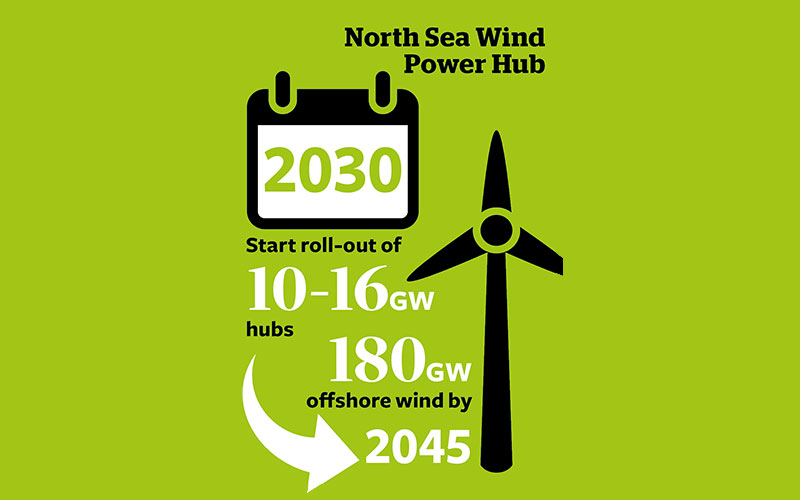 A step closer to reality
To this end, the consortium has intensified its efforts to help solve the integration challenge. In a range of studies, it further examined the optimal technical design for a first hub-and-spoke project, both for offshore transmission infrastructure and the onshore grid connection concept. These studies are guided by the consortium's work on the long-term drivers of the energy system transition as a whole, focusing on electricity, e-fuels, sector coupling, flexibility and storage.
The consortium continues to proactively engage with stakeholders to initiate discussions regarding the market design and regulatory framework – a solid integration route will be crucial for creating the right investment climate and to develop the necessary European infrastructure effectively for the longer term.
The Projects of Common Interest (PCI) status of NSWPH  – as approved in the fourth PCI list by the European Parliament earlier this year – underlines the value of the programme and enables the NSWPH consortium to develop the concept further and bring it closer to realisation. A first hub-and-spoke project could go into operation in the early 2030s.  
By Michiel Müller, Programme Manager North Sea Wind Power Hub, TenneT