China and Taiwan delivering on Eastern promise
The EIC's Amisha Patel analyses China and Taiwan's offshore wind markets, both of which are keen to draw on the UK supply chain's expertise.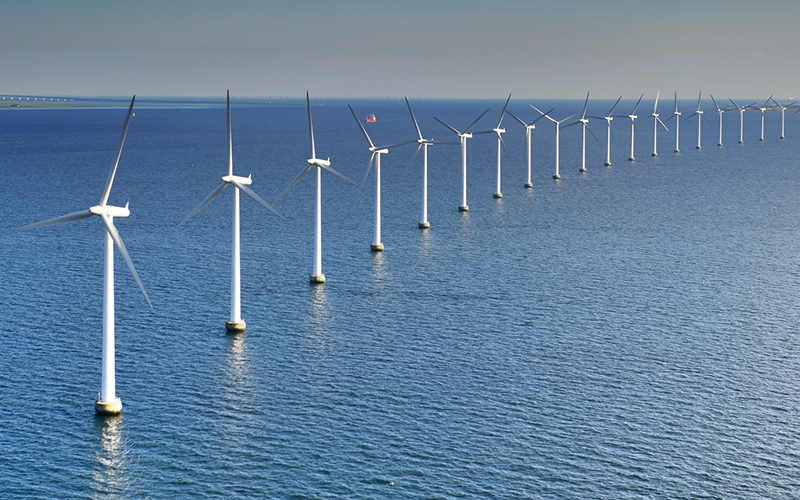 Although Europe remains the global leader in the offshore wind sector, having a total installed capacity of 12.6GW, Asia is catching up fast. With a renewed push in China and an ambitious programme in Taiwan, both these countries represent huge potential growth markets for offshore wind.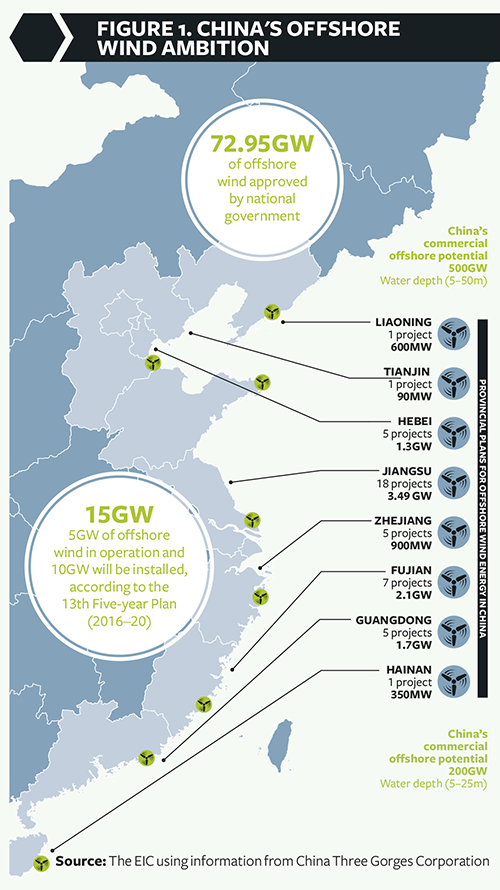 China
East Asian giant China is quietly taking the lead in the race to become the world's leading offshore wind developer. The country installed more than 1.6GW of offshore capacity at the end of 2016 and is expected to add around 900MW more before the end of 2017. Next year, it is due to surpass 1GW of installations per year as part of a five-year plan to have 5GW grid-connected by 2020, plus another 10GW under construction (Figure 1). China is on target to install 13GW between 2017–26, bringing its total capacity to nearly 10 times today's level. In the medium-term, it is the only country that can compete with the UK and Germany in terms of market size.
Jiangsu and Shanghai are the most active provinces for offshore wind development. Guangdong, one of the country's richest provinces, has seen an increase in activity, while Fujian is expected to deploy seven projects.
Having been awarded a €4m contract to design infrastructure for a 400MW project in Jiangsu province, Ramboll claims to be the first foreign company hired to design a Chinese offshore wind farm. PowerChina Huadong Engineering Corporation Limited has drafted and obtained approval for its offshore wind development plans in Jiangsu and Zhejiang provinces. Recognising European expertise Huadian Heavy Industries has cooperated with some European companies efficiently.
Cost of energy is already the key challenge for offshore wind in China, despite the industry starting from a lower cost base. While the Chinese have benefitted from their knowledge of wind turbine supply leveraged from its onshore experience, parts of the offshore wind supply chain are still immature with components including control systems and power converters currently being sourced from foreign players. Lack of experience is a common challenge right across the supply chain. And although China will gain experience from early projects and build capability significantly through learning-by-doing, there will be significant potential to make use of existing solutions from Europe. The UK's experience in successfully driving down the cost of energy will be invaluable to the Chinese market as long as it is applied selectively.
---
Taiwan
The island nation's offshore aspirations made headlines this year when it announced a target of 3GW of capacity to be built by 2025. While paltry compared to developments in neighbouring China, for leading original equipment manufacturers, its big attraction is that it is an open market with no dominant established players when it comes to winning contracts.
Today, there are only two offshore turbines operating in the country which were demonstration turbines installed at the 8MW Formosa 1 project in October 2017, however, two more projects totalling 320MW are due to be in place by 2020.
Formosa 1 is being developed in two phases. The two 4MW Siemens turbines comprising phase I were installed in October 2016. In phase II, a further 120MW of capacity is planned to be added by 2019, subject to a final investment decision.
In January 2017, DONG Energy and Macquarie Capital agreed to buy stakes in the Formosa 1 project. Macquarie Capital holds a 50% interest in the project, DONG 35%, and Swancor Industries the remaining 15%. DONG is providing advisory services, with Swancor Renewable leading the project through site development and construction. Macquarie Capital is also working with DONG and Swancor Renewable to complete the development and construction of the project.
The Danish major is also active in other areas of the country, having bagged four of the 21 available sites offshore Changhua County. Provided that the environmental impact assessments are approved and subject to investment approvals, DONG Energy intends to develop at least 2GW of capacity at the sites, with construction potentially starting in 2021–24.
Taiwan's offshore wind power industry is still in its infancy (Figure 2) and the need for support from experienced overseas markets is recognised. The Taiwanese government is keen to enhance its industrial capability and has focused on technology transfer from leading companies worldwide through international cooperation programmes as a means of doing so. The Department of International Trade has identified potential commercial opportunities for UK expertise including engineering design, installation equipment, operations and maintenance and services for prospective UK investors. The UK's 12-year history of renewable energy collaboration with Taiwan means its supply chain already has a firm footing from which to win work in this emerging market.
Figure 2. Potential Taiwan Offshore Wind Projects 2020-23

| | |
| --- | --- |
| Project | Location |
| Hai Long Offshore Wind Farm | Chang Hua County |
| Formosa 2 Offshore Wind Farm | Miaoli County |
| Changhua Offshore Wind Farm (South) - Taipower | Chang Hua County |
| Changhua Offshore Wind Farm (North) - InfraVest | Chang Hua County |
| Taihai Taoyuan Floating Offshore Wind Farm - EOLFI | Taoyuan County |
| Penghu Offshore Wind Farm 4 - Taipower | Penghu Island |
| Taoyuan ZoP 3 Offshore Wind Farm - InfraVest | Taoyuan County |
| Guanyin ZoP 2 Offshore Wind Farm - InfraVest | Taoyuan County |
| Yunlin Offshore Wind Farm - InfraVest | Yunlin County |
---
Want to know more about offshore wind?
The EIC's Global Offshore Wind Insight Report is available free of charge to members and for purchase by non-members. To get your copy of the report, contact: info@the-eic.com
---
By Amisha Patel, Head of Power, Nuclear and Renewables, and Public Affairs, the EIC