Exporting world-leading marine energy expertise
Eileen Linklater, Commercial Manager at EMEC, tells Energy Focus why the UK is the undisputed global leader in marine energy.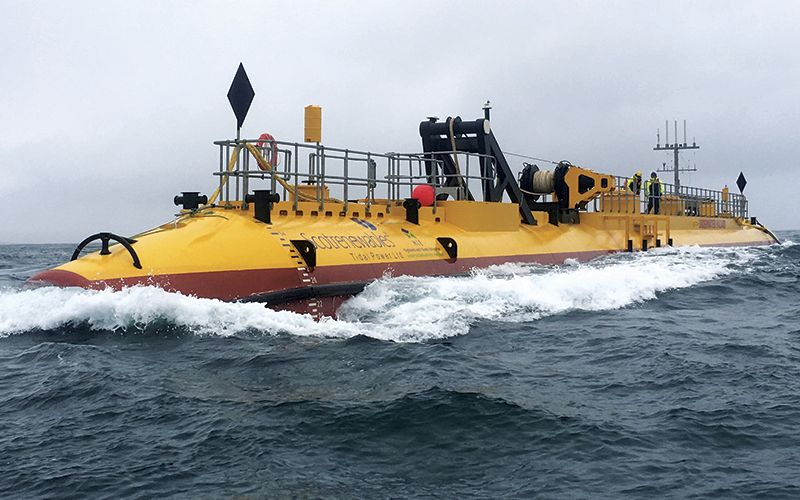 'The biggest hook is the sheer level of experience we've got here in Orkney,' says Eileen Linklater, reflecting on why the Scottish island community is the global epicentre of wave and tidal. As commercial manager of the Stromness-based European Marine Energy Centre (EMEC), Linklater works closely with a growing number of international agencies keen to replicate the Orkney test centre model. 'People from all across the world come to visit EMEC. They feel it's important to come here and see first hand how we do things.'
Established in 2003, EMEC remains the world's only fully accredited marine energy test centre, hence the steady stream of international visitors heading its way. The centre has supported the deployment of more marine energy devices than any other single site in the world – 30 to date, from 19 different clients spanning nine countries.
In addition, EMEC's specialists provide a range of consultancy and support services, with that expertise much in demand from emerging test sites and marine energy programmes in Canada, China, US, Japan, Taiwan, South Korea and Singapore.
Forging alliances
Most recently, EMEC has been engaged to provide feasibility studies around the creation of CMEC – a Chinese version of the Orkney facility – in a project supported by the UK Foreign and Commonwealth Office and China-Britain Business Council's Prosperity Fund.
'Our relationship with China has been built up over several years,' says Linklater. 'Like many of our international collaborations, it's taken time to lay the groundwork, creating understanding of the benefits the industry can bring, both in terms of the positive impact on climate and the economic potential.'
Supply chain benefits
According to Linklater, EMEC's international collaborations are also opening up opportunities for UK supply chain companies. 'Where we've helped with the groundwork in other countries we've seen Orkney-based operators going over to these places and doing business themselves,' she says. 'Through our sharing of knowledge we're creating an export market for other local supply chain companies.
'Our vision is for a globally successful marine energy industry,' she adds. 'To reach that goal as quickly as possible, we feel the need to help these other regions develop in a way that's complementary to what we're trying to do here, rather than have people trying to reinvent things in different places.'
R&D across the globe
With this vision in mind, EMEC is also progressing many collaborative international R&D programmes. For example, Canadian company, Rockland Scientific, recently fitted innovative turbulence measuring instruments to EMEC's bespoke Integrated Monitoring Pod (see top right photo) which enables 24/7 real-time data collection from a variety of sensors to undertake comprehensive concurrent environmental measurements, providing improved characterisation of high energy marine environments.
'They're deploying the same technology at the Fundy Ocean Research Centre for Energy (FORCE) in Canada, so we'll be gathering comparable data from different site conditions,' says Linklater. 'While the conditions are different in different parts of the world, we want to see some consistency around the standards that are developed and the research work that goes on, so that it has more value at the end of the day.'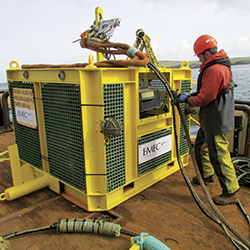 Setting the standard
To this end, EMEC has coordinated the development of 12 industry guidelines – six of which are being progressed for global adoption as the first international standards for marine energy. As the pace of the marine energy sector continues to pick up – Orkney developer Scotrenewables Tidal Power recently generated over 18MWh within a 24-hour period from its 2MW rated SR2000 turbine, under testing conditions at EMEC's Fall of Warness site – Linklater says standards development will become increasingly valuable as technologies progress towards commercialisation.  
'Making sure that technical performance is verified all along the way, and performance claims checked and validated, is something we see as vital,' she explains. 'As the industry moves towards commercialisation, investors and insurers need to know how they can make investment decisions on these projects and they can't do that without a reference point. Confidence is what it's all about.'